According to HubSpot, 55% of customers are interested in interacting with businesses through chatbots to solve their problems. Although a relatively new technology, this kind of figure is already a strong indicator that chatbots are here to stay for the long term.
So if that's the case, isn't it about time your B2B marketing campaigns began to incorporate them to support your growth ambitions?
Here are 6 great reasons you should be experimenting with chatbots in your marketing…
Chatbots help to guide prospects through the long B2B customer journey
By engaging prospects in conversation, chatbots can help prospects sift through your offerings to find exactly what they're looking for. Whether this is a solution to a particular challenge, product information or just company info, the chatbot can quickly guide prospects to the right location without hassle. Alternatively, they can also make recommendations when prospects are unsure what they need.
45% are spending more time researching purchases than the previous year - the B2B buyer journey is slow and complex which means customers need to be educated along the way. (Demand Gen Report)
This is particularly valuable as rather than leaving your website disappointed, prospects are able to work with the chatbot to determine where the value can be found. This is the difference between talking 'at' your prospects and talking 'with' them, by offering the opportunity for input, you can work together to find the content that delivers value for all parties.
In addition, once they approach the end of their journey, the chatbot can pass them directly to a BDR/SDR in real-time, opening the door to sales conversations.

Chatbots are a better solution that static lead capture forms
In most traditional marketing campaigns, traffic is often pushed to either the company website or a landing page. From here, prospects are guided on a journey which normally culminates in a premium gated piece of content. At the content gate, they're typically asked for their name and their email in order to gain access.
In an ideal world, more information would be requested, but this often kills conversion. It's a well known fact, the longer the form in front of the content, the lower the conversion rate.

Fortunately, chatbots have a simple way of overcoming this issue, by allowing for iterative data capture within a light-touch conversational experience, information can be collected naturally without any obstructive and unnatural forms.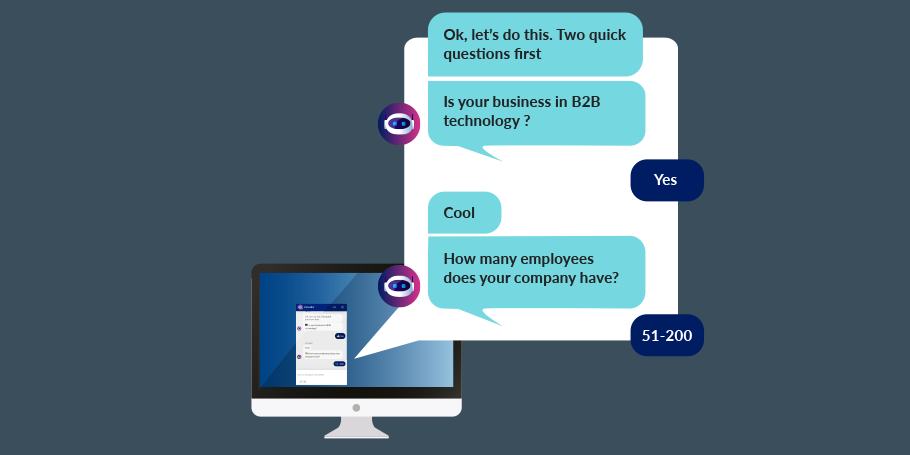 Chatbots unlock a new opportunity to capture prospect data without impacting your current strategy
When it comes to making strategic decisions, it's usually one or the other, focusing on one single area of your marketing will typically take attention away from another. It's that simple. But with chatbots, this isn't the case at all. As an addition to your marketing mix, rather than a replacement for anything you're currently doing, chatbots can only complement your status quo.

There's little risk of a chatbot disrupting your other tactics and with very minimal resource required bar the initial setup, the chatbot can manage itself, without regular monitoring and input.
Chatbots offer insight into your prospect's challenges
Most chatbots are built using decision-tree logic, this determines what prospects see and the options they have as they progress through the conversation. Thanks to chatbot analytics, you can see exactly how your audience engage with the chatbot, including the most common paths they take and the final outcome of their conversations. This is particularly valuable as it offers a strong indication of your prospect's needs, interests and challenges, helping to guide your content strategy and identify areas of critical focus.

Going beyond quantitative data, some conversations offer prospects an open field and ask directly what they're looking for. This is often used as a qualifying question to determine who a prospect needs to speak to within the business, but collected over time, these free-form answers can be invaluable.

For example, with this data aggregated and then divided into options accordingly, you could create dedicated branches designed to tackle the challenge earlier in the buyer journey, either with dedicated nurture content or some form of quick-action.
Chatbots give you 24/7 lead capture opportunities
Chances are if your campaign's targeting the C-suite, then your not going to find your target prospects surfing Facebook or Instagram during the working day. This means you need to be able to accommodate for their needs outside of traditional office hours, but of course, this is typically when there are no sales team members available to talk.
Fortunately, chatbots can take over, offering 24/7 interaction with your customers, they can maximise nurture and communication opportunities to drive better campaign performance and optimise lead generation.

With a chatbot, leads can be qualified at any time of the day, without the need for investment in out-of-hours resources. Whether it's 11AM or 11PM, the chatbot is always active and ready to help those in need. This help can even extend to booking meetings, by integrating your Sales team's calendar into the chatbot, qualified prospects can book a meeting directly into their diary, no fuss and no bother.
Chatbots unlock personalisation and scalability in your marketing efforts
According to recent B2B buyer research, the modern buying decision is typically made by up to 6 stakeholders, often from varying parts of the business, and so generating interest in your offering means you need to convince them all. This is typically achieved by creating content to meet the needs of each individual, and chatbots can support this experience. Generic communications attempting to appease all involved no longer work, and so personalisation is key; you need to explain how your offering benefits each of them.

By engaging with prospects and collecting key data points, like job title and company size, persona-based content can be delivered that resonates with each individual. This fundamentally strengthens the relationship between the buyer and the business as the prospect moves through the customer journey.
For more insight into chatbots and the opportunities they can offer, download the B2B Marketer's Guide to Chatbots and Conversational Marketing or take a look at 7 Killer B2B Chatbot Stats.