"The setup process was smooth, fast and efficient. Engaging and converting leads 24/7 with conversational marketing has been a large part of our digital marketing transformation."
Grace Tupling – Marketing Director, GeoSLAM
Challenge
As the global market leader in 3D geospatial technology solutions, GeoSLAM operate in the building and surveying industries, offering underground scanning equipment through their partner network. Selling across 75 countries, GeoSLAM own a highly captive market and are the premium specialists in their field.
GeoSLAM were looking to capitalise on the strong market interest in their 3D scanning solutions. Operating with a traditional OLARK on-site chat offering, GeoSLAM were only able to engage with their prospects through live chat when the sales team was available, and this was limited to business hours Monday to Friday.
As a result, the business identified they were missing out on leads outside of UK working hours, and with demand rising from other territories, the cost of these missed opportunities was stacking up.
In addition, GeoSLAM were looking for new ways to scale their inbound lead generation and implement lead qualification at scale.

Industry
Geospatial Technology
Services
Chatbots & Conversational Marketing
"GeoSLAM were only able to engage through live chat with their prospects during UK business hours. As a result, the business was missing out on important conversations with possible customers."
GeoSLAM were looking for a solution that could:
Enable digital growth in the business
Improve onsite conversations
Increase lead generation
Unlock 24/7 automated lead generation and qualification
Streamline lead generation, matching prospects with dealers globally
To meet these goals and address GeoSLAM's biggest challenges, we proposed a dedicated chatbot solution that could engage, nurture and qualify prospects 24 hours a day, 7 days a week.
What We Did
Strategy Development
After agreeing on a chatbot solution, we collaboratively kicked off the project with a discovery workshop. This was designed to scope out chatbot strategy and an approach to the solution. In this session we analysed:
Customer segments
Customer personas
Products
Website and other marketing technologies
Brand and messaging
Chatbot platform selection
Chatbot goals
Platform Selection and Purchase
Once the strategy was set, we agreed that Drift.com was going to be the best solution to the challenges. We supported GeoSLAM during the purchase to help select the right Drift package for their needs and ambitions, ensuring they had access to all the features necessary to deliver on the strategy.
Project Planning
With the strategy identified, we then built out a comprehensive project plan in Monday.com, ensuring a single project management platform was available to all parties involved. This enabled simple communication, coordination and project visibility, whilst also providing clear timelines for delivery.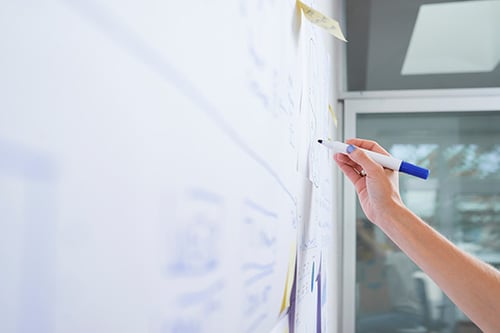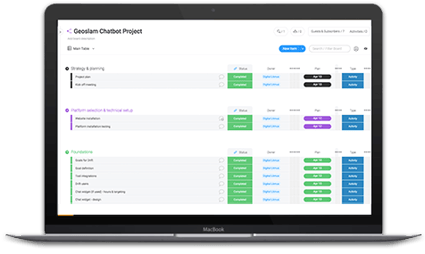 Drift Deployment & Setup
Moving forward with the setup, we deployed Drift using Google Tag Manager (GTM). Using GTM is the cleanest way to deploy Drift providing many configuration benefits as well as an audit trail of the deployment.
After deploying and testing Drift, we set up the core configuration. We set up active hours and targeting for live chat, and qualifying criteria to determine when it would take over from the automated chatbot. We also set up the user profiles of the individuals who would engage qualified prospects.
This configuration also extended to the development of lead routing rules, designed to ensure the right sales team member received the right leads based on type and location.
Additional configuration included integrating user's calendars into the chatbot, unlocking the opportunity for prospects to book directly into the relevant Sales person's calendar 24/7.
Finally, GeoSLAM's Salesforce was integrated into the platform in order to ensure leads were captured and synchronised, as well as tracking how much revenue is influenced by the chatbot.
Chatbot Personality Development (AKA tone of voice)

Following technical configuration, we worked with GeoSLAM to develop a tone of voice for the chatbot and scope out its personality. As a brand representative, this stage was critical, as it needed to effectively reflect the GeoSLAM brand tone and values in its conversations with prospects.
The chatbot's personality was agreed to be professional and friendly, using occasional emojis to 'lighten' the experience and make it feel more personable. It was also agreed English would be kept simple and conversational at all times, to accommodate for non-english speakers.
Chatbot Playbook Development
Armed with the tone of voice document, we moved onto building the playbooks. Playbooks determine the logic the chatbot uses when engaged, how to respond, and what action to take.
For the initial rollout, we built 4 playbooks, each targeting a different section of the website. The playbooks each focus on a key aspect of the customer journey and are optimised to deliver maximum value.
Dedicated playbooks were placed on the:
Homepage
Product Pages
Contact Us Page
In addition to these page-specific playbooks, a special catch-all playbook was also developed, designed to sit on all other pages on the site, helping users with navigation and more generic top level challenges such as support.
In the development of each playbook we:
Identified the key qualifying questions
Designed the chat flows
Wrote the chat flow copy
Added email capture and meeting bookings
Set up targeting rules (i.e. where should the playbook show)

Chatbot Training
With the chatbot ready to go, we trained GeoSLAM team members on how the chatbot worked and how it could be used to drive lead capture and nurture. This involved introducing them to the systems in the backend and helping them understand the analytics involved so performance could be measured, monitored and analysed.
Chatbot Go Live
After team training was completed, the infrastructure to support and use the chatbot in GeoSLAM was ready. It was given a final end-to-end test, and then it was given the green light to go live.
Ongoing Support and Optimisation
Once the chatbot was up and running, we offered ongoing support to ensure GeoSLAM were getting the most value out of Drift, this included:
Support with usage and optimisation
Additional training support as required
Technical support e.g. Salesforce sync issues
Playbook updates e.g. adding a new GeoSLAM product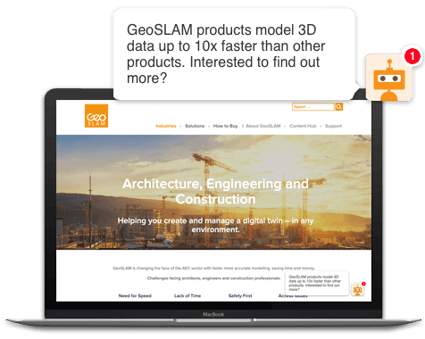 Results
The chatbot campaign has been a great success. It has driven prospect engagement, lead generation, operational efficiencies, and revenue pipeline.
In the space of 6 months the chatbot has:
Generated conversations
1.1k+
Prospect email addresses captured
450+
Sales qualified leads
350+
Influenced pipeline and closed deals
$1M+
"The results speak for themselves - I wouldn't hesitate to recommend Digital Litmus."
Grace Tupling - Marketing Director, GeoSLAM