"If you're looking for digital growth – you need Digital Litmus"
Sebastian Lewis, CEO, SoleTrader.com
SoleTrader.com is the first 'professionally built website' provider dedicated to sole traders and small business owners globally.
By actually building and managing websites for its customers, SoleTrader.com instantly removes the hassle, time and confusion of a self-build platform and the expense of a high street web developer.
The challenge
SoleTrader.com already has significant traction in the market and is looking to build on its successes. The team wanted to optimise existing marketing channels and develop new scalable routes to market.
SoleTrader.com was seeking a digital growth agency to be the lynchpin for all their digital marketing efforts. They wanted an agency who could be their outsourced growth team.
SoleTrader.com wanted support across many different activities – everything from customer segmentation and value proposition development, to SEO and content marketing.
Our work with SoleTrader.com broadly falls into two areas:
The 'full-service' delivery of digital marketing campaigns.
Our end-to-end growth process (more about this below).
"Digital Litmus has a unique ability to mix fresh creative ideas with cutting-edge scientific analysis"
Sebastian Lewis, CEO, SoleTrader.com
Our solution
SoleTrader.com have asked us to take complete ownership of campaign delivery. We're really happy to do this, as we want our clients to feel that we are a true extension of their in-house team.
Working like this allows SoleTrader.com to focus on the wider business with the peace of mind that digital marketing campaign performance is being optimised.
The campaign we've kicked off with is a high-volume, multi-channel campaign with a key national partner. Nothing like starting small!
The campaign services that we are providing include:
Email design and copywriting
Landing page design and copywriting
Email A/B testing and optimisation
Landing page conversion rate optimisation
SMS copywriting
Content marketing / blogging
At heart, we're scientists. So that means we analyse and optimise everything.
We're running A/B tests across email send time, email subject line, email creative, landing pages, and much more. It's THE best way to improve campaign performance.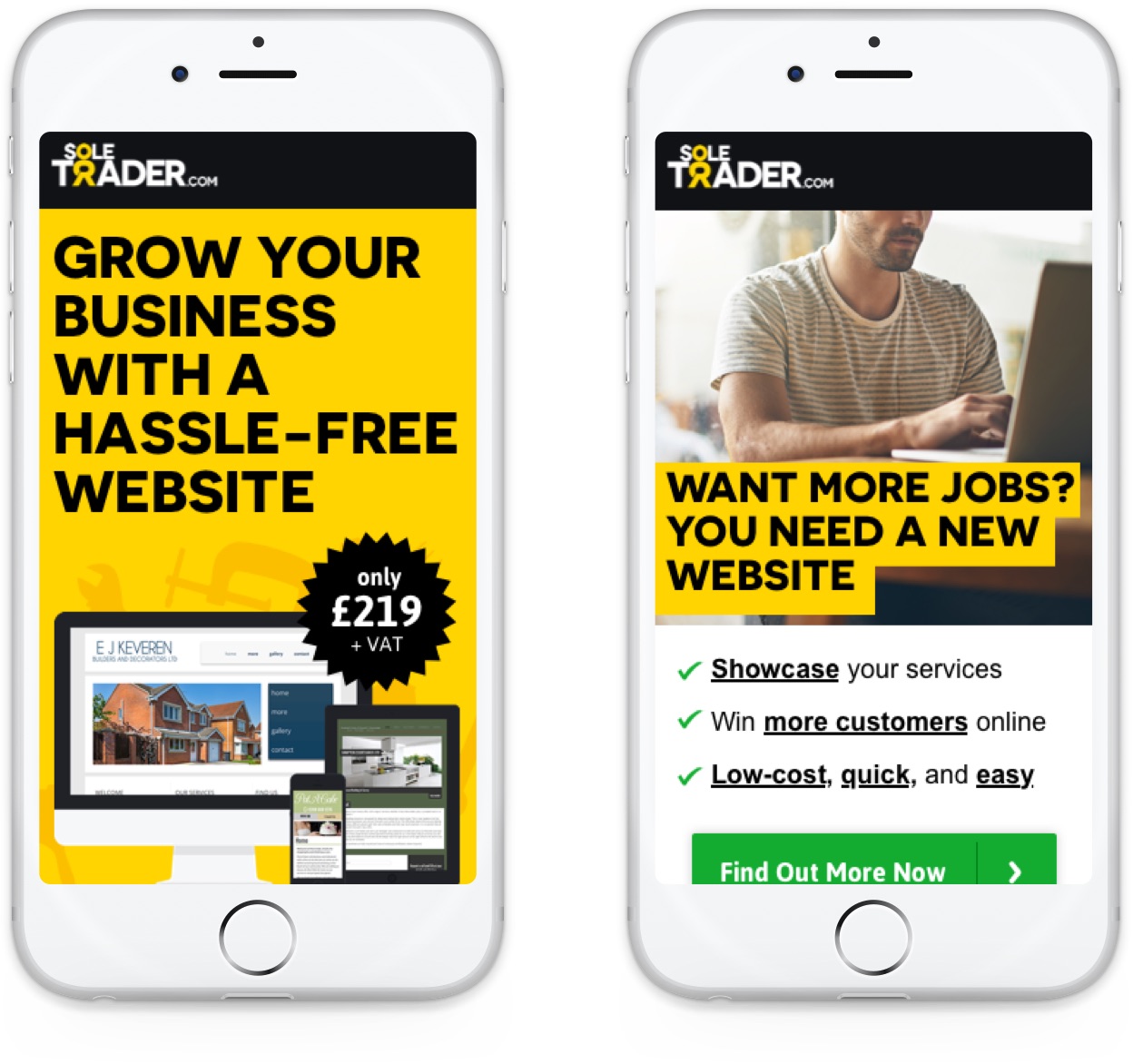 It sounds like there's a lot going on, and there is, but our optimisation processes enable us to smoothly measure, learn, and iterate to get the best results.
And because we're providing end-to-end delivery, SoleTrader.com are able to leave all the detail in our hands and focus on the bigger picture.
The Digital Litmus Digital Growth Process
To help SoleTrader.com drive business growth and customer acquisition, we are using our proven process for digital growth.
The first phase of the growth process is called Growth Discovery & Roadmap. It's a rapid learning and planning phase that takes around two weeks to complete.
This is where we immerse ourselves in all aspects of our client's business related to growth. This 'deep-dive' builds the knowledge and understanding we need to deliver great results.
We then carry out an in-depth analysis of our client's business from a growth perspective. We use our findings to illuminate strategies and tactics that become the growth strategy and roadmap.

With SoleTrader.com, we analysed the value proposition, customer segmentation, competitors, business, and marketing performance. And from this we were able to identify four distinct go-to-market strategies.
We carried out a SWOT analysis of the strategies and collaborated with SoleTrader.com to agree the optimal approach to maximise business growth.
Finally we created the growth roadmap. It's a list of prioritised tasks and growth experiments that provide the best opportunity for growth.
They can be anything from customer testing to validate the value proposition, to running a low-budget pay-per-click campaign to assess demand in a new customer segment.
SoleTrader.com's growth roadmap covers a wide range of tasks and experiments and includes everything from SEO improvements, Google Adwords testing, and email optimisation, to persona development, price testing, and positioning.
The second phase of the growth process is called Growth Machine. This is an on-going phase where we execute each of the items on the growth roadmap.
Digital growth is a moving target. This is why we run Growth Machine according to agile principles. We sit down with our clients on a regular basis to re-evaluate and re-prioritise the growth roadmap.
We want to be sure that at any given time we are working on the best opportunity for growth.
As our company name hints at, we're science geeks and we love analysing data patterns – that means everything we do is trackable and transparent. We've built bespoke dashboards to share growth results with SoleTrader.com.
"If you are looking for an outsourced growth team, I can't recommend Digital Litmus highly enough – their innovative approach gets results"
Sebastian Lewis, CEO, SoleTrader.com
Every day we learn more about our client's business, customers, and product. This compounding effect means that we are able to improve growth results across the board as time goes on.
We regularly share our learnings and new hypotheses with SoleTrader.com to ensure that we're all on the same page and also draw on the customer insight that they have built up over the years.
We've established a really good working rhythm with SoleTrader.com and we are very happy to be working with such a passionate and talented team.
We look forward to a long and fruitful journey along the road of digital growth.
Client

---
Services
Digital Growth Strategy
Content Marketing
Conversion Rate Optimisation
Landing Page Development
Email optimisation
UX & Design
Value Proposition
Campaign Management
---