Connected Growth Drives Better Results
Leave random acts of unmeasured marketing behind and accelerate your business growth with a strategic, systematic, and integrated growth programme.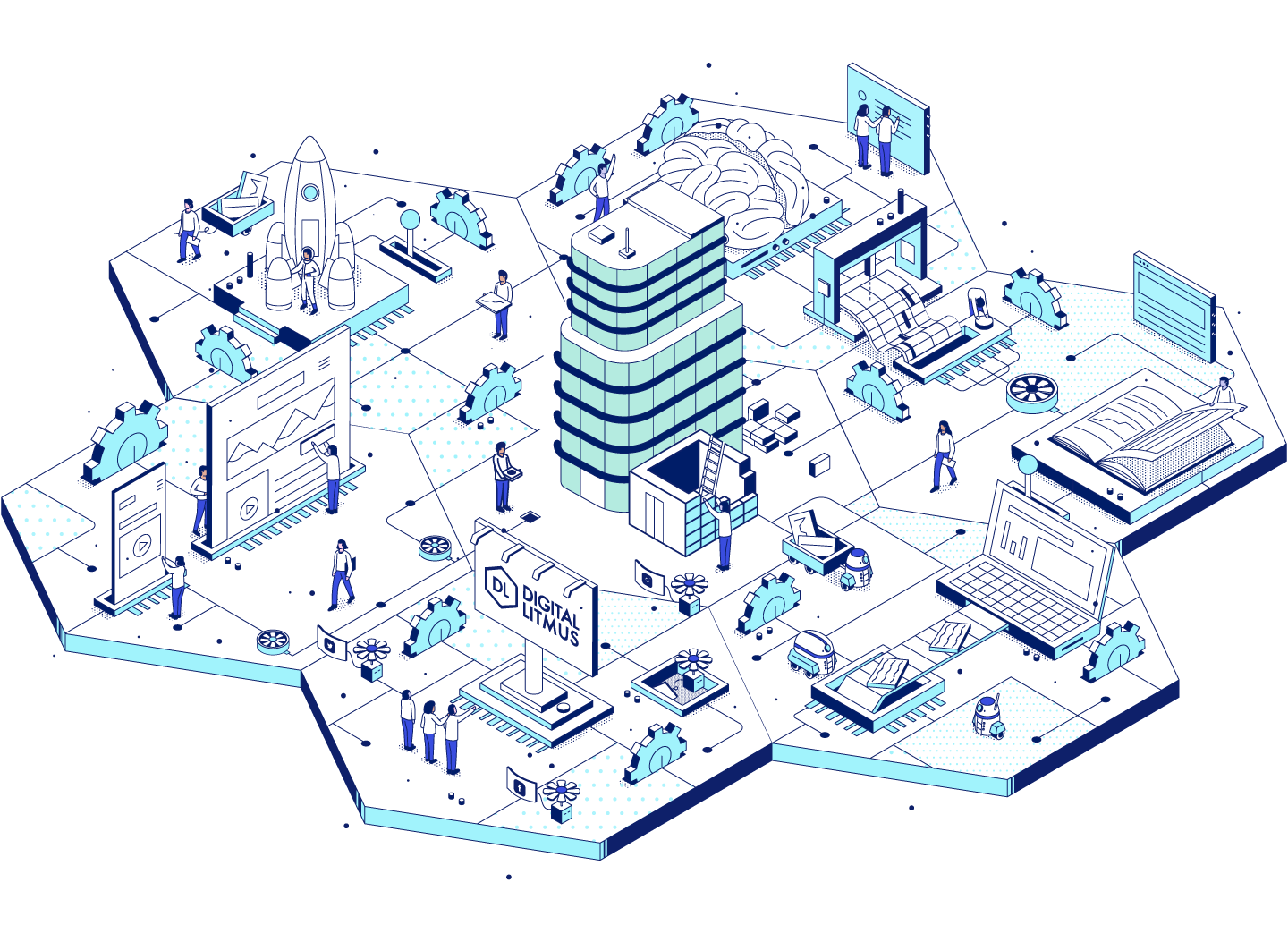 THE B2B GROWTH CHALLENGE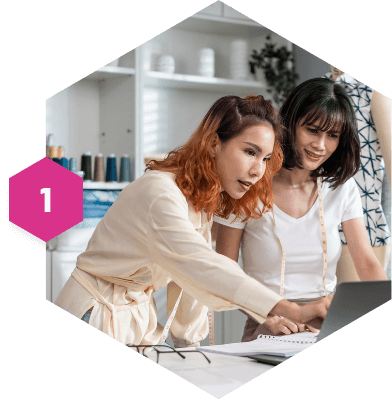 The Buyer Journey Has Changed Forever
3% of a B2B buyers time is spent engaging with Sales - the rest is on their terms. You need to adapt how you engage in their journey.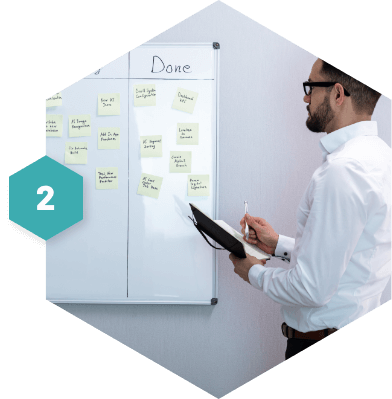 Disconnected People, Process, and Systems
Modern marketing, data, and technology are inseparable. But it tends to be messy. You need a seamless approach that connects you to your customers.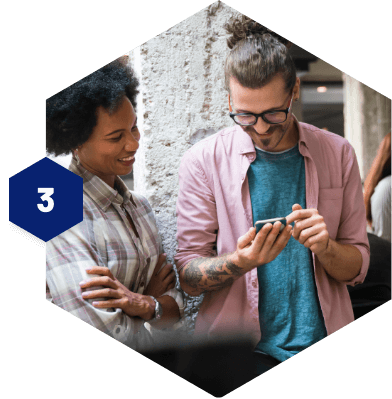 More Channels, More Content, More Noise
Cutting through the noise is getting ever harder. You need to tell your story in a connected and consistent way across channels.
THE CONNECTED GROWTH MODEL
We believe inside every business there is growth waiting to happen - it just needs the spark. That's where our Connected Growth Model comes in - a comprehensive planning, delivery, and measurement model to deliver efficient growth.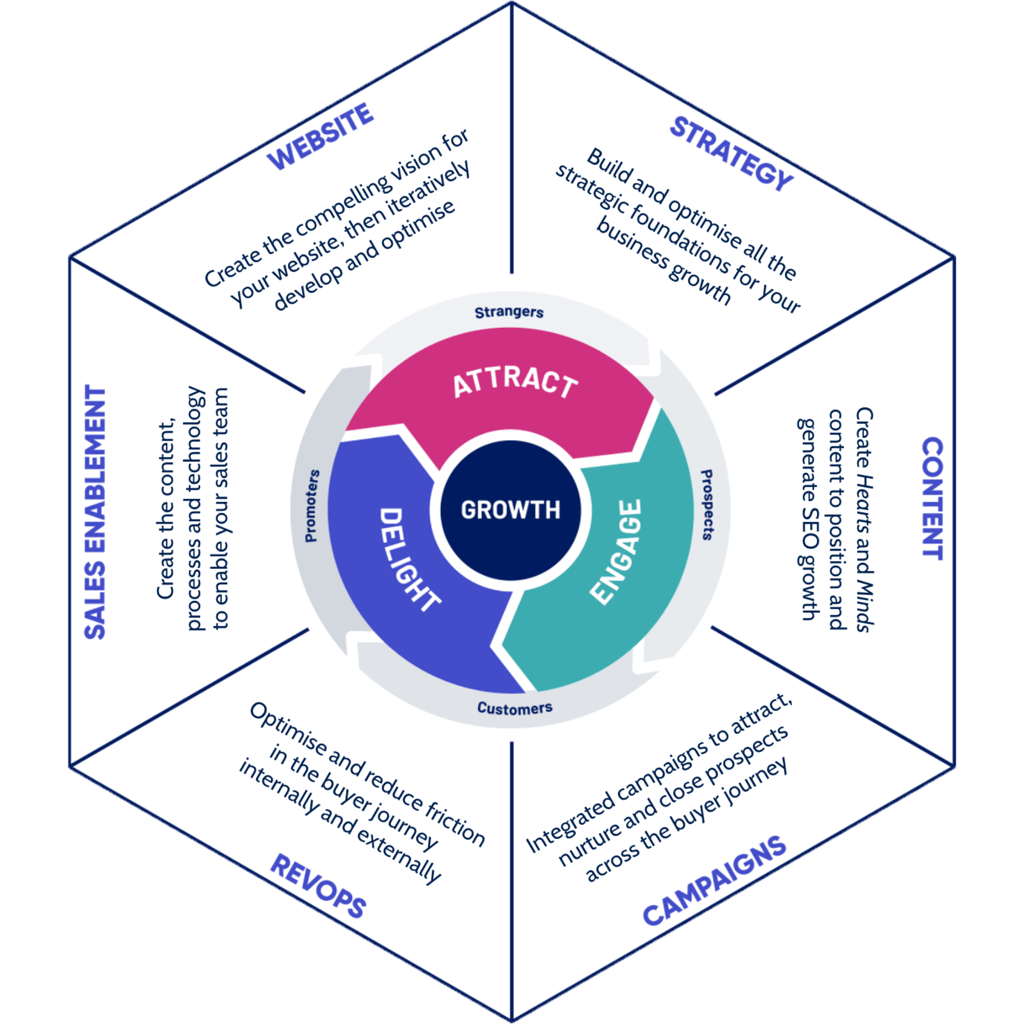 Attract More
The Connected Growth model joins the dots across Paid and Organic channels, so you can deliver strategies to attract more of your ideal customers.
Engage Further
The Connected Growth model helps you to connect with your buyers and deepen engagement. Give your buyers what they need to convert them into customers.
Delight Better
Your existing customers can be your best source of growth with brand advocacy and upsell. The Connected Growth Model delivers strategies to seize this opportunity.
Our Services
INTEGRATED GROWTH TOOLKIT
Work with us project-by-project or a growth programme - the choice is yours
Team
YOUR GROWTH TEAM
We're incredibly proud of the team of experts that we've brought together to help you achieve your growth goals. You'll partner with a cross-functional pod of our dedicated experts passionate about delivering growth for your business.
This is the strategic leader of the pod. They bring huge experience to the team and ensure that your growth programme is always on course.
Demand Gen Strategist
Crafting compelling narratives, aligning content with brand goals, and guiding digital storytelling, the Content Strategist engages audiences and drives meaningful connections.
Content Strategist
Designing visually captivating assets, infusing creativity, and refining user experiences, your Designer plays a key role in creating memorable digital experiences.
Designer
Developing technical solutions and digital tools, your Developer will create technical excellence and robust solutions.
Developer
Supporting your RevOps technologies and processes, your RevOps Executive will help create systems and processes to align your teams.
RevOps Executive
Managing your projects, ensuring timelines, and fostering collaboration, your Project Manager ensures we deliver successful project outcomes.
Project Manager
Crafting engaging content, tailoring messages to target audiences, and optimising for impact, your Content Writer fuels your brand storytelling.
Content Writer
Delivering demand gen strategies and growth-focused projects, your Demand Gen Executive fuels your growth with strategic marketing and lead gen efforts.
Demand Gen Executive
Our Ethos
STRATEGIC, SYSTEMATIC, INTEGRATED
Strategic
Successful growth always starts with strategy. Our robust strategy toolkit ensures you are always doing the right things and doing things right.
Systematic
Our systematic growth model creates technology and repeatable processes that increase your growth velocity and compounds returns over time.
Integrated
Planning across the buyer journey and deploying an integrated channel approach always delivers better results and value for money.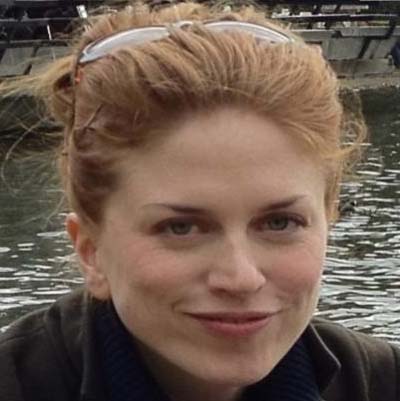 SPEKTRIX | Jennifer Barrett
VP of Business Development & Marketing
"The Spektrix growth challenge is complex, nuanced, and unique to our market. Digital Litmus designed a demand generation strategy aligned to our goals and focused on our customer. Their strategy and execution generated outstanding results. I can't recommend them highly enough."
£1.6m Closed Business
48% Target Accounts Engaged
307 Marketing Qualified Leads
BOOK A MEETING WITH A STRATEGIST
Get in touch to book a meeting with one of our friendly B2B growth strategists.
On the 30 minute call we will:


Get to know you and your business

Review your goals and targets

Present our services and how they might fit

Establish next steps