In the ever-evolving landscape of digital marketing, the importance of partnering with the right agency cannot be overstated.
With over 25,000 marketing agencies in the UK alone, the task of selecting the perfect fit can be overwhelming for any business. That's why we've done the heavy lifting for you and curated a list of the 30 best marketing agencies in the UK for 2023.

Whether you're a startup looking for your first marketing agency or an established business aiming to switch, our list has something for everyone. So, let's dive in and simplify your search!
The 30 Best Marketing Agencies in the UK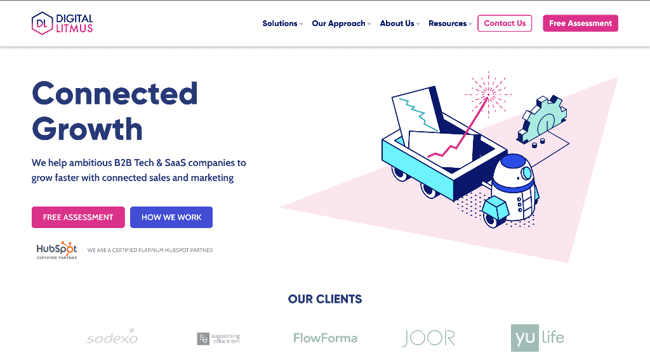 Speciality: B2B Growth & HubSpot
Location: London
OK we may be a little biased, but we're going to start with Digital Litmus - that's us! We are a Platinum HubSpot partner specialising in accelerating B2B growth through connected sales and marketing strategies.
We are experts at driving measurable marketing results and increasing sales pipeline by engaging prospects at every stage of the buyer journey. Our Connected Growth services span Marketing Strategy, Content & SEO, Paid Campaigns, Websites, and Sales Enablement. We aim to deliver connected services that deliver results significantly boosting revenue.
We are experts in HubSpot and RevOps, building tech stacks and processes to enhance go-to-market momentum, driving big revenue increass. We excel in creating high-converting, beautiful HubSpot websites that effectively attract, engage, and convert prospects.
We have a relentless focus on B2B growth, and employ CMO-level strategists and a specialist execution team with deep expertise in B2B Growth. Our agile approach is built for change, adapting strategies based on data and your needs. Our work leads to big business outcomes, including a £1.6M increase in closed business and a 307% increase in Marketing Qualified Leads.
Overall, our growth toolkit is designed for businesses looking to scale, offering a suite of services from marketing strategy and content creation to paid campaigns and sales enablement.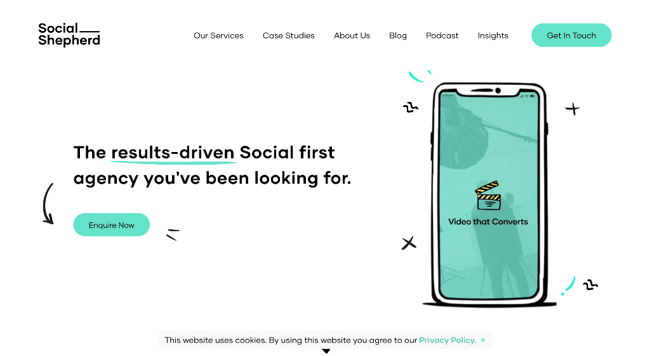 Speciality: Social Media Marketing
Location: Bath
The Social Shepherd is a standout social-first marketing agency, recognised as the Best Large Social Media Agency in the UK. They offer a full suite of services, including organic social management, paid media campaigns with impressive ROI, and a creative studio producing engaging sales-driving content. Their influencer marketing strategies utilise a range of influencers to generate authentic engagement and measurable revenue.
Their approach is data-driven and platform-diverse, ensuring brands grow across various social channels. With strong partnerships with major platforms and a commitment to performance, they're a top choice for brands aiming to amplify their social media impact efficiently.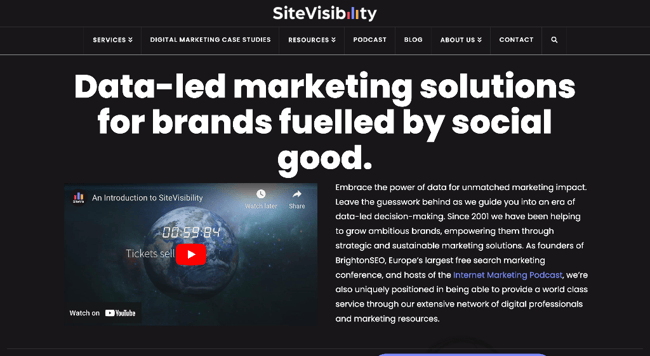 Speciality: SEO
Location: Brighton
SiteVisibility is a digital marketing agency that champions data-led strategies to foster growth for brands with a social conscience. Established in 2001, they have carved a niche in delivering strategic and sustainable marketing solutions. Their expertise spans SEO, PPC, analytics, content, social media, display advertising, strategy, and online PR. As the founders of BrightonSEO, Europe's largest free search marketing conference, and hosts of the Internet Marketing Podcast, their insights are enriched by a vast network of digital professionals.
Their commitment to social good is evident in their support for the third sector, offering affordable expertise and training. Testimonials highlight their tailored approach, aligning solutions with business goals and providing generous guidance, even when budget constraints limit formal engagement. With a 4.9 Google rating, SiteVisibility's reputation for knowledge, integrity, and passion in digital marketing precedes them, making them a trusted partner for businesses aiming to make data-driven decisions in their marketing efforts.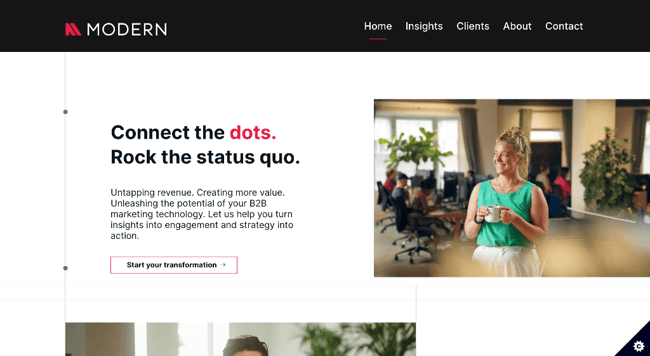 Speciality: Data-Driven Strategies
Location: Bristol
Modern B2B Co. is a catalyst for change in B2B marketing, leveraging technology, strategy, and execution to create significant growth. They specialise in connecting insights to engagement and driving revenue through interactive strategies. Their expertise in defining Martech architecture enables better connections, while their digital solutions are designed to draw people in and create rewarding experiences.
With scalable delivery for marketing automation, content creation, and demand generation, Modern B2B positions itself as a partner in transforming marketing functions. Their strategic business intelligence and expert advice are tailored to deliver growth in complex markets, as evidenced by testimonials from high-profile clients. As partners with Salesforce, Google, Terminus, and Drift, they have the credentials to back their comprehensive approach to untapping revenue and creating more value for your business.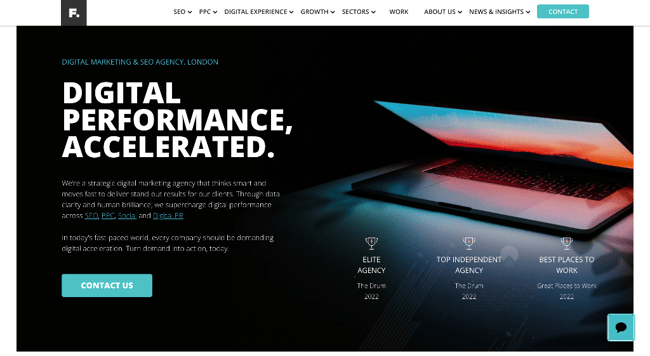 Speciality: PPC and SEO
Location: London
Found is a London-based digital marketing and SEO agency that accelerates digital performance through a strategic and data-driven approach. Recognised as an Elite Agency by The Drum in 2022 and one of the Best Places to Work, Found leverages data clarity and human brilliance to supercharge results across SEO, PPC, Social, and Digital PR. They offer a growth experience that rapidly delivers results, using data, technology, and a team of channel experts, growth partners, data scientists, and analysts.
Their services are tailored for both B2B and B2C companies on a global scale, ensuring significant online performance. With expertise in technical SEO, SEO content, YouTube SEO, and voice search, Found is more than just a PPC and SEO agency; they are a multi-award-winning partner for brands aiming for substantial digital growth.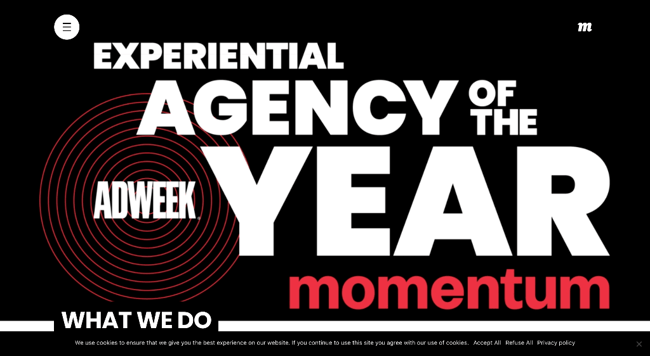 Speciality: PPC and SEO
Location: London
Momentum Worldwide is a creative agency that thrives on innovation in the experiential marketing space. They have a track record of transforming ordinary moments into memorable brand experiences, as evidenced by their diverse portfolio of projects. From taking 40 million people to the Super Bowl virtually with Verizon to pioneering streaming concerts with American Express, Momentum Worldwide crafts campaigns that resonate deeply with audiences.
Their work with big names like Nike, Subway, and Coca-Cola showcases their ability to create engaging, multi-faceted campaigns that not only capture attention but also create lasting impressions. For brands looking to make a genuine impact, Momentum Worldwide is the partner that can make it happen.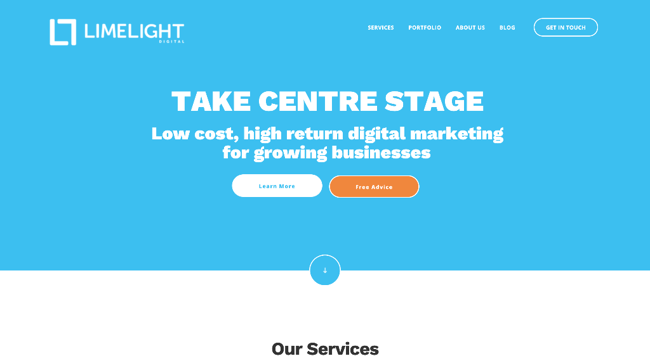 Speciality: Digital Marketing for Startups
Location: London
Limelight Digital is a digital marketing agency that specialises in propelling growth for startups through increased visibility and improved commercial success. Their services include Search Engine Optimisation (SEO), which is essential for driving organic traffic from search engines for relevant key phrases. They also offer Social Media Marketing, allowing startups to connect with their target audience across various platforms, and Paid Search (PPC), with a track record of managing £1.5 million in media spend annually. Content Marketing is another key area, leveraging Google's advanced semantic search capabilities to benefit startups.
Limelight Digital boasts significant results, such as helping StudentCrowd achieve 160,000 monthly organic visits in two years. With a strong focus on results and best practices in SEO, as evidenced by their work with StudentCrowd, they have a reputation for delivering measurable growth and being a pleasure to collaborate with.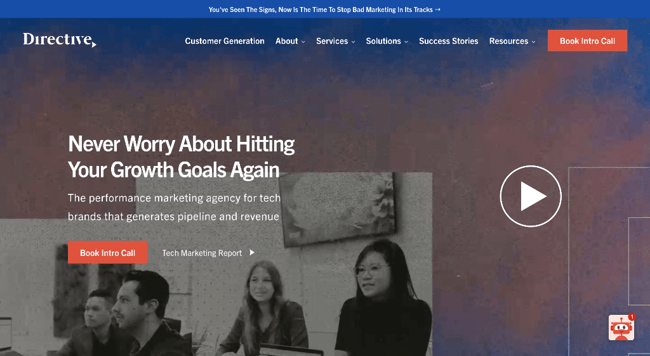 Speciality: Multi-Service Digital Marketing
Location: London
Directive Consulting is a performance marketing agency that specialises in accelerating growth for technology brands. With a team of over 150 expert tech marketers, they have generated over $1 billion in revenue for their clients, which include early-stage startups to mature companies like Adobe and Amazon.
Directive's integrated marketing solutions are designed to drive exponential growth through services such as paid media, content marketing & SEO, integrated strategy, lifecycle marketing, creative design, and video production. They pride themselves on being independent, focusing on customer goals, leading in market innovation, and measuring success through client growth.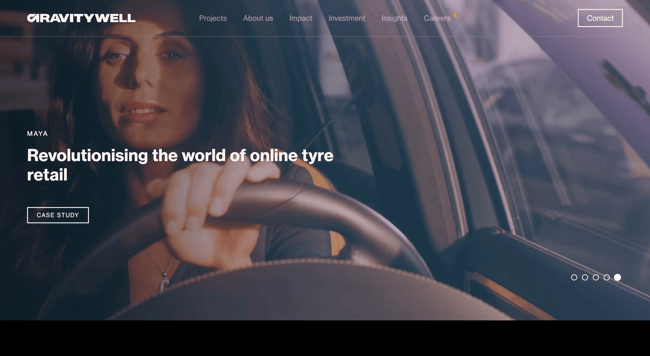 Speciality: Full Digital Package
Location: Bristol
Gravitywell is a Venture Studio based in Bristol, specialising in creating digital products that resonate with users. With over two decades of experience, they are experts in nurturing startups and scaleups, providing a full spectrum of services from the Discovery Phase to design, build, and investment support.
They pride themselves on never outsourcing, ensuring that every project benefits from their in-house expertise in mobile and web apps, MVPs, prototypes, investment support, consultancy, brand strategy, and digital transformation. Their commitment to helping businesses flourish is evident in their approach to delivering industry-leading consultation and support.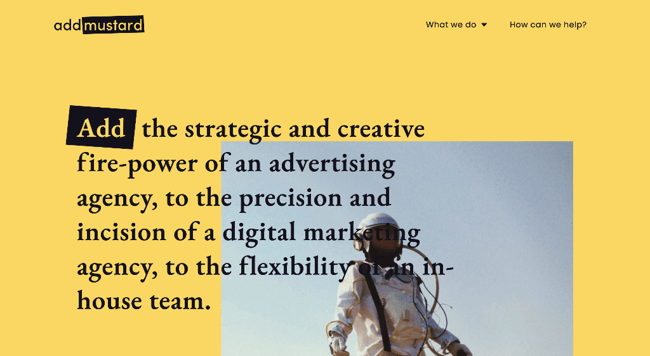 Speciality: Digital Marketing for Entrepreneurs
Location: Brighton
Addmustard is a dynamic blend of an advertising agency's strategic and creative firepower with the precision of a digital marketing firm, complemented by the flexibility of an in-house team. They pride themselves on understanding the unique opportunities and challenges faced by entrepreneurial businesses. Their approach is devoid of smoke and mirrors, focusing instead on technology, marketing know-how, and a strong entrepreneurial spirit.
Their portfolio showcases their ability to add significant value across various sectors, including luxury retail, fintech, and travel. With cases like launching the world's first sustainable football boot brand and turbocharging online presence for luxury retailers, they demonstrate a knack for enhancing brand value and marketing efficiency. Their services span branding, which they view as more than just aesthetics but as a core business driver, to technology that ensures marketing operations are seamless and impressive to customers.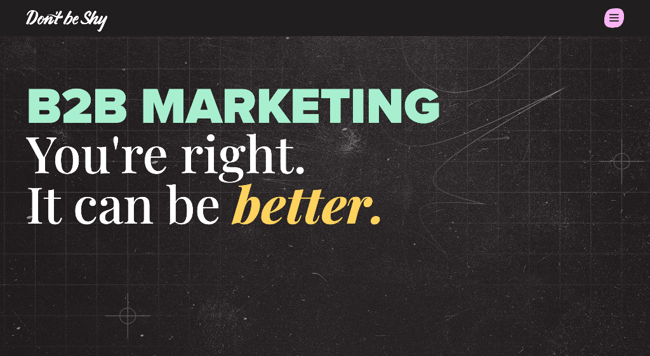 Speciality: B2B Marketing
Location: Manchester
Don't Be Shy is a B2B marketing agency that prides itself on going beyond the brief to uncover deep insights and unsaid truths, using them to create winning strategies for their clients. They specialise in branding, websites, and campaigns, with a focus on energy well spent. Their approach has garnered them recognition as the B2B Marketing Awards' Global Agency of the Year and winners of the Best Use of Martech for ABM, among other accolades.
They offer services in insights workshops, interviews, surveys, and industry analysis, aiming to provide absolute clarity on a B2B brand's position and opportunities. Their strategy services are content-led and digital marketing-focused, attuned to buying journeys and inclusive of thoughtful automation and impact measurability. Don't Be Shy's activation services are fully integrated, spanning from social to email, which showcases their comprehensive approach to B2B marketing. Trusted by a range of B2B brands, Don't Be Shy has proven their expertise in driving substantial results for their clients.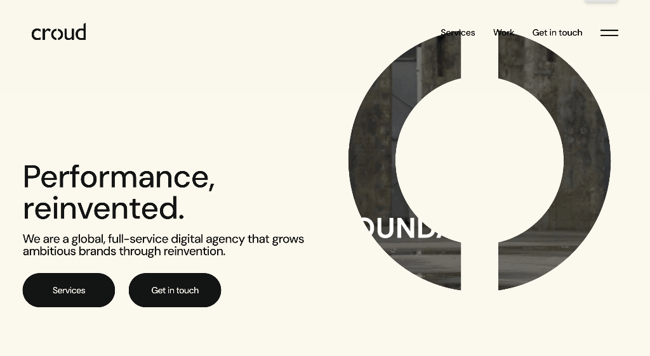 Speciality: International Marketing
Location: London
Croud is a global full-service digital marketing agency that prides itself on driving exponential growth for brands through the strategic reinvention of media and performance. With over 500 consultants and an extensive network of 2,500 digital specialists, Croud leverages proprietary tools to deliver cutting-edge marketing solutions that have a tangible impact on business outcomes. Their approach is data-driven and innovative, ensuring that clients receive personalised and effective marketing campaigns.
Croud has a track record of partnering with leading global brands, showcasing their ability to scale marketing efforts across various markets and industries. Their case studies reflect a commitment to delivering growth and reinvention, as evidenced by their work with IWG and the Royal British Legion, among others. With a focus on results and a comprehensive suite of services, Croud stands out as a dynamic and results-oriented digital marketing partner.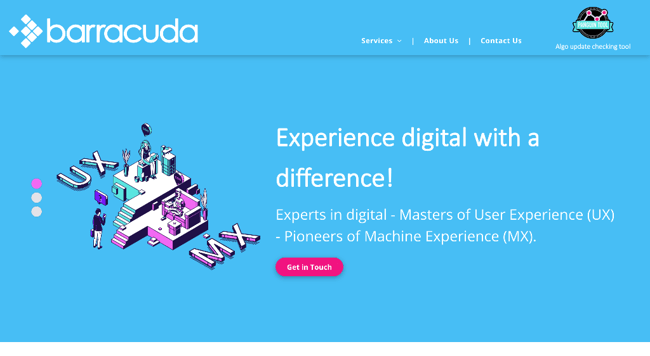 Speciality: Multi-Channel Marketing
Location: London
Barracuda Digital is a London-based digital marketing agency that prides itself on being at the forefront of user experience (UX) and machine experience (MX). With over 23 years of delivering five-star service, they have established themselves as industry leaders, boasting the accolade of being the first Google-certified agency in the UK.
Their services encompass a broad range of digital marketing strategies, including SEO, paid media management, conversion rate optimization (CRO), and web design and build. They also offer specialised services like search experience testing and digital consultancy, ensuring a comprehensive approach to improving digital presence and performance. Barracuda Digital's commitment to innovation and excellence is further evidenced by their award-winning solutions, making them a trusted partner for leading brands looking to enhance their digital strategy.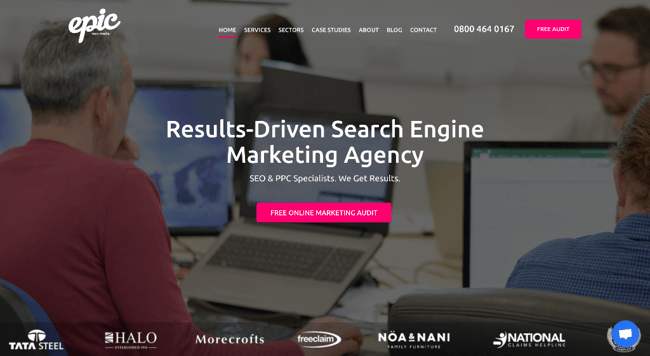 Speciality: PPC and SEO
Location: Liverpool
Epic New Media is a results-driven search engine marketing agency with a strong presence in Liverpool and Manchester. They specialise in SEO and PPC, boasting a track record of achieving top rankings for a diverse range of online businesses. Their approach is deeply rooted in understanding the nuances of search engine algorithms, which is reflected in their own successful rankings.
Their services encompass a full spectrum of online marketing, including strategic PPC campaigns that promise measurable and immediate results, and SEO practices that are scalable across various business sizes. They emphasise the importance of tracking through landing pages, lead nurturing, and key messaging, and advocate for intelligent data-led measures that integrate seamlessly with CRM systems. Their commitment to delivering results is matched by their dedication to providing a comprehensive service that covers every aspect of online marketing.
Don't settle for a cookie-cutter approach to B2B marketing. Let's develop a data-driven strategy that differentiates your brand and delivers results. Ready to embark on a journey towards business growth and success? Start by exploring our strategy services and how they can help you thrive
.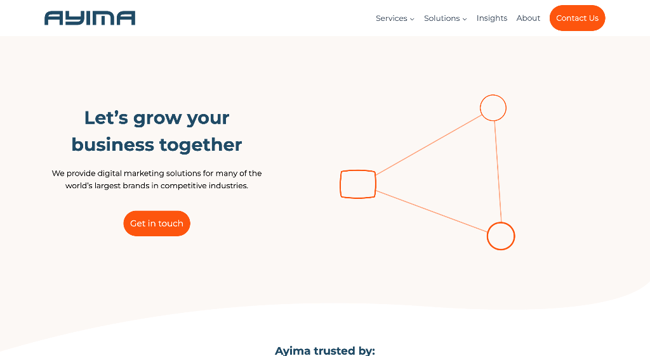 Speciality: All-in-One Agency
Location: London
Ayima is a digital marketing agency that caters to some of the world's most prominent brands across various competitive industries. Their expertise in technical SEO is particularly notable, as they are often the go-to experts when other agencies hit a roadblock.
With a promise to transform your view of SEO, Ayima crafts customised, data-informed strategies to solve unique business challenges. They also excel in Paid Media, where their award-winning team ensures that every dollar spent is an investment towards increasing revenue through comprehensive, full-funnel strategies. Their cross-channel solutions also encompass Analytics, Outreach, and Content Marketing, delivered by a team of senior-level experts from the UK, US, and Canada. Ayima's global presence, coupled with their experience in sectors like Finance, Gaming, Telecoms, Healthcare, Media, Retail, Travel, and B2B, positions them as a boutique agency with the capability to deliver holistic marketing solutions.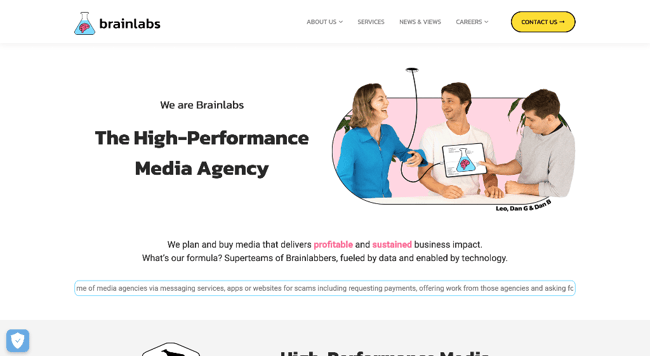 Speciality: Video Marketing
Location: London
Brainlabs is a high-performance media agency that specialises in planning and buying media to deliver profitable and sustained business impact. Their approach combines the expertise of 'Superteams'—groups of exceptional Brainlabbers—with data and technology. These teams are tailored for each client, bringing together vertical knowledge, media expertise, and platform know-how to craft marketing strategies centred around customer insights.
Their services are underpinned by their tech platform, Cortex, which features end-to-end capabilities, from trend prediction to AI-powered brief generation, giving clients a competitive edge. Brainlabs' commitment to data-driven strategies and technology-enabled solutions has placed them among the fastest-growing agencies, as recognised by Adweek. With a client roster that includes prominent names like Boots, Mars, and American Express, Brainlabs is a go-to agency for businesses looking to leverage media for long-term growth.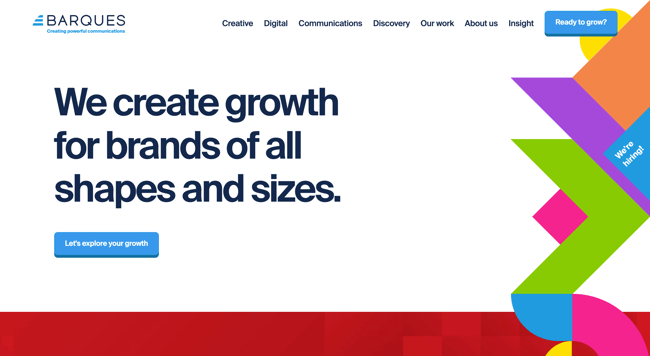 Speciality: Web Design
Location: Birmingham
Barques is a dynamic communications agency that crafts powerful strategies to foster growth for brands of all sizes. Their expertise spans brand strategy, web design, SEO, and email marketing, ensuring a comprehensive digital presence. They emphasise a collaborative approach, working closely with clients to create strategies and products that resonate with their audience.
With a keen focus on discovery, they delve deep into understanding the client's sector, audience, and competitors before crafting tailored solutions. Their creative team excels in defining and refining brand identities, creating tangible assets that engage and inspire. Whether it's through motion graphics, web design, or print products, Barques ensures that every aspect of a brand's identity is leveraged to reach and impact the target audience effectively.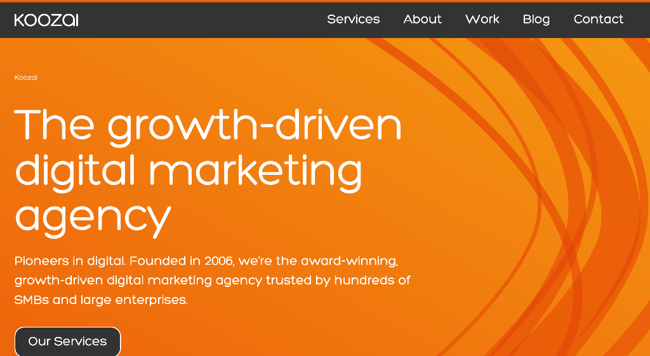 Speciality: Paid Media
Location: London
Koozai is a growth-driven digital marketing agency with a pioneering spirit, established in 2006. They've earned a reputation for elevating brands online through their multi-award-winning services, trusted by a wide range of businesses. Koozai specialises in SEO, digital PR, content marketing, PPC, paid social advertising, and website development. Their approach is to put results, marketing goals, and bespoke service at the forefront of their strategy.
With decades of experience across various sectors such as e-commerce, travel, and healthcare, Koozai's team is skilled at driving relevant traffic and leads. Their SEO services have been recognised with awards, and they are committed to helping websites reach their full potential. Operating from Southampton and London, Koozai promises big agency results with a personalised touch, boasting over 440 clients, 110 years of combined experience, and a track record of impressive conversion uplifts. They are dedicated to raising standards in digital marketing, offering a higher level of expertise and service to support UK businesses in achieving their digital goals.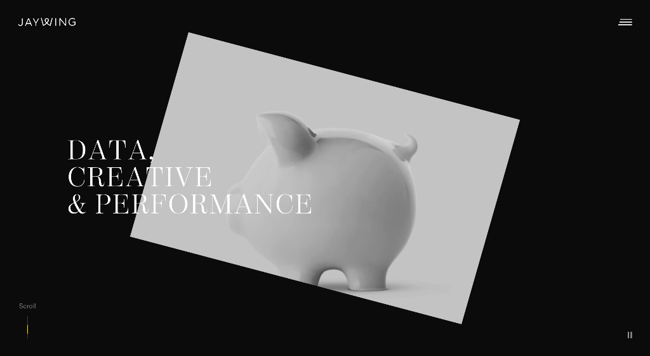 Speciality: SEO
Location: Sheffield
Jaywing is a dynamic agency that thrives on data intelligence, creative engagement, and channel performance to deliver both immediate results and long-term growth. They pride themselves on their ability to bring together top minds to uncover unique insights that lead to smarter outcomes, ensuring their solutions are effective and efficient. Their approach is about creating certainty in an unpredictable world, maximising opportunities, and eliminating chance.
With a portfolio boasting increased ad spend returns by 175% for Domino's and maintaining the uniqueness of the UK's most loved bank, first direct, for 20 years, Jaywing demonstrates a track record of success. Their work with global brands like Castrol and Doritos showcases their capacity for award-winning content creation and significant market impact. Jaywing's expertise is in turning the complex into the actionable, making them a go-to partner for businesses seeking data-driven and creative marketing solutions.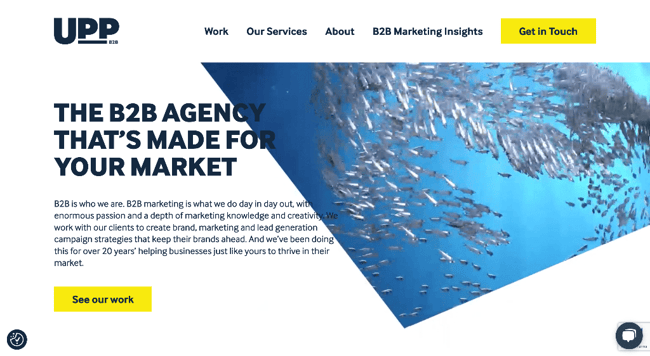 Speciality: Brand Building
Location: Salford
Upp B2B is a dedicated B2B marketing agency with over 20 years of experience in creating impactful brand and lead generation campaigns. They pride themselves on an audience-first approach that leverages insight, data, and creativity to foster connections and guide customers through the buying journey.
With a history of award-winning work, Upp B2B offers services including research and insight, branding, creative design, video production, website development, and content creation. Their expertise in understanding B2B audiences and crafting authentic, distinctive brand messages ensures that they deliver tangible, business-changing results for startups, growth-focused businesses, and renowned B2B brands alike.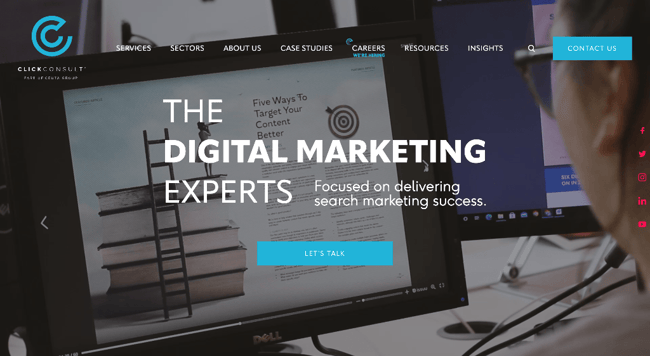 Speciality: Search Marketing
Location: Cheshire
Click Consult is a digital marketing agency that specialises in search marketing, including SEO and PPC. As a Google Premier Partner and Microsoft Advertising Select Agency Partner, they have a proven track record of delivering exceptional results, such as their award-winning paid media campaigns for Mr Clutch Autocentres.
With over two decades of experience, Click Consult has been recognised as a leading agency in various sectors, from retail to health and wellness. Their team of 55 specialists caters to a global client base, offering services like digital PR, content marketing, and analytics. Their approach is to work closely with brands to understand their unique challenges and ambitions, crafting bespoke strategies that drive digital growth. Their case studies, such as the local SEO campaign for Tesco, showcase significant improvements in conversions and customer engagement, demonstrating their commitment to long-term client success.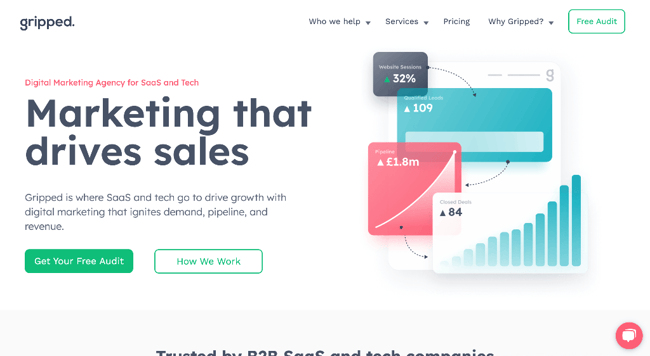 Speciality: B2B Marketing
Location: London
Gripped is a digital marketing agency that specialises in propelling SaaS and tech companies forward. With a deep understanding of the shifting landscape of buyer behaviour, Gripped offers seamless integration with your team, providing expertise and a results-driven approach to marketing. They focus on creating and capturing demand, aligning sales and marketing to drive revenue growth with strategies that are both buyer-centric and data-informed.
Their services encompass a full suite of digital marketing solutions, including content marketing that establishes your voice in the industry, B2B SEO to optimise your online presence, and paid search and social strategies that target high-intent prospects. Gripped also emphasises the importance of a strong website, viewing it as a key sales tool, and leverages marketing technology to underpin your growth strategies.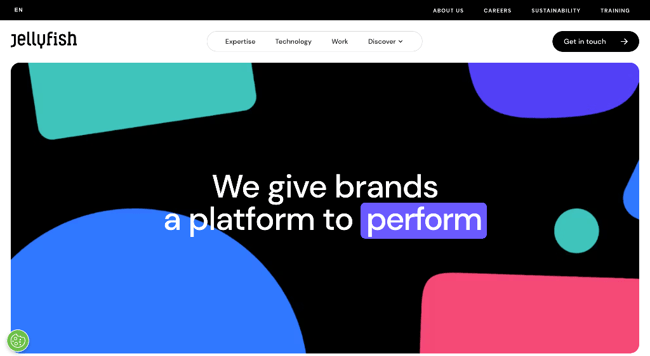 Speciality: Digital Strategy
Location: London
Jellyfish is more than just a marketing agency; it's a platform that empowers brands to excel globally. With a unique business model that encourages innovation, Jellyfish combines talent and partnerships to help brands engage and delight audiences worldwide. Their expertise spans creative, media, technology, data, strategy, and training, ensuring a holistic approach to digital marketing.
They have built strong relationships with platforms like Google, Meta, and Amazon Ads, which speaks to their ability to stay at the forefront of the digital landscape. With 2100 employees across 38 offices in 22 countries, Jellyfish is committed to providing talent with the opportunity to innovate and grow. They are proud of their work, such as transforming sex education through Emmy award-winning storytelling, showcasing their commitment to impactful and creative solutions.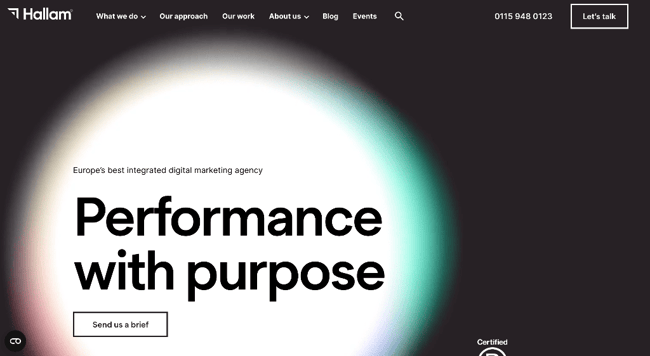 Speciality: Digital Marketing
Location: Nottingham
Hallam is a digital marketing agency that prides itself on delivering more than just standard services. They are distinguished by their strategic focus, aiming to drive sales, enhance experiences, and convert potential customers into loyal ones. Their approach is research-led and customer-oriented, offering full-funnel strategies that not only capture current demand but also build for the future. Hallam's services span across strategy, paid media, organic reach, brand experience, and data insights.
They specialise in creating integrated campaigns that align brand goals with marketing objectives and customer needs. Their expertise in paid search, social media, programmatic advertising, and affiliate marketing is designed to reach new audiences and maximise profits. With a commitment to delivering results and driving profits, Hallam offers data-driven organic strategies and creates intuitive online experiences that attract, engage, and convert.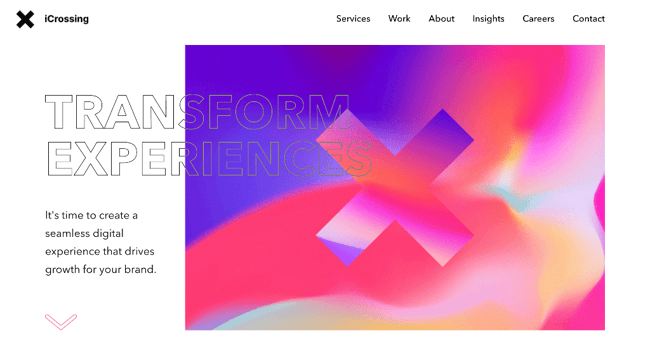 Speciality: Data-Driven Marketing
Location: Brighton
iCrossing is a global marketing agency recognised for transforming digital experiences to drive growth for brands. With a data-driven understanding of customer behaviours, they offer creative strategies and digital experiences that foster loyal relationships and smooth commerce transactions. Their services include data and consumer insights, customer and user experience, digital transformation and technology, and SEO and performance media.
Celebrated for their pioneering role in search marketing, iCrossing leverages their 20-year history to amplify client messages and deliver performance through traffic and conversion. Their accolade as a "Leader" in Gartner's Magic Quadrant for Global Marketing Agencies for eight consecutive years speaks to their consistent excellence in the field.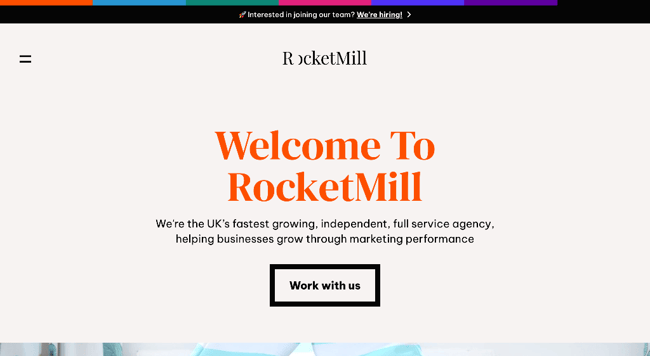 Speciality: Data and Creativity
Location: Brighton
RocketMill is an independent, full-service marketing agency based in the UK, renowned for its rapid growth and comprehensive suite of services. They prioritise a people-first approach, which is evident in their status as the UK's largest employee-owned agency. This focus on their team's wellbeing and development not only attracts top talent but also fosters a shared dedication to driving business success for both clients and the agency.
Their services span across analytics, strategy, media, SEO, creative, user experience (UX), conversion rate optimization (CRO), and technology. RocketMill's holistic approach combines technical expertise with creative flair to deliver measurable growth and performance in marketing. They boast a track record of success, including increasing brand value for DryNites® by 7.5%. With a progressive mindset, RocketMill is equipped to innovate and optimise marketing strategies in today's fast-paced digital landscape.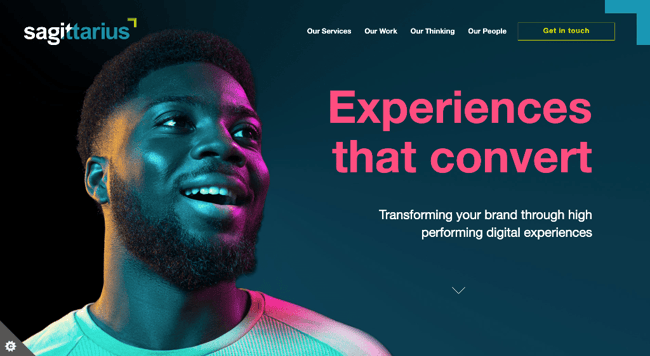 Speciality: Travel and Tourism Marketing
Location: Kent
Sagittarius is a Platinum Sitecore partner and an award-winning digital agency renowned for transforming brands through high-performing digital experiences. Their expertise lies in 'experience optimisation,' leveraging deep knowledge in digital engineering and development. They offer a comprehensive suite of services, including strategy formulation, UX design, multi-channel marketing, conversion rate optimisation, and best-in-class Sitecore development.
With over 100 digital experts across seven offices worldwide, Sagittarius is equipped to take your technology investment to the next level. They specialise in financial and professional services, construction and manufacturing, and travel and tourism sectors, making them an ideal partner for enterprise ecommerce looking to drive sales and engage customers effectively. Their commitment to conversion and client empowerment through digital channels positions them as a go-to specialist for a complete or composable Sitecore stack.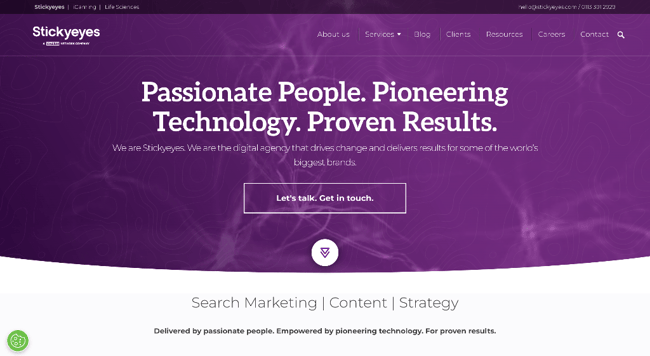 Speciality: Content and Online PR
Location: Leeds
Stickyeyes is a digital agency that prides itself on driving change and delivering results for some of the world's most prominent brands. With a passionate team of over 200 professionals, including techies, strategists, journalists, and designers, Stickyeyes offers a diverse and international perspective to digital marketing challenges. Their in-house developed, enterprise-level technology suite, built over a decade, provides clear insights to inform strategic decisions. This suite includes tools like Roadmap for Google search algorithm insights, SCOT for relevancy insights, and KIT for data-led keyword strategies.
Stickyeyes emphasises long-term success over short-term gains, aiming to drive operational and cultural changes that sustain growth. With over 20 years of experience, they have earned the trust of major brands worldwide, delivering transformational change through search marketing and content strategies.
Speciality: SEO and PPC
Location: Portsmouth
Vertical Leap is a premier search marketing agency renowned for its evidence-led and technology-enhanced approach to enhancing online visibility and driving sales. They offer a comprehensive suite of services including SEO, PPC, CRO, website design, content marketing, and digital strategy. Their SEO expertise covers all aspects from technical audits to content optimisation, while their PPC campaigns are fine-tuned for maximum ROI.
As a Google Premier Partner, they stand out for their exceptional campaign management skills. Vertical Leap's focus on client satisfaction, tailored strategies, and measurable goals contribute to their high retention rates and reputation for exceeding expectations.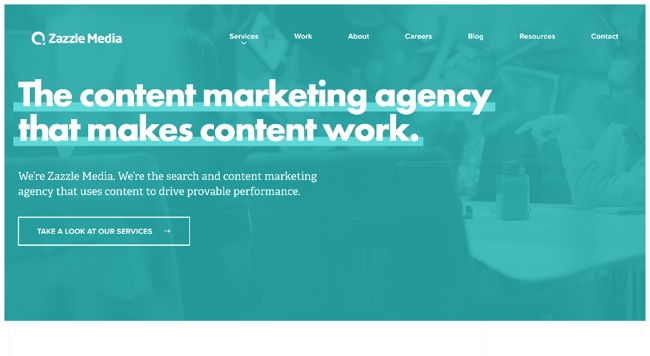 Speciality: Content Marketing
Location: Peterborough
Zazzle Media is a content marketing agency that prides itself on making content the cornerstone of digital strategy. They focus on creating content that drives provable performance across search and social platforms. Their approach is to make digital investments work harder by solving challenges and optimising search, social, and digital strategies. They boast a track record of delivering sustainable, measurable, and effective performance for their clients.
With a team that includes journalists, copywriters, PR professionals, designers, and tech experts, Zazzle Media crafts purposeful content that aims to grow brands by improving visibility in search, engaging audiences through PR and social media, and driving conversions. They are part of the Stickyeyes Group, which enhances their insights and expertise with a rich proprietary tool stack. Zazzle Media is trusted by global brands and is committed to transparency, eschewing meaningless metrics in favour of content that genuinely contributes to business growth.
Conclusion
Selecting a marketing agency is a monumental decision that can make or break your marketing efforts. But with this comprehensive list of the 30 best marketing agencies in the UK for 2023, you're well-equipped to make an informed choice. Remember, the best agency for you is one that understands your goals, fits your budget, and most importantly, can deliver results.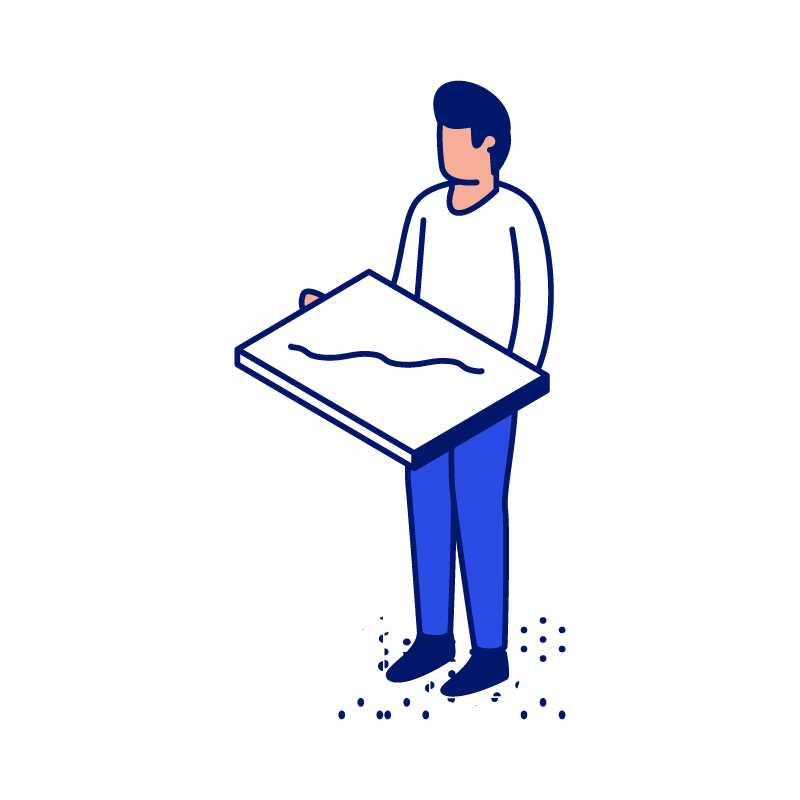 Looking for a strategic marketing partner to help you navigate the ever-changing landscape of digital marketing?
Look no further than our B2B marketing agency where we have a team of highly skilled experts who specialise in strategic roadmaps, customer journey mapping, and content and SEO strategy. Our dedicated strategy team comprises experienced 'CMO-level' professionals who can provide you with a range of strategic services to elevate your business to the next level. Find out more about our strategic approach to B2B marketing.
If you found this article informative, we offer a range of blogs to our clients as part of our content marketing services. As an experienced content marketing agency, we can produce engaging blogs that resonate with your target audience. Explore our content marketing services.