Driving B2B business growth is tough, particularly when you're a small-to-medium sized company with big targets. Faced with challenges around scaling resources, enhancing communication channels and building cohesive messaging, SMEs regularly struggle to take their growth to the next level.
To overcome these hurdles, many businesses rightly turn to demand generation... but just what is demand generation?
Hubspot explains demand generation as;
The marketing system and engine that bridges the gap with your company's sales and revenue operations. It may include multiple touch points, from blogging, to email list creation, to social media promotion -- all inbound marketing tactics that are part of a company's overall demand generation strategy.
As an integrated approach to conducting marketing tactics throughout the funnel, demand generation is often seen as a highly attractive strategy for driving growth and revenue.
Unfortunately, many attempt to adopt the approach without realising the extent of what they need to make it a success. They fall into what I call 'the demand generation trap'.
The Demand Generation Trap
After buying into demand generation, many companies look to hit the ground running as soon as possible, making attempts to develop the systems, content, channels and integration they need to bring it to life.
To achieve this, they'll often hire a CMO with the belief that they can do it on their own. Sadly this is an unrealistic expectation for any marketer (no matter how good!). With so many processes involved, skills required and time needed, expecting one person to do everything is just impossible.
Some CMOs allocate their budgets to manpower and bring in all-rounders with a view to getting their demand generation up and running, but these individuals typically lack the specialist skills necessary. As a result, the quality of the execution (campaigns, content, martech etc) fails to meet a standard high enough to yield good results.
Realistically, attempting demand generation on the assumption that any single individual (or small team) can deliver everything required just isn't going to work.
What Does a Demand Generation Team Actually Do?
With multiple components working in unison, a demand generation campaign requires a wide variety of skills, knowledge and expertise. Here's what a demand generation team needs to be able to cover in order to execute a successful programme...
Insights
Demand generation campaigns need to be fully measurable at both a tactical and campaign level. Each component of demand generation should contribute to the overall objective and so measurement is the key. Deriving insights and building customer understanding from the data is essential to making the right decisions and optimising results. This needs to encompass end-to-end tracking, campaigns, customer onsite behaviour, sales engagement, pipeline and many more key metrics throughout the funnel. Many companies believe their insights capabilities are sufficient, but this is rarely the case as they lack a single view of the customer's journey with their business, and this hinders their ability to create accurate marketing dashboards that show the bigger picture.
Strategy
On a flight from London to New York, the pilot course corrects the airplane thousands of times. Identifying the correct destination, and then staying on target is critical to the success of a demand generation programme, and it is strategy that does this. Understanding where you are today, and where you want to go, before then building out a roadmap of activity that is going to take you there are the foundations for a successful demand generation strategy. Regularly reviewing successes (and failures), data, and customer insight to drive decision-making is how you ensure that you are always headed in the right direction.
Messaging
Positioning your products and services in the market in the right way is one of the most powerful things you can do. It's important to remember how you talk to your prospects and customers is just as important as what you say. Ensuring that you are talking to each of your buyer personas in the right tone of voice can make all the difference. Your prospects' needs are real. If you can talk clearly to them, create a relationship, and explain how your value propositions meet those needs, you'll have gone a long way to making the sale.
Marketing Technology
Technology is no longer the realm of just the IT department. Sales and marketing technology is 100% essential to the success of a demand generation programme. There are literally thousands of products in the market to choose from, making it a potential minefield. In fact, just selecting the right products can be a competitive advantage. If you've got the right tools in place, you'll move faster and get better results than your competition. For example, if you build a sophisticated lead nurture system, you can automate the lead management and qualification process. Alternatively, if you build fully integrated campaigns, you'll have access to end-to-end measurement. However, such fantastic opportunities and benefits are only accessible if you've got your MarTech strategy right and have implemented and integrated the tools correctly. Remember, a Formula One car in the hands of a learner driver is useless (if not dangerous!).
Content
The content in a demand generation campaign needs to be able to educate, nurture and drive prospect action. Content covers everything from educational blogs and gated premium assets, to sales enablement material and case studies. Content plays a critical role in a demand generation campaign as it's often the catalyst for progressing prospects through the funnel towards sales readiness.
Campaigns
Campaigns are how you deliver your value proposition and content to your target audience. Ad hoc, siloed campaigns no longer cut the mustard. With the B2B customer journey naturally occurring across a long period time and encapsulating long sales cycles too, significant education and support are required throughout the funnel. To achieve success, your campaigns need to be integrated (i.e. orchestrated across multiple channels) and highly personalised to your buyer personas. As a result, sophisticated demand generation campaigns are very complicated to build, and equally hard to manage.
Inbound campaigns typically cast a wide net over the target market and use content to draw in prospects. Account Based Marketing campaigns focus on a specific set of target accounts, combining Inbound techniques alongside outbound sales efforts in a highly orchestrated campaign window.
Key Roles in a Demand Generation Team
To make demand generation work, a team of specialists is required. Each member needs to know their area of expertise comprehensively and understand their role in the bigger picture.
A typical demand generation campaign will need experienced specialists in the following roles:
Strategist
The strategist defines the go-to-market strategy and is tasked with building the top-level infrastructure that will power the demand generation approach. This typically involves developing tactics, objectives and resource allocation.
Designer
The designer is responsible for all the visual components and assets within a demand generation campaign. This covers everything from image strategy and illustration, to UX and design production.
Marketing Technologist
The marketing technologist owns the technical components of a demand generation campaign e.g. CRM and marketing automation. They are responsible for the selection, build, deployment and management of the martech stack.
Content Strategist
The content strategist designs how content will contribute to the objectives of the demand generation campaign. This typically includes identifying what subjects to discuss, how and in what content format. They ensure that the content programme is aligned to customer needs addressing the relevant customer pain points.
Long-Form Content Writer
The long-form content writer is responsible for the production of content assets that include blogs, guides, whitepapers and other long-form writing that requires a large amount of copy to educate or position your business as a thought leader.
Short-Form Content Writer
Short-form content writers are charged with producing copy for web ads, social posts, landing pages and other creative jobs that require shorter / snappier copy to work hard and drive action.
Developer
The developer is responsible for building and integrating campaign assets such as website, landing page, and email templates. They often carry out custom API integration and support the Marketing Technologist where systems require code-level configuration.
Project Manager
The project manager is the lynchpin of the team. They ensure that all of the projects, people, and processes are working together to deliver the objectives of the demand generation strategy. It is their responsibility to ensure projects are delivered on time and the right tasks are being prioritised.
Reporting Analyst
The analyst is responsible for all marketing data within the campaign. It's their job to ensure the right metrics are in place, being monitored and evaluated continually. The analyst needs to be able to collect the right information and make actionable recommendations based on the data.
A Word on the T-Shaped Marketer
Although specialists are required for each of the areas above, it's important that these specialists are not completely siloed into their domain. Having a broad understanding of digital marketing and the B2B buyer journey is as important for the Strategist as it is the Designer. Marketers who have developed a broad set of skills as well as a highly specialised area of expertise are widely known as T-shaped marketers. In an ideal world, your demand generation team will be made up of a T-Shaped specialist in each of the aforementioned areas.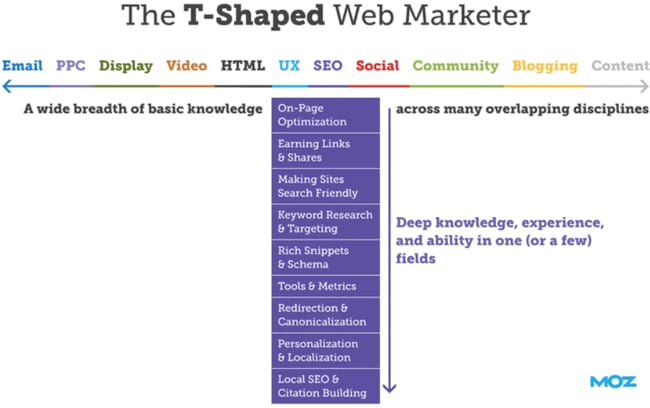 Options for Building a Demand Generation Team
When it comes to building your own demand generation team, there are several options on the table, all with their own strengths and weaknesses. Depending on your circumstances and overall objectives, some options may be more suitable than others.
Hire For All The Roles
This is a great option - if you have lots of time and a large budget. By hiring a comprehensive team of specialists in-house, you'll have access to the skills and knowledge you need to deliver high quality demand generation campaigns.
While comprehensive access to specialists is extremely valuable, it comes with a significant up-front cost to accommodate for the extra space and resources required. Beyond the up-front cost, the ongoing cost of salary, pensions and benefits is another challenge - as specialists in their respective fields, the individuals required don't come cheap!
Pros

- All knowledge is accessible in-house

- All skills are available where and when required

Cons

- High up-front and ongoing costs

- Management is challenging and requires an experienced C-level marketer
Keep It Fully Outsourced
Some companies choose to take an outsourced approach, hiring external talent to deliver all demand generation services . This may take the form of a group of freelancers or an agency. By taking an outsourced approach, internal costs can be avoided, as there is no need for additional office space and resources.
However, an outsourced approach relies on the capabilities of the outsourced parties. A failure in one area, has the potential to undermine the rest. With such high stakes, this approach can be risky. As a result, it's critical all external parties are experienced in their field and understand the role they play in the wider demand generation strategy.
Pros

- No team to manage

- Diverse skills and expertise can be swapped in and out when needed

- Flexible capacity, reducing costs

Cons

- Reliant on 3rd parties to deliver on-time and to the necessary standard

- Internal processes are not developed and so iterative improvement becomes difficult

- Could be expensive if freelance resources are not managed effectively
Deploy a Hybrid Team Extension Model
The hybrid team extension model offers the best of both worlds, enabling you to build your in-house capabilities, expertise and experience, while relying on external specialists to fill in the gaps. With that said, it does yield higher costs in the short term as the foundations must be built while premium freelancers are brought in to support.
Pros

- Offers all the benefits of a fully outsourced approach

- Helps to build early momentum as the business scales

- Offers a great opportunity to develop skills in-house over time while transitioning to more in-house talent

Cons

- Partially reliant on 3rd parties

- Short term costs may be higher

- Needs a collaborative partner to make a success of the approach
Sidestepping the Demand Generation Trap
There's no doubt about it, a demand generation programme is tricky and complex, but implemented effectively, it will be the fuel that perpetually drives your business growth.
While there's no one specific right way to run demand generation, achieving results always requires a specific set of skills, expertise and capabilities.
Of course, different delivery models will suit different businesses and objectives, so if you're looking at developing your demand generation capabilities, it's important you think about the best approach for your business.
Once you've identified the right model that meets your company's needs, you can go about building the ideal demand generation team for you.
To truly bring the opportunity to life, you'll need to avoid the demand generation trap - one person (or small team) cannot deliver a demand generation programme.
That means committing to a team of demand generation specialists (either in-house or third parties) who have the diverse skills needed. Only then will you realise the potential of demand generation for your business.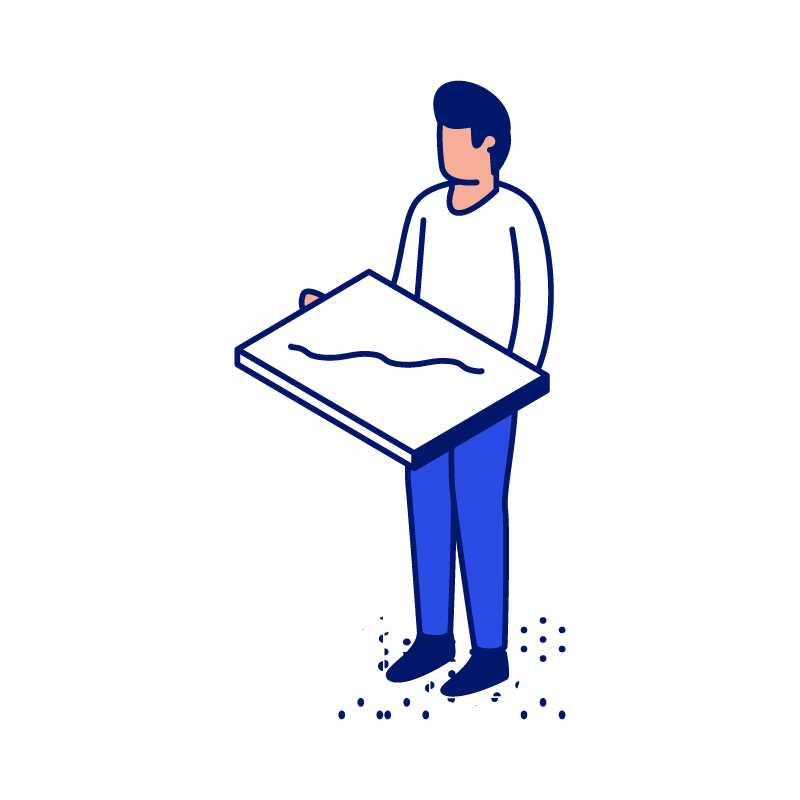 Could we be your next strategic marketing partner?
Our marketing strategy services - We are a B2B marketing agency with a dedicated team of experienced 'CMO-level' strategy experts specialising in strategic roadmaps, persona development and customer journey mapping, along with content and SEO strategy. Find out more about our marketing strategy services.
Enjoy this article? We produce blogs like this for our clients as part of our content marketing agency services, and could produce engaging content for you too.