B2B tech businesses want to enhance their tech stack with tools that play nicely together, enable frictionless collaboration, and increase the agility of their sales and marketing teams to surface opportunities sooner.
The solution most turn to is a CRM. Unfortunately, the only thing worse than not having a CRM system is partnering with the wrong one.
But with a wide range of solutions at your fingertips, you need to cast a discerning eye over the options.
This guide will walk you through the basics of our favourite sales tool, HubSpot Sales Hub, and how you can start maximising your investment today.
What is HubSpot and HubSpot Sales Hub?
HubSpot has created remarkable success in the CRM space - one of the most competitive software markets. It has over 143,000 customers, 1,090 integrations, and is available in 6 languages.
A key component of HubSpot is the HubSpot Sales Hub. In a nutshell, HubSpot Sales Hub allows businesses to manage and track leads and pipelines. It helps sales teams to interact with clients in a more efficient and automated way with email templates, lead nurture sequences, and even free calling.
The best bit? It also makes data entry a doddle, which will come as a relief to sales teams as this eliminates time-consuming tasks.
But what are the key reasons for using it?
Let's find out.
5 key reasons you need HubSpot Sales Hub
#1: Designed from the ground-up
Crafted not cobbled together, HubSpot has been designed from the ground-up to do its job - as opposed to other platforms that have acquired third parties and bolted them together.
#2: A complete ecosystem
Unlike other tools, HubSpot Sales Hub has over 1,090 technology integrations, from Zoom to Facebook. These are easy to set up and don't require complex IT support. In addition, there are hundreds of pre-made assets and apps that you can buy through HubSpot's marketplace.
Essentially, it has everything you need. And more.
#3: Ease of use
HubSpot Sales Hub has been specifically designed as a tool for sales, marketing, and service professionals - not just technical teams. This means that the core system is simple to use, yet extremely powerful.
#4: All in one place
Having marketing, sales and service technology all in one place and integrated into one CRM means there are never any data sync issues. Plus, much more powerful features can leverage the underlying CRM.
#5: Single customer view
Because HubSpot spans marketing, sales, and service, the entire customer journey and all key data are connected. This means you can achieve the coveted single customer view with better reporting and visibility - as well as advanced segmentation and personalisation.
HubSpot Sales Hub vs. the Competition
You're not short of options when it comes to sales tech, so it can be hard to know which solution to choose and successfully roll out across your business so it is actually used. If everyone isn't using it, the point of the CRM falls down.
Luckily, thousands of other businesses have tested and rated leading competitors. All of these sales tools enable automation and manage interaction tracking, document filing, lead management and quotes/proposals.
Not surprisingly, HubSpot comes out on top:
HubSpot Sales Hub

Salesforce Sales Cloud

Zoho

Pipedrive

Microsoft Dynamics 365 Sales

Overall rating

4.4 / 5

4.2 / 5

4.0 / 5

4.2 / 5

3.8 / 5

Ease of use

8.7 / 10

7.9 / 10

8.1 / 10

8.7 / 10

7.4 / 10

Quality of support

8.6 / 10

7.9 / 10

7.4 / 10

8.4 / 10

7.5 / 10

Meets requirements?

8.6 / 10

8.7 / 10

8.3 / 10

8.4 / 10

8.1 / 10

Entry level price

£0

£22 per month

£17 per month

£22 per month

£50 per month
At a more granular level, it's the features that make HubSpot stand out as THE best CRM tool for SME businesses. These are the three reasons we recommend HubSpot above the rest:
1. Speed and ease of use - Getting stuff done quickly is a must for any business, but especially for SMEs. Unlike cumbersome competitors that leave you shouting at your screen, HubSpot has a very user-friendly interface which makes it quick and easy to execute sales activities.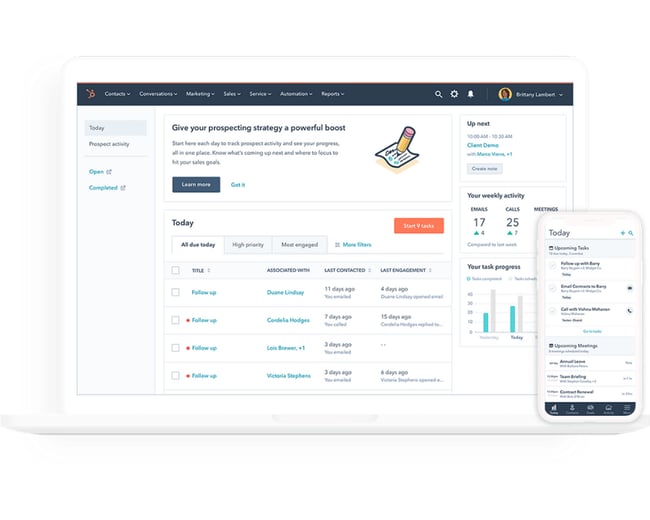 2. Comprehensive solution - Having one solution to cover a myriad of steps in the sales process is a must. It is a logistical and GDPR nightmare to have disparate systems loosely connected. HubSpot Sales Hub covers multiple areas of the sales process for timely follow-ups, easy reporting, attribution, and compliance.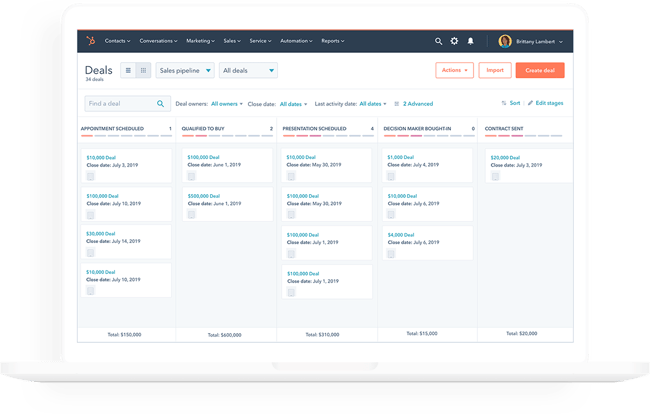 3. Integration with other systems (like LinkedIn) - Need an Airtable integration? It's there. Need to incorporate DocuSign into your workflows? Just link it up. Want Zoom links automatically added to your meeting bookings? Done.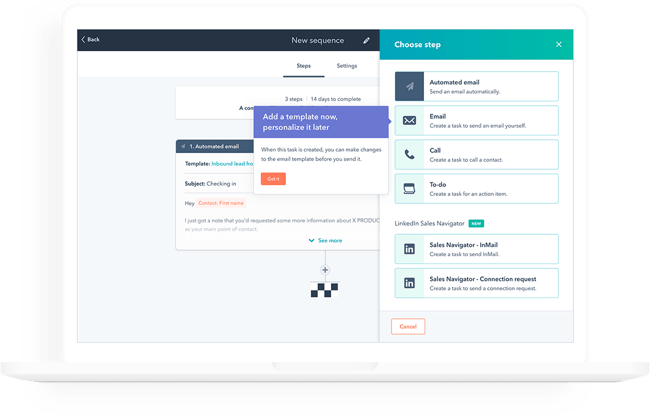 Now that you know how it compares, let's see how to get started.
Ready to take your marketing to the next level with HubSpot? Let's leverage the power of MarTech to supercharge your lead generation, sales, and customer retention. Explore our MarTech services and let's see how we can help you
.
What Plan is Right for Your Business?
At its core, HubSpot Sales Hub offers three main plans - Starter, Professional, and Enterprise. There is also a free plan, however if you have big ambitions this probably won't work for you.
Here's a quick breakdown of the three main plans:
Starter (starting at £40/month)
Simple automation
Goals
Rep productivity performance
Professional (starting at £400/month)
Deal stage, task, and lead rotation automation
Sequences
Custom reporting
Enterprise (starting at £1055/month)
Custom objects
Predictive lead scoring
Playbooks
In addition to acquiring a Hubspot Sales Hub, many businesses turn to a HubSpot Partner Agency to get the most value out of their plan.
Here's why.
How to Maximise HubSpot Sales Hub with a Partner Agency
Whether you've used it for a while or you're completely new to HubSpot, to get the most value out of the solution many businesses choose to work with a partner agency.
HubSpot runs a Certified Partner program which offers an entire academy for HubSpot Partner Agencies. Partner Agencies need to complete an 11-part course to be classed as an official Certified HubSpot Solutions Partner.
In a nutshell, if an agency says they are a HubSpot Partner Agency, they're going to know the software inside and out.
For example, Digital Litmus is a Platinum Certified HubSpot Partner and has vast experience supporting B2B tech SMEs with customised demand generation approaches.
Agencies like Digital Litmus can help with a wide range of services such as making your website faster, more user-friendly and optimised for search, implementing HubSpot as your new CRM system from scratch, or providing your sales team with what they need to close more deals, including demand generation support.
Due to our experience and expertise, we've been there, seen it, and solved any problems you're likely to encounter.
We'll get you up to speed faster than if you were to do it alone. Essentially, we hold your hand throughout the entire journey - with as much or as little support as you need.
We're big fans of the customisation options. While it's simple to use, it's also extremely powerful. We have a lot of experience customising it correctly for your precise business needs.
We provide all this in a super flexible way. This means you can tap into a flexible resource to support whichever type of expertise you need to make the most of HubSpot.
Wrap-Up
As with anything, improving your CRM is a process and can take time. To carry out successful demand generation, you'll need to be creating content, nurturing leads, optimising your sales and marketing processes and reporting accurately on the data you find.
If you can find a HubSpot partner with the experience to handle this and effectively adapt strategies based on data, you're likely to see strong results.
Finally…
It's key to look for an agency that has previous experience and expertise within your industry. Agencies with sector-specific experience usually have quite a bit of existing context behind what you might need for inbound marketing, sales, or service.
For example, a B2B tech specialist like Digital Litmus will know what specific strategies and customisation to put in place to create the best demand generation engine for your business.
At the end of the day, you need to choose what's right for your business. At Digital Litmus we love HubSpot, but we also have experience with other tools and platforms and we can work with you to create the right tech stack for your business needs.