Since HubSpot was founded in 2006, it has pioneered the CRM space and has completely changed the way people do business. To date, there are more than 167,000 companies that work with HubSpot to innovate, adapt, and scale their business needs.
In a dynamic business world, HubSpot can help to increase efficiency and streamline processes, leading to improved leads and sales.
If you plan to use the platform soon, consider partnering with a HubSpot partner agency. They can help you make the most of the powerful tools in the suite.
These HubSpot partner agencies are members of the HubSpot Partner Programme. To join, members must have extensive knowledge and a deep understanding of HubSpot services. These services include marketing, sales, customer service, web design, customer relationship management, and marketing technology.
Collaborating with a partner agency of HubSpot guarantees a beneficial experience as you will have access to their expertise and knowledge. They'll provide support, guidance and help your business to achieve its goals within quicker timeframes.
Why do SMBs Need to Hire HubSpot Certified Agency Partners?
Small and medium businesses are always right in the middle of the action. While everything is whirring away across all departments, SMBs often face some common difficulties:
Limited Resources:
Small and medium businesses often lack the necessary resources such as staff, time and budget. This can make it hard to efficiently manage marketing, sales and customer service activities. Partnering with a HubSpot agency eliminates this challenge.
With an agency partner, you will gain easy access to the HubSpot platform. This can help solve many onboarding difficulties, giving you more free time to focus on what matters to you and your business.
Lack of In-House Expertise:
SMBs may not have the resources to employ specialists for inbound marketing, sales, and customer service. This is because they often have limited space and funds. With a HubSpot partner agency, there's no long training periods and additional departmental resources. They can help from the very beginning.
Poor Lead Generation:
Being a household name is a surefire way to generate leads by the dozen each hour. However, the journey takes time and a lot of effort. Many small and medium businesses struggle to attract the right types of customers and generate leads.
We recognise the importance of strong lead generation and the challenges involved. This is why partnering with a HubSpot agency can help you focus on this goal through the CRM's Marketing Hub.
Inadequate Customer Service:
Due to limited resources, time and team members, customer service is sometimes an afterthought. Partnering with a HubSpot partner agency can provide you with a more proactive approach to customer service. This can be done without requiring additional resources and in line with your budget.
Inefficient Sales Processes:
Sales is another department that may not be operating at full functionality. There are many other considerations, making it difficult for SMBs to be responsive and present. This can result in missed opportunities and lost revenue.
A HubSpot partner agency can help you manage your sales process. The Sales Software Hub includes a sales CRM, reporting and analytics, sales engagement tools, and CPQ functionality.
These tools can help you make the most of your sales process.
Limited Data Insights:
Knowing which data can improve a marketing or sales campaign can be a complicated task for SMBs. Collecting and analysing this data can be challenging, but making informed decisions is needed to improve performance. Each HubSpot hub offers extensive insights into performance through the platform's reporting and analytics section.
Working with a HubSpot partner agency can really help SMBs improve productivity and marketing success. It is an affordable and viable way to defeat and overcome common business problems.
Ready to take your marketing to the next level with HubSpot? Let's leverage the power of MarTech to supercharge your lead generation, sales, and customer retention. Explore our MarTech services and let's see how we can help you
.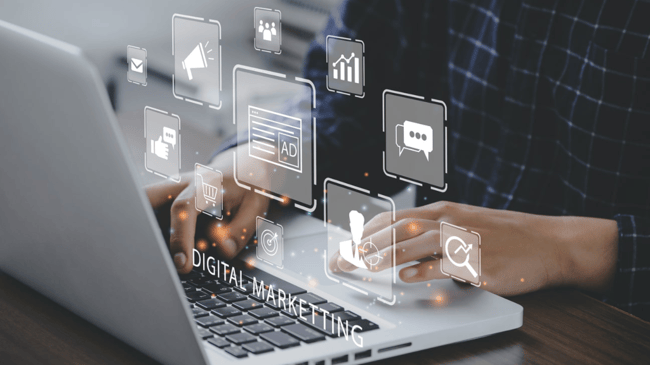 Benefits of Working with a HubSpot Partner Agency
HubSpot is a powerhouse of a platform that can be incredibly tedious when you're just getting started.
Think of a machine that has various parts or cogs at play in order to make the machine work at an optimal level. The same goes for the HubSpot ecosystem. There are various factors that need to be considered when setting up your HubSpot platform, all of which require expertise and guidance.
HubSpot Agency Partner Programme
In the business world, time is limited (and costly). By working with a certified HubSpot partner agency, there are no annoying growing pains. They have the expertise a business needs to start quickly and efficiently.
These agencies must have HubSpot partner certification in order to offer HubSpot solutions to businesses. This provides credibility and shows that HubSpot is willing to put their name behind external stakeholders.
Access to a Team of HubSpot Experts
HubSpot partner agencies are certified HubSpot specialists who are trained in the CRM platform and HubSpot software hubs. Due to their expertise, a HubSpot partner agency can guide your business to the platform's best practices.
Building on this, these partner agencies have experienced professionals on their side. For example, businesses can utilise digital marketing or email marketing campaigns and marketing automation to be successful. This may include setting up sales funnels and developing customer relationships through a strong customer service approach.
Comprehensive HubSpot Services
HubSpot partner agencies offer a range of services tailored to a business's unique needs. These services include strategy development, campaign execution and data analysis.
Although a service is adjusted to match your business, each HubSpot partner agency has already laid the blueprints for their services. They know the strategies, steps and ways to succeed through their comprehensive HubSpot solutions.
Costs
It typically takes eight months for a newly hired employee to reach full productivity. Working with a partner agency can provide cost savings in comparison to hiring and training an in-house team.