When it comes to MarTech platforms, it's hard to imagine a more respected and established name than HubSpot.
With 135,000+ clients in over 120 countries, HubSpot is packed with features to help you grow your business and manage sales, marketing, customer support, content creation, and much more.
For many companies, the best way to access the benefits of HubSpot is to work with a trusted HubSpot partner — agencies that have been specifically approved and accredited by HubSpot to help other businesses get the most out of the platform.
In this post, we'll show you why it's a good idea to work with a HubSpot agency partner, and how to use the HubSpot Agency Partner Directory to find the best partner for your needs.
Why Should You Work With a HubSpot Partner?
The right HubSpot partner can be a powerful asset for your business, for a whole range of reasons. Let's take a quick look at some of the most important:
They have a deep knowledge of HubSpot and extensive experience working with HubSpot's diverse tools.
Ongoing support — the right partner will work with you to help you maximise the platform so that you can reach your specific business goals.
Time saving — depending on your agreement, your HubSpot partner can take care of all your HubSpot-related tasks, freeing up your team's time to focus on their own business-critical work.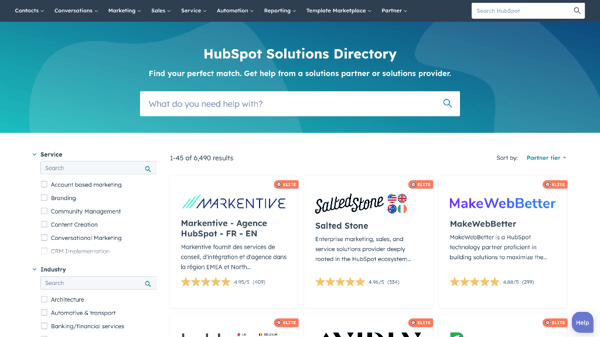 What is the HubSpot Agency Partner Directory?
Not every B2B HubSpot Agency partner will align perfectly with your company's needs. Partners often have distinct specialisations in terms of skills, industries, and the nature of projects they handle. Additionally, their pricing structures can vary based on their HubSpot Partner Tier and expertise, and they may have diverse levels of experience and industry standing.
The best way to find the right partner for your needs, budget, and circumstances is to use the HubSpot Agency Partner Directory.
This is a platform designed to connect businesses with certified HubSpot agency partners. It's a searchable library of certified agencies, complete with information about their specific qualifications, experience, and a list of the HubSpot services they provide.
You can also read reviews, case studies, and testimonials from other clients who have worked with these agencies, as well as reach out to a specific agency you're interested in, to schedule a consultation directly within the directory.
Ready to take your marketing to the next level with HubSpot? Let's leverage the power of MarTech to supercharge your lead generation, sales, and customer retention.
Explore our MarTech services and let's see how we can help you
.
How to Use the HubSpot Agency Partner Directory (9 Key Steps)
So, how do you use the HubSpot Agency Partner Directory to discover and connect with the right partners to help you reach your HubSpot goals? The following steps will show you how.
1. Get to Know the Directory
Familiarise yourself with the directory's layout and main features. Knowing where to find client reviews, how to filter results, and understanding the tiering system can streamline your search process. The better you know the platform, the more efficiently you can navigate it.
Tiering system — partners on the HubSpot directory are divided into tiers based on their experience and track record. We'll explore this more later on.
Location searches — this allows you to search for partners based on their geographic location. For example, depending on your needs, it might be important for you to work with a local agency based in your city or country.
Service offerings — each partner in the directory will list the services they offer. It's important to understand where their expertise lies, and how it applies to your goals and needs, so you can find a partner who specialises in exactly what you're looking for.
Testimonials and reviews — one of the most useful features within the HubSpot directory is the ability to scan an agency's customer reviews, posted by either existing or previous clients. This gives you a clear and transparent indication of the level of service, professionalism and expertise each agency demonstrates.
2. Identify Your Business Needs
Clearly define both your short-term and long-term business goals. Consider challenges that can be addressed with HubSpot expertise. This might involve streamlining sales processes, creating more engaging content, or improving customer relations. A precise understanding of needs will help you refine your agency search.
Take some time to think about and answer the following questions:
What are your overarching business goals?
What is your big-picture (vision) outcome?
What are some of the ways the right HubSpot partner could help you reach those goals? Try to be as specific as possible.
Make a list of the specific challenges holding you back from your goals, and the key areas you need help with.
Outline the key skills and experience you're looking to find in a potential partner.


3. Use the Directory's Filters
The directory's filters are there to help you narrow down agencies that align with specific criteria.
If you're keen on a local agency or one that specialises in a particular industry, these filters can expedite your search. It's a time-saving feature, helping you focus on relevant agencies.
4. How the Partner Tiering System Works and What You Need to Consider
HubSpot's tiered system categorises partners based on various metrics:
Gold: Generally newer agencies, but with a proven track record.

Platinum: More established, with a broad clientele and multiple successful projects.

Diamond: These agencies have consistently delivered impressive results for a wide range of clients.

Elite: The top-tier, representing extensive success and vast experience.
Remember to shortlist and select the right agency, or tier, that aligns with balancing your company's needs against your budget.
5. Explore Agency Profiles Thoroughly
Beyond just glancing at a profile, delve into the specifics. Check for case studies that mirror your industry or needs. Client reviews offer unfiltered insights into the agency's strengths and weaknesses. The more you know, the better you can gauge compatibility.
You can gain a lot of useful information from agency profiles, such as:
What the agency specialises in and the services they provide.
Reviews from previous clients.
Certifications and qualifications relevant to your needs.
A portfolio of their previous work and case studies highlighting how they have helped others achieve similar goals to yours.
Their culture and how compatible they are with your own company.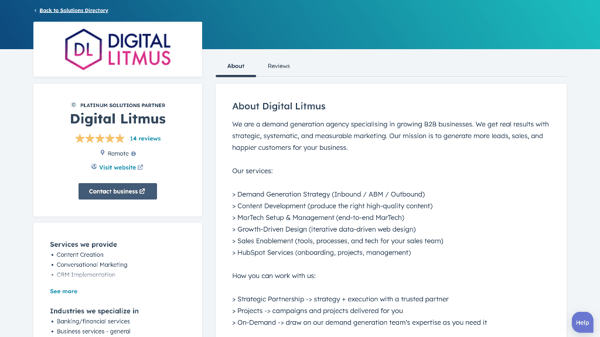 6. Set up Initial Consultations
Interact with agencies that seem promising. These initial consultations are your opportunity to discuss specific business challenges and gauge the agency's approach. Consider it a two-way interview; they're learning about your needs as you assess their capabilities.
7. Conduct Additional External Research
When it comes to honing in on the best HubSpot partner agencies for your business, complement the directory information with external research. An agency's online presence, their activity on platforms like LinkedIn, external reviews, or even awards they've received can offer deeper insights. Sometimes, the most valuable feedback comes from outside the directory.
You could also consider reaching out and talking to the agency's previous or existing clients for some first-hand insight into what they're like to work with and their culture.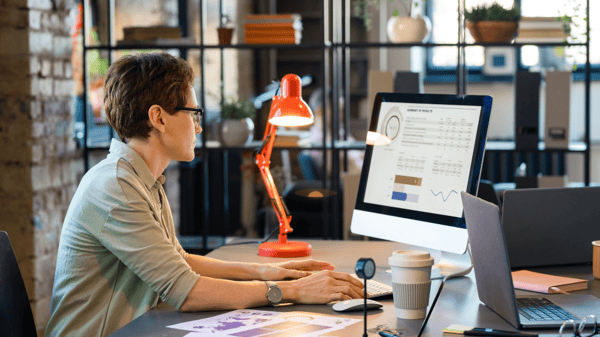 8. Plan for the Initial Consultation
Treat the initial consultation as a strategic meeting. Outline your HubSpot goals and challenges. Preparing a list of questions ensures you cover all grounds. Being well-prepared not only saves time but also positions your company as a valuable potential client.
Here's some prep work you can do prior to the meeting:
Prepare a list of your goals, challenges, and how your partner could help (what you are looking for).
Prepare questions around what the agency offers, their expertise, and how they have helped businesses in the past achieve specific goals.
Be prepared to take the agency through your business, offering, facts about your customers and current business activities.
9. Make an Informed Decision About Which Agency to Go With
It's finally the moment of truth!
You've combed through the HubSpot Partner Directory, whittled down your options to a few good prospects, had a consultation or two, and now it's time to pick the winner and decide who you will be working with.
By this stage, you'll likely have one or two potential partners on your shortlist, each with a lot to offer. Assess the pros and cons of each where their strengths lie, what they can offer in terms of your budget, and whether or not they are a good fit for your business and your team. Finding the right cultural fit is often overlooked, and can have a great impact on your working relationship.
Build a Relationship with Digital Litmus
Here at Digital Litmus, we've worked with numerous businesses on the HubSpot platform, many of whom discovered us via the HubSpot Agency Partner Directory.
Book a free consultation if you're interested in learning more about how we can help you tap into the power of HubSpot to grow faster and reduce friction.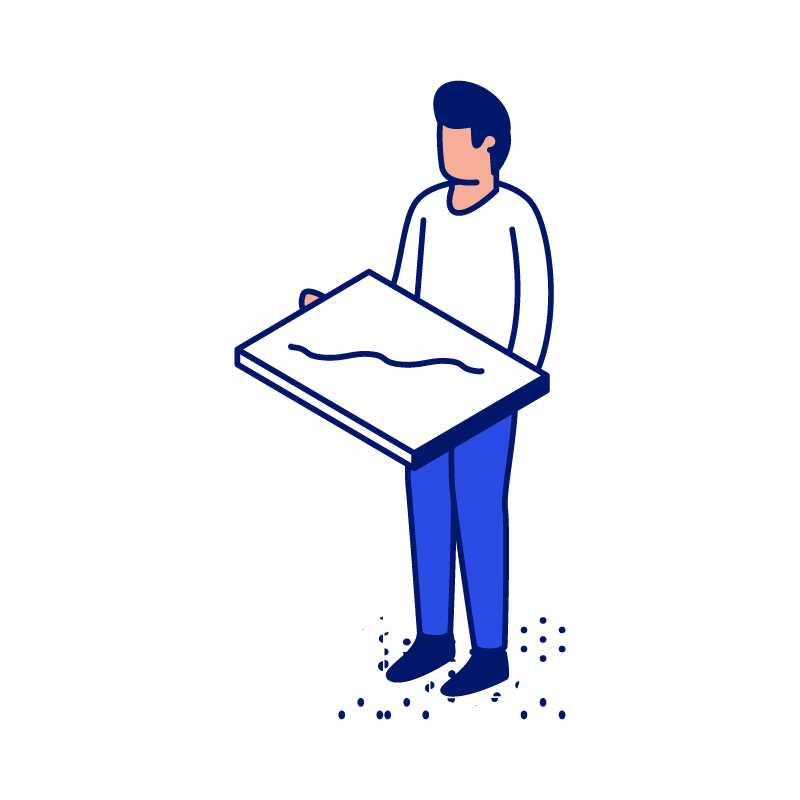 Could we be your next strategic marketing partner?
Our marketing strategy services - We are a B2B marketing agency with a dedicated team of experienced 'CMO-level' strategy experts specialising in strategic roadmaps, persona development and customer journey mapping, along with content and SEO strategy. Find out more about our marketing strategy services.
Enjoy this article? We produce blogs like this for our clients as part of our content marketing agency services, and could produce engaging content for you too.