Have you been searching far and wide for the top B2B content marketing agencies in the UK?
Look no further, as we've got you covered with our ultimate list showcasing the best agencies in B2B content marketing!
From Digital Litmus to Brafton, these agencies have the means to propel your business forward with creative and valuable content marketing.
And you're not the only one searching for content marketing agencies either, with 45% of B2B marketers planning to increase their content budget in 2024. This means many companies are trying to beat out the competition as content marketing remains a crucial player in helping brands cement their position in the market.
This form of marketing establishes trust, asserts the brand as an expert, and makes them more visible than ever. But finding an agency that can deliver content that converts can be tricky unless you know where to look. That's where we come in.
In this article, we'll explore the following:
Ready to be competitive, utilise some of the best brains in the business and skyrocket your marketing efforts? Let's get cracking!
What Does B2B Content Marketing Actually Mean?
Marketing comes in all shapes and sizes and knowing which is right for you is essential.
A specialised B2B content marketing agency will help you create content for a business-to-business consumer audience rather than for individual customers.
Within marketing, there's a whole host of avenues you could go down. Content marketing refers to creating and distributing valuable and shareable information or media - such as articles, videos, podcasts, blogs, whitepapers, e-books, newsletters, free downloads, infographics or social media posts.
It's a long-term strategy to establish a loyal relationship with your target audience. It's typically a more affordable approach too.
The effectiveness of content cannot be argued either, with 28% of marketers reducing their digital advertising budgets to focus more on content creation. With digital advertising being the go-to for many over the years, this shift towards content is huge.
Challenges of Finding a Good B2B Content Marketing Agency
From bounce rates to CTAs, B2B marketing can be a confusing and overwhelming game for those not in the midst of it.
But, a good B2B content marketing agency will pull you out of that googling rut and guide the way in this ever-changing industry.
If you're regularly dealing with the same challenges, including:
Difficulty in finding an agency that is flexible and can quickly adapt to changes in the market or company needs.
Struggling to measure the ROI of content marketing efforts.
Not finding an agency that understands your target audience or isn't creating content that feels right.
Or are you simply looking for a team with the right expertise for your niche B2B industry?
Not only have we listed the best 27 B2B content marketing agencies the UK has to offer, but we're also giving you the low-down on what to look out for and how to select the right agency for you.
How To Choose the Right B2B Content Marketing Agency
Before we get into some killer content agencies, it's important to take the time to consider what you're looking for, what you want to get out of the experience and what you'd determine to be a successful partnership and campaign.
Follow the below steps to help you choose the right content agency and you'll be sure to have your glass slipper moment when you find the one that fits best.
1. Look at Expertise and Experience
If you're completely new to marketing for your business, or you have extensive campaigns planned, going for a more experienced agency could be the right option.
They'll have spent years working with similar companies or in specialised industries. Before getting started with a new agency, it's vital to check their expertise in your field.
If experienced in your area, they can jump straight in without having to suddenly gain years worth of context and knowledge to match your target audience.
2. Consider the Agency's Location and Availability
Depending on the agency size, they may have limited availability. It's best to get in contact as soon as possible. That way, you can get started as soon as you're ready.
Also, consider whether the location is a priority for you. Are you looking for an agency which is within commutable distance? Some people prefer face-to-face meetings, whereas others enjoy the flexibility of remote working.
It's the same with agencies as some will be happy to travel and others prefer to keep it remote.
3. Review Case Studies and Testimonials
Head to the case studies section of an agency's website to check out their previous work and highlights.
This is a chance to see what brands and businesses they've worked with in the past and their usual outcomes.
4. Evaluate the Agency's Pricing and Services
Any marketing is an investment into your business and it's important the services you go for match your dream outcome - with the pricing to match.
Some agencies will use set packages with pre-determined deliverables as a pricing structure. This might not be useful for those with changing needs or an industry that fluctuates.
Other agencies utilise a retainer-based structure or a pay-as-you-go hourly cost. To get the most out of your budget, clarify beforehand how many hours the project will likely take. Staying on the same page throughout the campaign is vital.
5. Check the Agency's Reputation and Online Presence
Every agency worth its salt will have a social media or online presence. That doesn't mean they'll have hundreds of thousands of followers, but they'll have content which shows off their services or expertise.
Checking out their website or social media can be an easy way to understand the agency's creativity.
And with that, let's get into our ultimate list of the 27 best B2B content marketing agencies in the UK.
The 27 Best B2B Content Marketing Agencies in the UK
Digital Litmus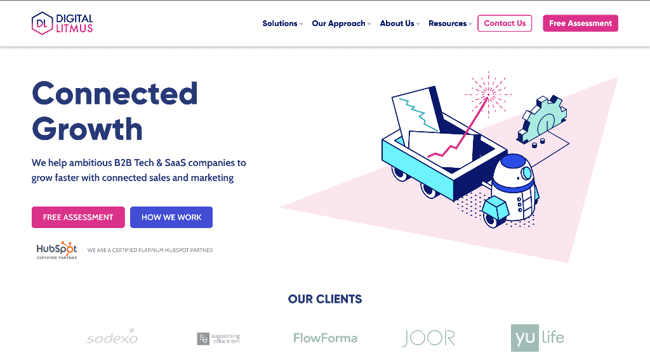 We may be biased…but Digital Litmus (that's us!) is perhaps the best B2B content marketing agency in the UK - and we've got the case studies to prove it!
Our recent content work with Digital Knights, a B2B tech company, created a 186% increase in marketing qualified leads (MQL), a 381% increase in year-on-year website sessions and a 332% increase in organic keyword coverage. We've got more where that came from too, with our case studies section boasting significant results for our clients. Check that out here.
We're a results-driven agency, and one of the UK's leading B2B marketing agencies. We're also a Platinum Hubspot Partner.
After launching in 2016, we've worked with a variety of clients in the B2B space, and our core services include:
Strategy
MarTech
Content
Campaigns
Growth driven design
Sales enablement
Pros: We focus specifically on B2B, it's our area of expertise. We offer flexible pricing models to suit numerous needs. We're also highly results-driven, with our ROIs shared for each project.
Review: "We consider Digital Litmus to be a true extension of our team. They've transformed our approach to marketing, creating huge efficiencies and commercial success."
Sharp Ahead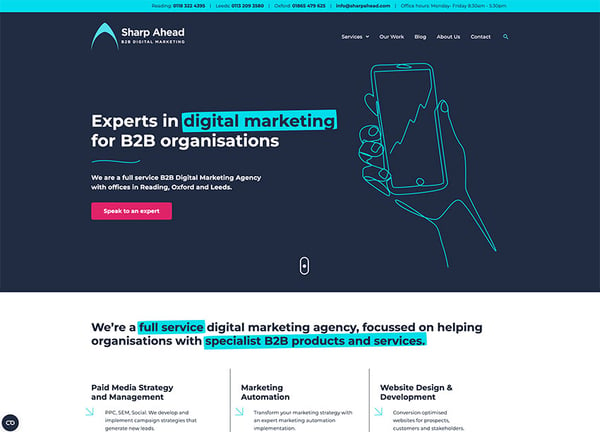 Based in Leeds, Oxford and Reading, Sharp Ahead is a B2B digital marketing agency that focuses on content marketing, marketing automation, paid media strategy and SEO.
They recently worked with a corporate digital comms company to help them reach new people and expand their newsletter subscriber base. After creating unique sponsored content and utilising LinkedIn, they increased the clients' subscriber base by over 20% - gaining 100 qualified leads in 30 days.
Pros: They're a full-service digital marketing agency, so they can adapt to your changing needs over time.
Velocity Partners
With offices in New York and London, Velocity is a no-nonsense type of agency.
Their marketing services are: B2B content marketing, B2B branding, strategy and positioning, B2B design, visual identity and UX and B2B content performance.
They've summed up their working style and approach in three snappy nouns: meaning, metrics and mojo.
And for those looking for a fresh way to share content - they're big on motion graphics and B2B videos!
Pros: They like to work fast and see results even quicker. This is great if you're looking for an agency that can keep up.
Tiga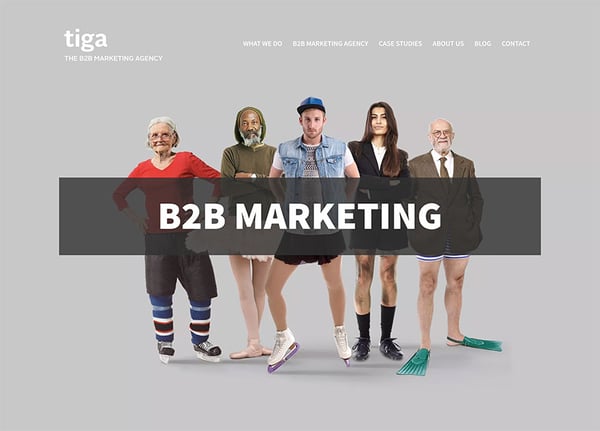 With 25 years of experience, this Kent-based creative marketing agency is committed to creating quality content that engages the desired audience.
Through their experience, they've worked with some household names like Mitsubishi Electric, Sony and Balfour Beatty - to name a few.
Tiga has created content campaigns for the audiovisual industry, as well as tech, construction and engineering. But they also work across the full spectrum of B2B verticals.
Client Mitsubishi Electric described them as 'responsive' and 'dedicated': "Tiga combine the benefits of a dedicated and responsive team with a high level of technical knowledge and ability."
Pros: As well as their creative marketing services, they're based in a central location close to London. They work with clients all over but can come and visit you if you're nearby - ideal for those who favour face-to-face communication.
Brafton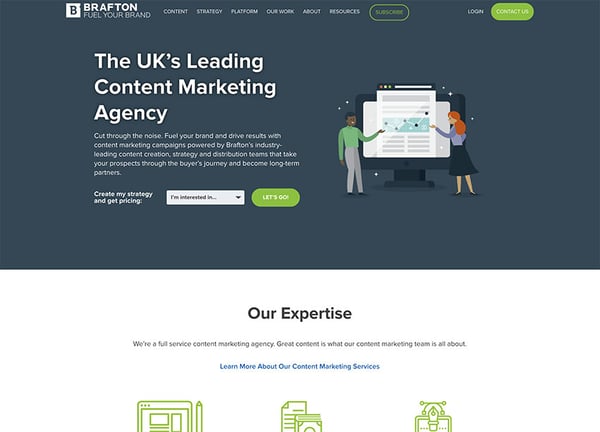 B2B content marketing agency Brafton is taking the world by storm with offices in London, Boston, Chicago, San Francisco and Sydney.
Amongst the usual content marketing services, they offer content creation, copywriting, SEO, graphic design, video marketing and consulting.
In one of their recent SEO content campaigns, they started targeting the keyword 'what is entrepreneurship' and utilising this within content. The result? $12K worth of traffic from one blog post for their client Stanford University.
Pro: They focus solely on content marketing, and they've been in the industry since 1998.
Copy House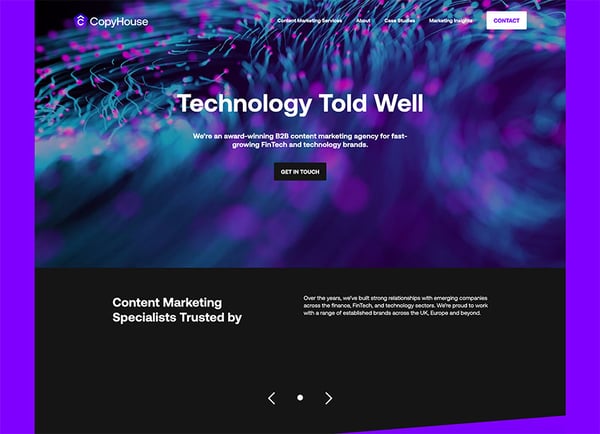 Award-winning B2B content marketing agency Copy House works with technology and FinTech businesses.
They describe themselves as being 'positive disruptors' who are experts at taking complex ideas and creating engaging and digestible content.
Review: "We've been really impressed at how they created valuable content for our marketing campaigns, all with a really impressive turnaround time."
Pros: They adopt a client-oriented approach, so each campaign is tailored to your needs.
Isoline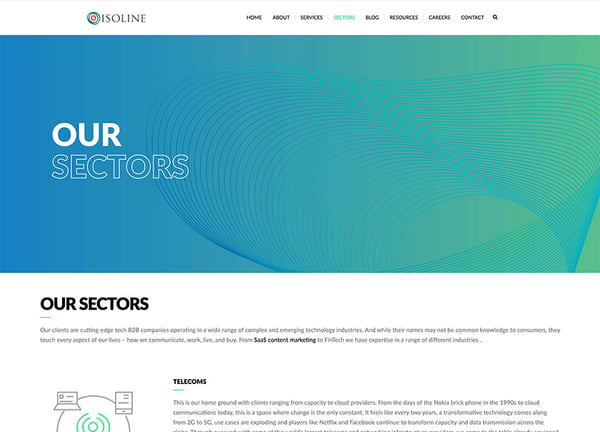 Founded in 2015, Isoline Communications focuses on all things content - including content creation, copywriting, content marketing campaigns, strategy, performance and positioning.
Their clients are cutting-edge tech B2B companies, but their other favourite industries to work in are telecoms, IoT, cybersecurity, fintech, blockchain, medtech and broadcast.
Given their area of expertise, they regularly work with highly technical clients but portray their content in digestible and easy-to-understand ways. This was apparent throughout their reviews.
Review: "We knew so much about our company and product that it was hard defining the right narrative. Thank you Isoline for helping us distil the story into something tangible for others."
Pros: They have a deep sector understanding of B2B technology.
The Marketing Practice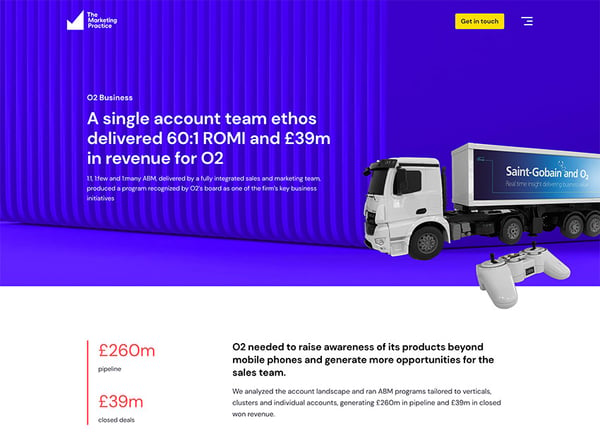 Clients like Microsoft, Citrix and Quest have worked with The Marketing Practice agency, amongst many, to fulfil their B2B marketing ambitions.
After working with O2 Business, who needed to raise awareness of their other IT propositions for companies, they generated opportunities worth £260m - converting into £39m of revenue. This particular campaign was crowned the 'Most Commercially Successful' at the B2B marketing awards.
They focus on a whole host of marketing services to make results like the above happen, and they have a talented content department for SEO, social media and strategy.
Pro: They're an ABM agency, meaning they focus on collaboration between B2B sales and marketing teams to create the desired output.
Upp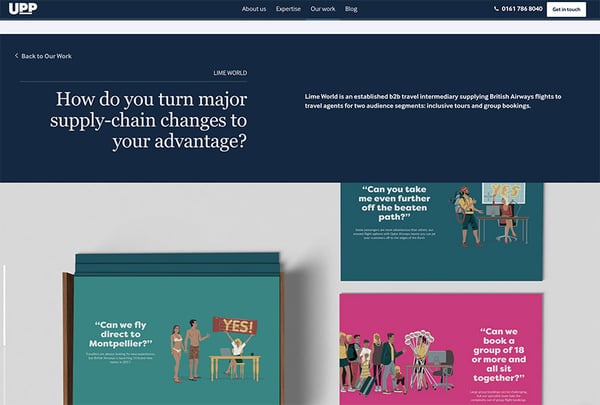 Upp is an award-winning B2B marketing agency with over 20 years of experience in the game. Clients have included Transport for Greater Manchester, DHL, ao Business and more.
Upp is focused on creating digital experiences that ups your ROI, with key services like digital strategy development, SEO, content and social media marketing strategy and management, and more niche services like app and online game development.
Pros: Their experience means they can consistently deliver on tight deadlines, as outlined in reviews like this: "We gave Upp a really challenging brief with a tight deadline. The team more than met our expectations, responding with a highly effective campaign that used a strong central proposition and some fun interactive elements to capture our customers' attention."
Bray Leino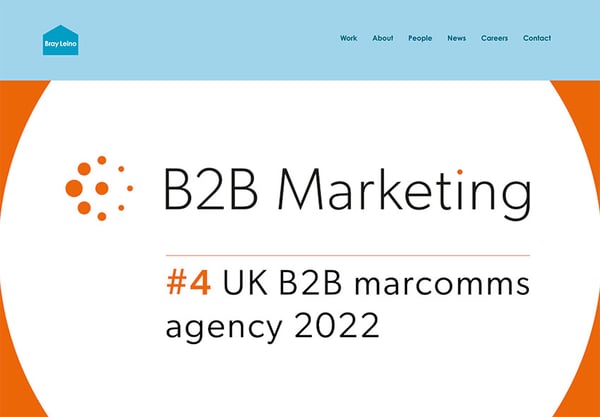 In 2022, Bray Leino ranked as the fourth best UK b2b marcomms agency. This marks their 10th consecutive year in the top 10 of UK agencies - an incredible achievement showing their stability and growth.
They provide valuable B2B marketing services with over 450 full-time integrated marketing specialists and 75 years of experience. For those with a B2C strand of the business, Bray Leino works across both B2B and B2C.
Pros: They've partnered with the U.S.-based agency 'The MX Group,' meaning there's an opportunity to reach an international audience. They have another partnership for the maritime sector.
Gravity Global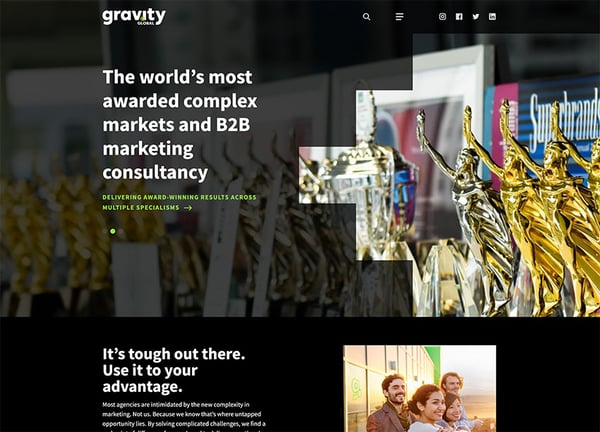 B2B marketing agency Gravity Global won a staggering 401 awards in 2022, including the 'Global Agency of the Year' and 'European B2B Agency of the Year.'
In fact, Gravity Global is the world's most awarded complex market and B2B brand-to-demand consultancy agency.
Their services span brand & creative, content & social, go-to-market and digital experience. This agency enjoys digging deep and cracking the complexity of brands before conveying this in a way that is understandable for the target audience.
Pros: Over the last year, they've acquired numerous US-based agencies (Mojo Media Labs, 9th Wonder B2B and Morsekode.) This strengthens their US presence and expands their capabilities.
Prohibition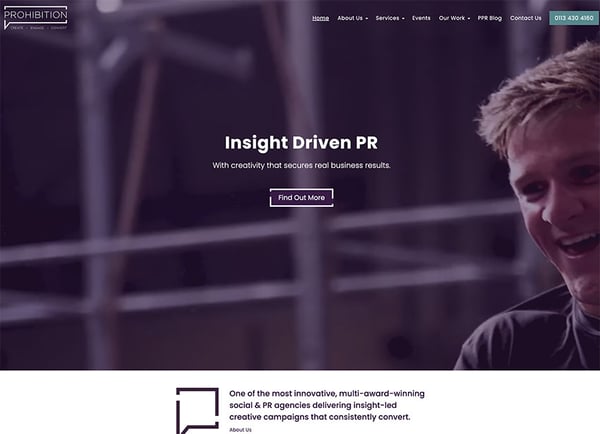 This northern agency called Prohibition takes a fully integrated approach to content marketing, social media, video production, public relations and more. They work in both the B2B and B2C space.
Beyond PR, they're heavily focused on newer forms of content marketing including social media and influencer marketing.
When working with specialist business energy supplier, Engie, Prohibition brought their services to life in the UK by gaining 180K impressions from organic and paid social activity, as well as 17k video views.
Pros: They won the 'Corporate and Business Communications Campaign' and 'Best Use of Digital and Social Media' awards by CIPR in 2022.
SQ Digital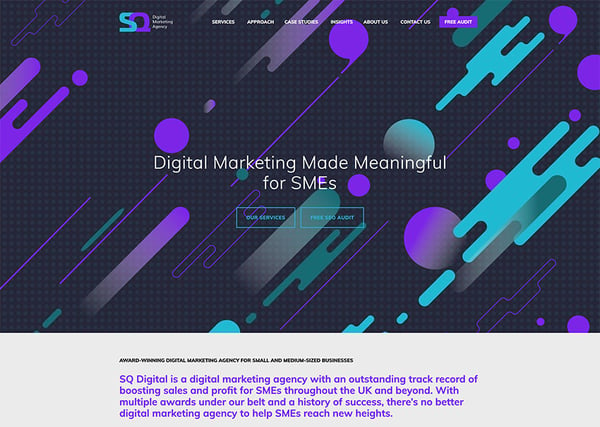 Based in Lancaster, SQ Digital is a digital marketing agency that boosts sales and profits for small and medium-sized businesses throughout the UK and beyond.
They assist with SEO, content marketing, social media, PPC, digital PR and website design.
Before beginning with content work, they spend time conducting in-depth audits of existing content, and the content produced by your competitors. This puts you in the best position to have the right strategy tailored to you.
When they teamed up with a UK-based business to apply content marketing efforts, the clients' traffic grew by 111% in one year. And 71% of monitored keywords now appear on the first page of Google SERPs. This has placed their client in good stead to compete with national household names.
Pro: SQ Digital was one of the first SEO agencies in the UK, racking up tonnes of experience over the years.
Don't let your content fall flat. Let's collaborate to create valuable, relevant, and consistent content that will attract and retain your target audience. Learn more about our content marketing services.
Curveball Media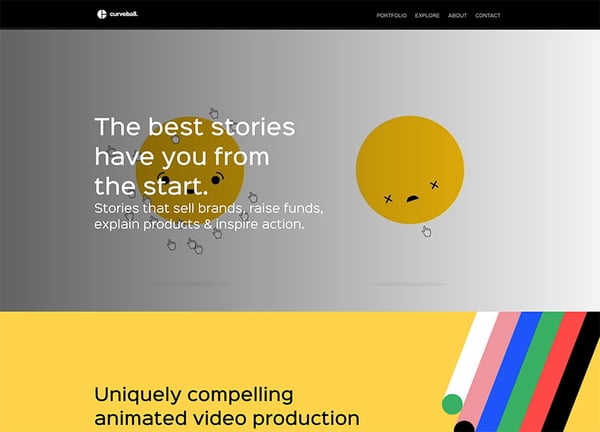 'The best stories have you from the start' and 'the right perspective can make your message irresistible.' This is the message Curveball follows.
But Curveball is a little different from the other agencies listed so far, as they're focused solely on animated video content. This is perfect for creating engaging visuals that represent your brand identity, share your mission, or explain your products/services.
Industries they work in are charities & non-profits, SaaS, tech, fintech, human resources and the health/medical field.
One reviewer described the ease of their process: "The whole process is just a pleasure to be a part of, and we are always blown away by the end result."
Pro: This is for those looking for something new; they're animated video content experts.
Earnest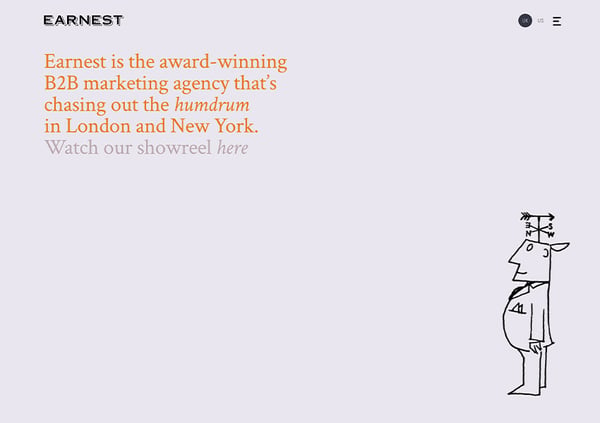 Based out of London and with an office in New York, Earnest delivers B2B marketing services in brand, strategy, research, campaigns, content, digital and influencer marketing.
Their content marketing process can be summed up into four steps: immersion, insight gathering, content strategy and content creation.
When working with client Vodafone Business, Earnest created a new podcast series sharing real-life stories and a full content framework to embrace inbound marketing. This resulted in qualified leads (50% over target,) workshop sign-ups (190% over target,) and the lowest cost per lead ever for a Vodafone Business campaign.
They've replicated this repeatedly, with one reviewer saying: "Together with Earnest, we have created a global campaign with a new brand that has delivered beyond my expectations in driving leads, opportunities and revenue."
Pros: They have experience across both the US and UK markets, perfect for businesses looking to expand into the US.
The Think Tank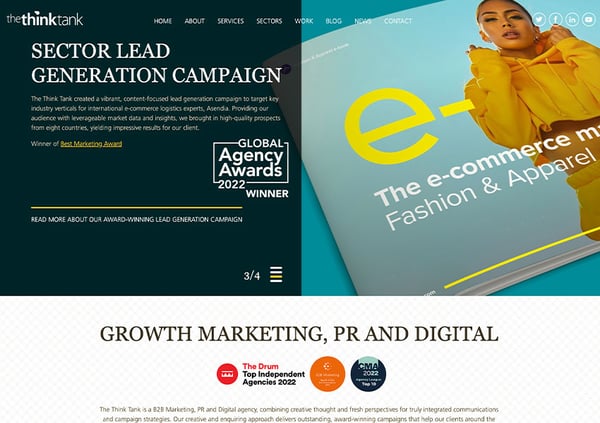 The Think Tank works across many sectors, from construction to logistics and travel. And it even came third in the most recent Construction Marketing Awards Agency League.
Although they're based in central London, they have worked with clients across Europe, the Middle East, and Africa for more than 29 years.
They offer full content marketing as well as video and animation services.
Pro: They have lots of awards under their belt and won 13 marketing and PR awards in 2022/23.
Review: "The Think Tank was very responsive throughout the campaign and kept me up to date every step of the way. The bespoke material created for the media showed an understanding of the review and targeted sectors…"
Blend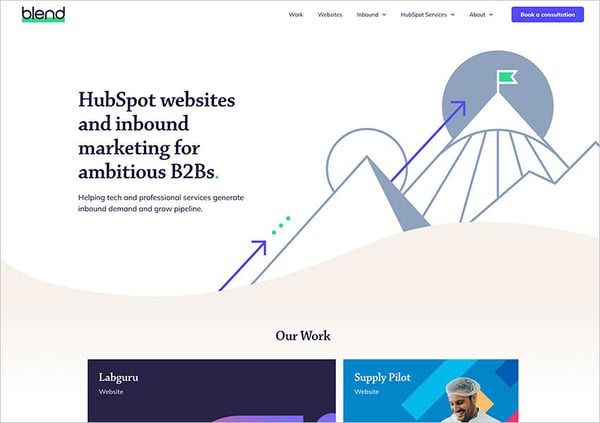 Blend B2B is an inbound marketing and HubSpot-focused agency based in Reading.
They take a holistic approach to inbound marketing. Their inbound service relies on creating buyer-focused content and website experiences. And they perform this strategy and project on HubSpot as they believe it's the best platform for the job.
When faced with a telecom B2B client who needed to drive global growth, they started on their inbound content marketing plan from the ground up.
They prioritised content strategy, design, copywriting and development. Just one year later, the company's organic search traffic to the website grew 64% per month on average. Lead generation saw similar increases during that time too.
The client expressed gratitude in their testimonial: "Blend is an incredible combination of data-driven inbound strategy and extraordinary creative talent."
Pros: They specialise in the HubSpot CRM suite.
Tartan Digital Marketing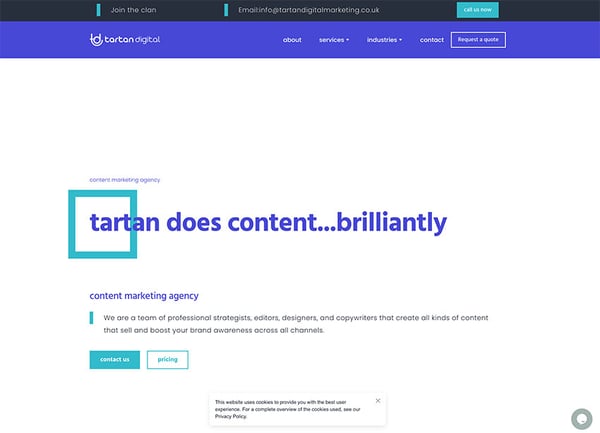 As the name would suggest, Tartan Digital Marketing is based in Glasgow, Scotland, and they're focused on all things digital!
Their team involves content strategists, editors, designers, and copywriters, so they can jump in with creating content whenever you need - from sales copy to SEO content and social media marketing.
Hear from one of their clients who left a testimonial: "We've worked with them on a series of projects. From rebranding and design to content development and even our new website, they have a great local low-cost solution for our business and I would highly recommend them."
Pros: They provide digital services at an affordable price point, and they say you'll be surprised by their prices.
Octopus Group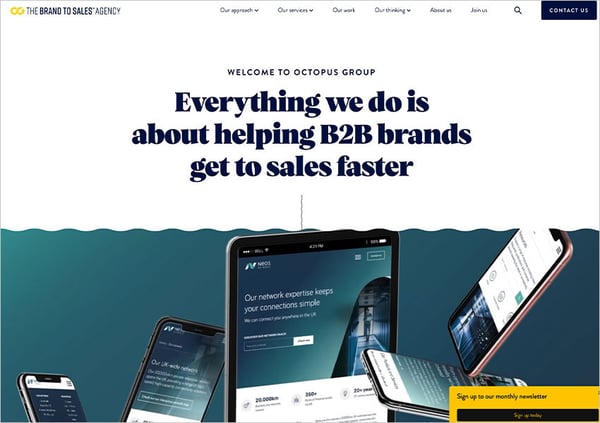 Octopus Group strives to help 'B2B brands get to sales faster,' and they do so by offering a full-service marketing agency.
Some of their most notable partners are Adobe, Bluetooth, Google, Logitech, and Siemens. And their eight marketing disciples (hence the name!) involve strategy, creative, content, digital build, PR, media, martech and demand generation.
It's not just clients who enjoy working with this agency, but the team does too! In 2022 they won Campaign's 'Best Place to Work' award.
Pros: They have a unique method of working, describing their agency as having a 'different approach' that combines awareness and sales.
Punch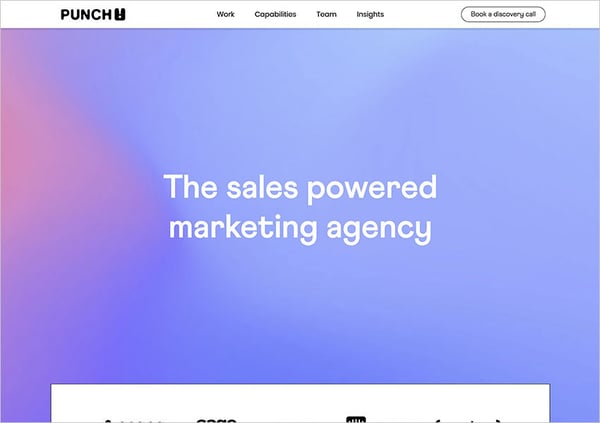 Punch is a B2B agency with a central hub in Covent Garden, London.
Alongside content marketing, they also work in sales development, website design, and ABM. Throughout all their services, campaigns and projects, they seamlessly integrate sales and marketing teams to cover both strands.
This sales-powered agency has an average total pipeline generated of £706,934,333 over the last 12 months. This equates to a 5x average return on investment.
Pros: They are results-driven and offer a 30-day guarantee. If you don't start seeing results within the first 30 days, you can ask for your money back!
Rooster Punk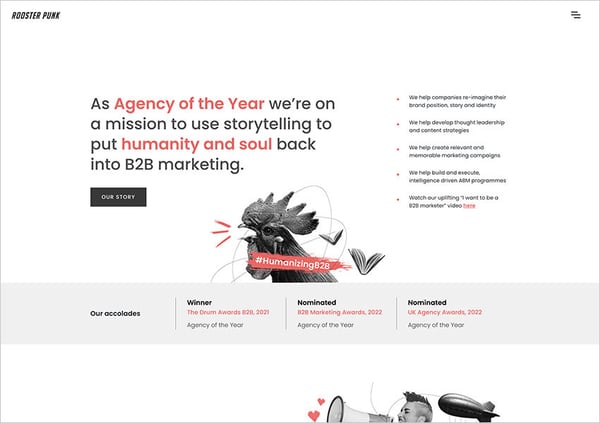 Rooster Punk, a B2B content agency, is on a mission to use storytelling to 'put humanity and soul back into B2B marketing.'
They help companies re-imagine their brand position, story and identity, while developing memorable campaigns and content.
The agency is home to a passionate bunch of storytellers, creatives, strategists and technologies who are fired up to get to the crux of what's important.
One reviewer said: "Rooster Punk really challenged us and educated our exec team on the need to move from a functional to a more emotional marketing approach. The new story and strategy has got everybody on board and totally changed the way we operate in a highly competitive market. The results speak for themselves."
Pros: Rooster Punk is all about storytelling. This is beneficial to those who are looking to iron out their messages.
Don't be Shy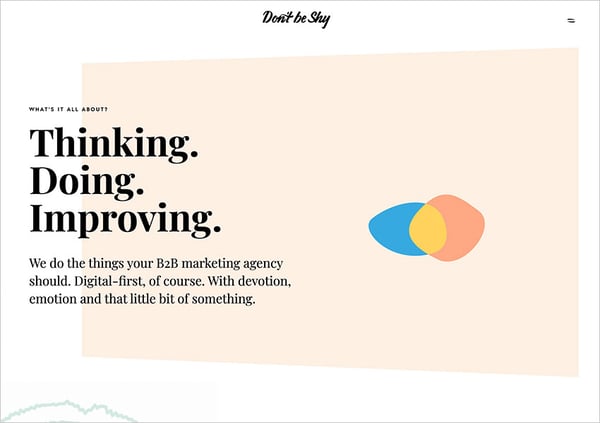 Don't be Shy is based in the uber-cool area of Manchester's Northern Quarter, and they describe themselves as 'progressive marketers with stories to tell.'
To help your content stand out, this agency deeply specialises in B2B video content. They can concept, script, storyboard, film, animate and edit your cutting-edge marketing video from the comfort of their HQ. They're also ready to travel where needed to get the shot.
This content could be used within webinars, event videos, how-tos, animated GIFs, brand videos, and so much more.
Clients have included Uber for Business, Figma and TalkTalk Business, to name just a few.
Pros: If you're unsure of what's more important or how to strike the perfect balance, they've got you covered with the knowledge to guide you when it comes to video and content marketing.
Twogether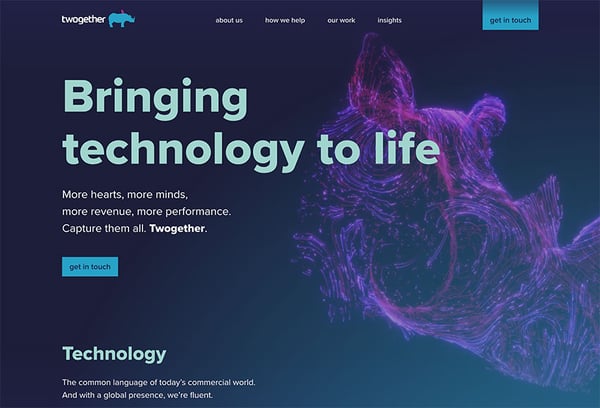 Twogether brings hearts, minds, more revenue, and more performance together to capture them all.
Their values are summed up nicely in five words - purpose, people, passion, performance and planet. And each word shines through their extensive insights and services.
They offer the whole hog regarding digital marketing, and have a strong content and digital arm.
Twogether can be found working most commonly with tech-related companies, with one of their most recent projects being with Telefonica. They worked together to create a content strategy and multi-channel digital marketing approach to boost brand awareness and customer opportunities.
The results? A 1:22 conversion rate, 2x above podcast listener target and spontaneous brand awareness rising from 51% to 54%.
Pros: They deliver outstanding brand experiences, so they can be with you throughout the whole buying journey.
Seeksocial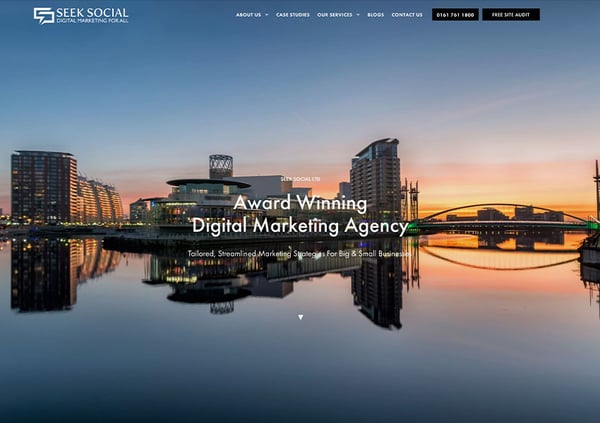 Seek Social, a multi-award-winning digital agency based in Bury, has:
40 years of experience
120k hours worked
459 happy clients
And £92.3M worth of revenue generated for clients.
They work with various B2B and B2C clients across social media, SEO, branding & content, email marketing, online training, PPC and web development.
One client summed up their experience: "They provide good services and value their clients."
Pros: Not only are they a Google Partner, but also Facebook, WordPress, Shopify and Aero.
Red Evolution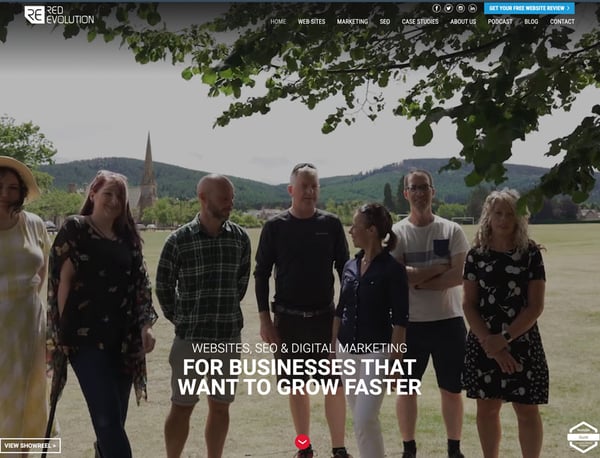 Red Evolution, a straight-talking Scottish agency that started in 2003, initially focusing on web development.
Now, in 2023, they're a full-service digital marketing agency with a whole department focused on SEO content. Not only has their services expanded, but their team has too - with people based in Scotland, England and the USA.
One reviewer got straight to the point: "Outstanding service! The quality of work and the professionalism of the staff are unbelievable. But most importantly, they deliver what they promise!"
Pros: They offer a website review completely free of charge. The audit is sent over via video recording which can be a great starting point for those unsure on the direction they want to take.
No Frames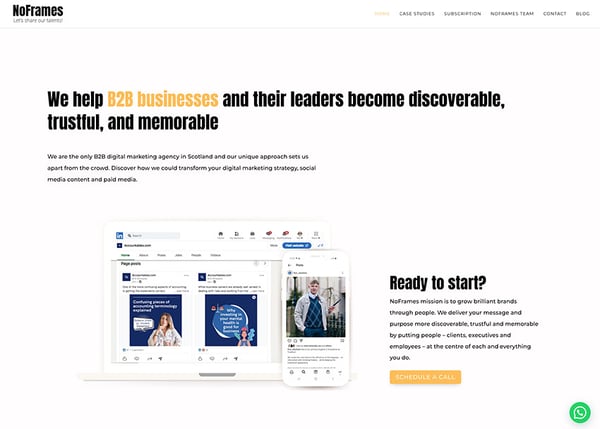 No Frames, a Scotland-based agency, helps 'B2B businesses and their leaders become discoverable, trustful, and memorable.' They do this through social media content strategies and management, as well as content creation in 3D design, illustrations, motion design and more.
One reviewer and client said: "They do a fantastic job of communicating our business and products in social media which is something we struggle to do ourselves as a technical company.
"Where we get bogged down in complexity, they see an opportunity to tell our story and make us relatable - and they do this with a smile and minimum fuss."
Pros: Can break down complex topics into short-form social media content.
Finsbury Media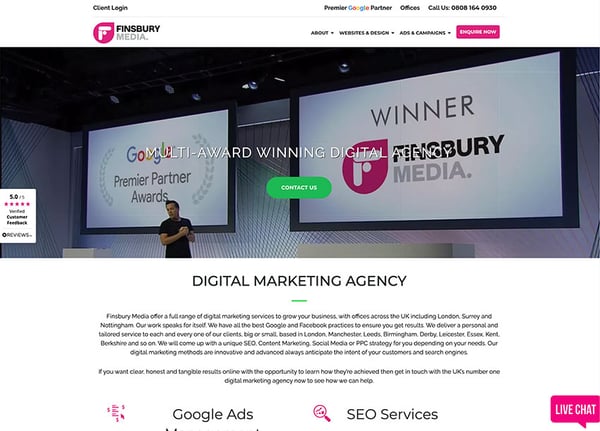 Finsbury Media have completed over 1000 campaigns, with the teams' combined experience totalling 60+ years.
They specialise in SEO content strategy and creation, PPC, and web design.
If you've ever wanted to step foot into Google's infamously fun HQ in London, Finsbury Media hosts events for their clients there each year. This is because they're part of the Google Premier Partner programme, which is a real badge of honour in digital advertising.
Pros: They'll analyse your website for free with an SEO report. This could be a good starting point for those interested in SEO content services.
How to Evaluate B2B Content Marketing Agencies
Now that you've heard from some incredible agencies and analysed what you're looking for, it's time to evaluate.
1. Narrow Down Your Options
If you're in a niche B2B industry, choosing an agency with experience in this could mean the partnership can get off on the right foot from the start.
While not all agencies are specific about the industries they have the most experience with, you'll often notice a pattern in the clients they typically work with (as seen in their case studies or testimonials.)
2. Get in Touch With Your Favourites
Reaching out to a small selection of your chosen agencies is a great way to further understand how they work and their availability.
Once you know more, it's always worth picking up the phone and giving an agency a call - after booking one - to see if they're a right fit. They'll also be checking the same, as they want to feel confident in their abilities when working with any new client.
3. Understand How Your Budget Will be Spent
Working with any agency can be an investment, so it's understandable if you wish to check how your budget will be spent.
This may be expanded on further when the strategy comes into play, but it's always good to be on the same page when it comes to finances.
4. Check Their Agreement and Terms
Just as you would with any investment, you'll want to carefully read through the agency's terms and conditions for working. Some will require a set amount of months for the collaboration to be successful, whereas others jump in on a rolling monthly basis.
Their terms will also include the best ways to communicate. This should be aligned with what works well for you.
Reading through their terms means you'll both be starting with all the information you need for the project ahead of you.
Conclusion
Keen to unlock the brains of new creatives or gain an extra pair of hands for your upcoming marketing projects? We hope our ultimate list of the best B2B content marketing agencies has provided you with all the know-how you need to get started.
By partnering with an experienced content marketing agency, they can help portray messages through storytelling to the business-based audience. While also perfecting your content marketing practices at each stage.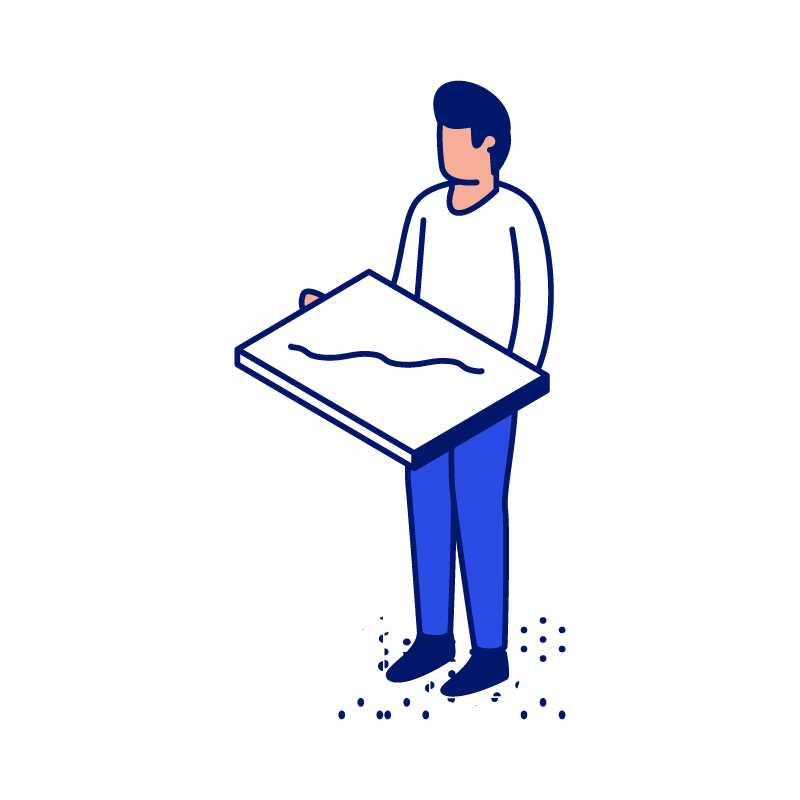 Could we be your next strategic marketing partner?
Our marketing strategy services - We are a B2B marketing agency with a dedicated team of experienced 'CMO-level' strategy experts specialising in strategic roadmaps, persona development and customer journey mapping, along with content and SEO strategy. Find out more about our marketing strategy services.
Enjoy this article? We produce blogs like this for our clients as part of our content marketing agency services, and could produce engaging content for you too.