B2B digital marketing can be a tough nut to crack. With so many channels to consider, landing on the right strategy for growth is no mean feat.

That's why many ambitious businesses turn to B2B digital marketing agencies to help them solve this challenge. They take advantage of their experience and specialist teams to fill skills and knowledge gaps to help them grow.

Finding the right agency with a proven track record can be a time-consuming task. With so many agencies to choose from, honing in on the agency that's a good fit for your business is not easy and requires a good amount of research time.

In this article, we'll guide you through:


Ready to learn more? Let's dive in!

What is a B2B Digital Marketing Agency?
A B2B digital marketing agency is an agency that works with businesses that primarily sell to other businesses.

They help these businesses develop successful marketing strategies that focus on driving acquisition and retention through the use of digital marketing channels specifically.

Typical services you can expect from a B2B digital marketing agency include:
Strategy and consultancy
Content marketing and SEO
ABM and Inbound Campaigns
Social media marketing
Growth Driven Design / Website Development
Sales Enablement
What to Expect From the Best B2B Digital Marketing Agencies
There can be many different reasons as to why you may decide to partner with an agency, and of course agencies come in different shapes and sizes.
Laying down the criteria for exactly what you are looking for will help you find an agency that aligns with your needs.
Here's our top 5 must haves for what a good digital marketing agency should bring to the table.
1. Strategic Expertise
There's no substitute for good strategic thinking in the B2B space. A good agency will invest time at the beginning of a relationship in getting to know your target customer, understanding complex buying processes and identifying the best channels for growth.
This is not a job for a junior marketer. You should expect to engage with the agency's most experienced team members who'll bring their vast experience into the mix to devise the right strategies for results.
2. Flexibility
No one likes being put on a path that they can't get off. Yet in many agency relationships that's exactly what happens. You pay for a set period of time and receive a fixed set of services.
This approach is detrimental to growth. Every business needs to have agility, especially when it's experimenting with new channels to grow. The ability to react to new opportunities or to pull back on an activity if it's not working should be a prerequisite.
So ensure your agency can give you this flexibility and is open-minded enough to put your needs first over their commercial needs.
3. The right Mix of Services for B2B Businesses
Different agencies specialise in different disciplines of digital marketing.
For example, some are full-service, which means they offer a comprehensive suite of services and can operate as a true extension of your team.
Other more specialist agencies, will only offer PPC, content marketing or social media management. This can be valuable if you're looking to plug specific skills gaps.
Make sure you know exactly which services the agency offers to find out if it's the right fit for your needs.
4. Exceptional Communication
Responsiveness is a critical trait in an agency relationship. It should feel like the agency is part of your own business, and you have access to their expertise and guidance in the same way you would if they were sitting within your office.
It's therefore important to understand how the agency communicates throughout the course of a client relationship.
Ask about the project management tools they use, and learn about their approach to account management; Who will be your day-to-day contact? What is the regularity of meetings? When do we review if the growth programme is working or not?
5. Experience and a Proven Track Record
You should look for a B2B marketing agency who offers a discovery call or an initial consultation. A consultative approach to sales is important as it ensures you aren't just getting a one-size fits all solution.
It's also important to make sure that the agency has a strong, proven track record. Do they have enough positive testimonials on review sites like the Hubspot Partner Directory or Clutch? Are there any case studies on their website? Spend time researching their reputation so you don't get any nasty surprises down the line.
It's best to apply extra caution when it comes to brand-new digital marketing agencies. Experience is crucial – the agency should have a deep understanding of your industry, your target audience, your channels and your core message as a brand.
What are the Benefits of Working with a B2B Digital Marketing Agency?
There are many benefits for B2B businesses of partnering with a digital marketing agency, these are some of the most common:
If you're a small or new business that isn't ready to build your own internal marketing team but wants to kickstart your marketing efforts, an agency can operate as an extension to your team which mitigates the risk of hiring into the business.
If your business has a small marketing function, working with an agency can be a great way to build in knowledge and capabilities that are missing in-house.
If you've got a lack of internal resources, working with an agency can help you accelerate or optimise current marketing efforts and speed up demand generation.
If you want to target a specific audience, leveraging an agency's proven strategies and experience of working with similar clients to yourself can be hugely advantageous.
The Best B2B Digital Marketing Agencies in the UK You Need to Know About
Digital Litmus
Digital Litmus (that's us!) is one of the UK's best B2B digital marketing agencies and a Platinum HubSpot Solutions Partner.
Founded in 2015, we help B2B companies grow with integrated marketing, sales and customer success.
Our core services cover:
Strategy
MarTech
Content
Campaigns
Growth driven design
Sales enablement

We build strategic partnerships with B2B businesses to help them:

Develop full demand generation programmes and strategies
Make the most of their MarTech stack (especially Hubspot)
Create content that attracts and converts your target audience
Generate high-quality leads
Improve websites and conversion rates
Ensure their sales teams are well equipped to close more deals
We're highly results driven - take a look at how we increased pipeline by over 600% for RocheMartin and supported the generation of more than £1.6M in revenue for Spektrix.
The Marketing Practice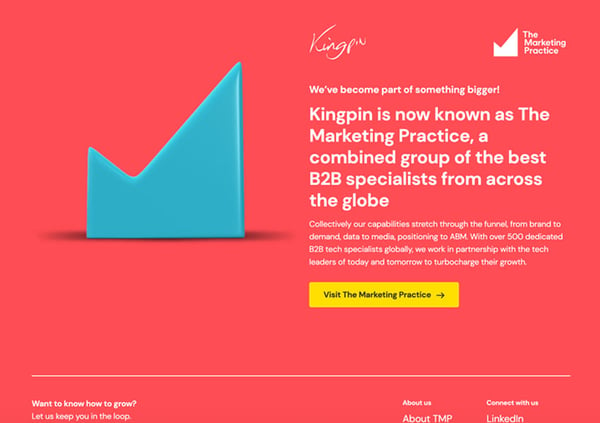 The agency that we used to know as Kingpin was acquired by the Marketing Practice in 2021. It remains a leading agency that helps B2B businesses to connect with audiences all the way through the buying journey.

The Marketing Practice actually encompasses five agencies: Kingpin, Omobono, 90octane, Campaign Stars and Rombii. The focal point of this pretty colossal grouping of agencies is to enable growth throughout the funnel. They combine data, tech and ideas to encourage growth.
Key services:
Account-based marketing
Audience research
Business development
Channel marketing
Content marketing
Lead generation
Social marketing
SEO and PPC
The agency ranked #13 on the 2021 B2B marketing report for the top 95 UK B2B marcomms agencies, and they recently won the Grand Prix B2B Award at The Drum Digital Advertising Awards 2020.
Modern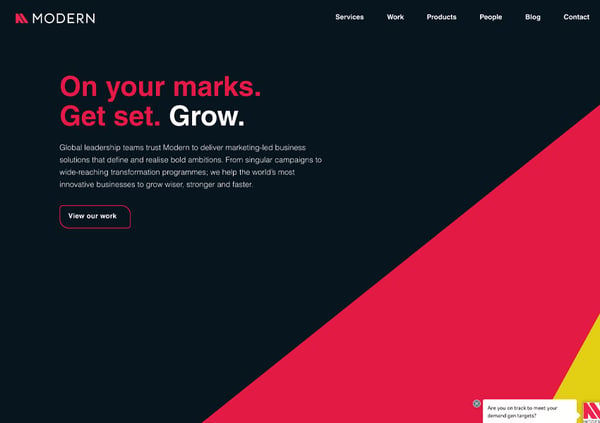 Modern is a digital marketing agency focused on creating value for its clients. Instead of being just a provider of services, Modern positions itself as a true partner for the growth of its clients.

The agency is based in Bristol, though it claims to be a digital-first provider, so don't worry about not being able to make it to their offices. They're focused on wide-reaching transformation driven by data analytics and insights.
Their services include:
ABM
Digital content
Buyer enablement
Digital transformation and MarTech
Marketing automation
Performance marketing
Since 2018, Modern has been supporting AdminControl with brand awareness and lead generation efforts, winning Best Use of LinkedIn Ads at the 2021 Paid Media Awards.
Gripped
Headquartered in London, Gripped offers quite a full range of services with the constant aim of increasing traffic, building relationships and driving leads. They are a full service agency with offerings across the marketing funnel.
Some of the services they provide include:
Strategic account-based marketing (ABM)
Digital content programmes
Buyer enablement
Digital transformation
Marketing automation
Performance marketing
Gripped boasts a "friction-free environment" for their clients. Their 90-day rolling plans are designed to track and measure progress with campaigns and overall programme success.
Octopus Group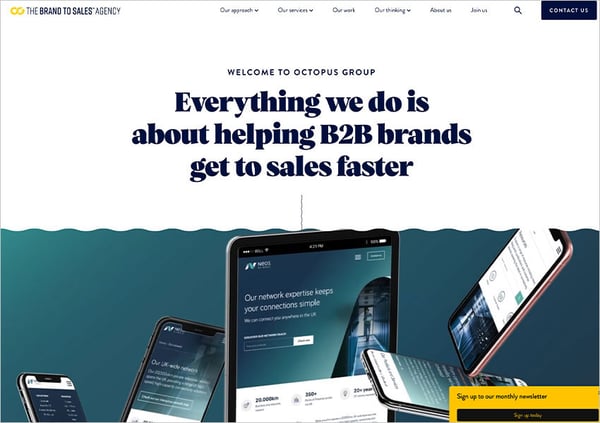 Octopus Group claims to be a "brand to sales" agency. That means that their whole offering is oriented towards helping clients drive sales. They're a full service agency with an impressively wide range of services to offer.

Their comprehensive service offering covers 8 different areas:
Strategy
Creative
Content
Digital
PR
Media
MarTech
Demand Generation
What's more, they have a great deal of experience working across different industries in their portfolio, and many high-profile clients including Adobe, Google Cloud, Bluetooth, Visa and Siemens.
Sculpt
Sculpt is a B2B social media marketing agency who are focused on helping businesses book more meetings. Their aim is to aid their clients in connecting with their audience more humanely and seamlessly.

They started as a local social media management company and grew all the way to the established agency they are today, with services that cover:
B2B chatbots
Paid social ads
B2B social media
Social media content
A Hubspot Gold Partner, they work with a host of big name clients including Atlassian, Adobe and Netscout.
Rooster Punk Group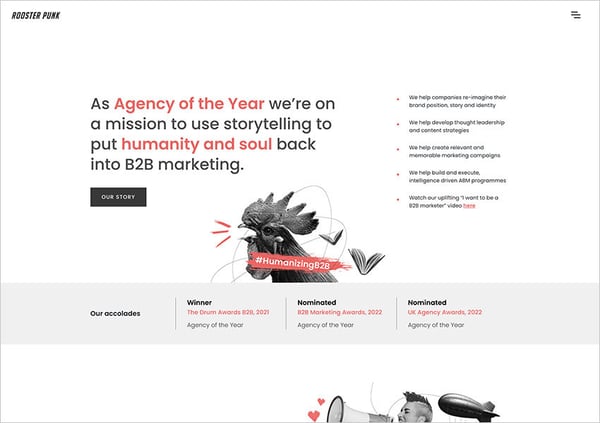 Rooster Punk is a one of a kind digital marketing agency. One of the first things you see when browsing their website is the hashtag #humanizingB2B. Their philosophy is putting soul into B2B marketing through memorable campaigns and compelling brand stories.
Covering a broad spectrum of B2B digital marketing needs, their services encompass:
Branding and brand development
Strategy and planning
Content marketing and website development
Marketing and communications
B2B storytelling and thought leadership
ABM and sustainable business


Their strong ideology is all about humane processes as opposed to cold, harsh analytics. That's what led them to winning the Drum's B2B Agency of the Year in 2021. Rooster Punk are truly experts at finding powerful ways to connect with customers!
Punch!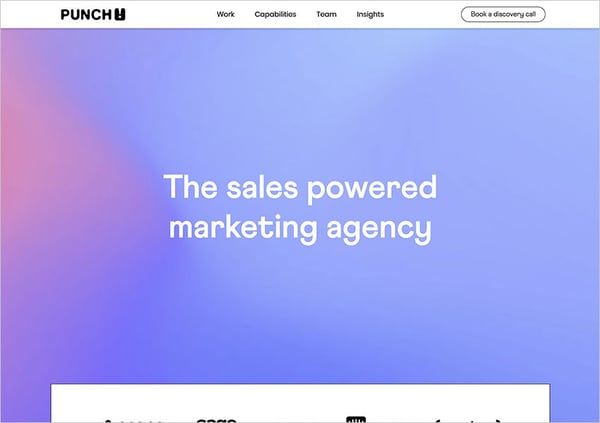 Punch is a digital marketing agency specialised in sales development and ABM. They help businesses generate leads through a growth-obsessed approach and a lot of strategy.

They have 25 years of experience in scaling companies through marketing. They're focused on two things and two things only, sales development and ABM, which makes them experts in ROIs and lead generation.
Punch offers the following services:
ABM: Strategy, content, execution
Video: Video marketing strategy, scriptwriting and editing, storyboarding
Content: Strategy, keyword and competitor analysis, creation
Design: Rebranding and refining, logo design
Social: Social and digital integration, outreach campaigns
Sales development: Value propositions, buyer personas, omnichannel messaging, MarTech
Web: Website and landing page design, UI and UX design.
Punch has a great roster of big name clients including Zendesk, Intercom, Sage and Miele.
Digital Radish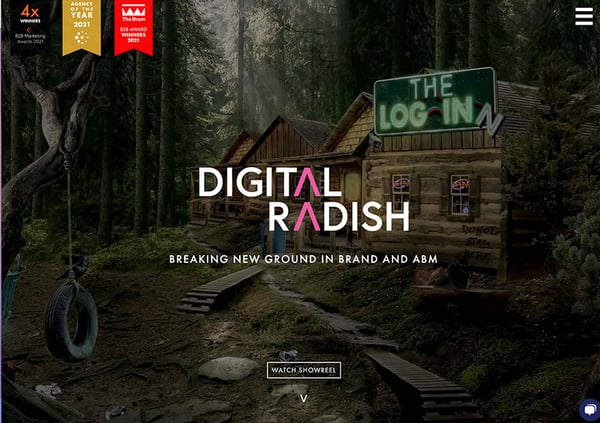 Digital Radish is a London-based agency digital marketing agency that focus on branding and ABM services.
Digital Radish helps companies with:
ABM: bespoke ABM approach with a focus on creative differentiation
Brand: strategy, rebranding, visual identity
Creative campaigns: Content planning, content strategy, creation and delivery
In 2021, Digital Radish won ​​Agency of the Year at the B2B Marketing Awards. They owe the victory to their bespoke ABM work, branding and outstanding creative campaigns.
Blend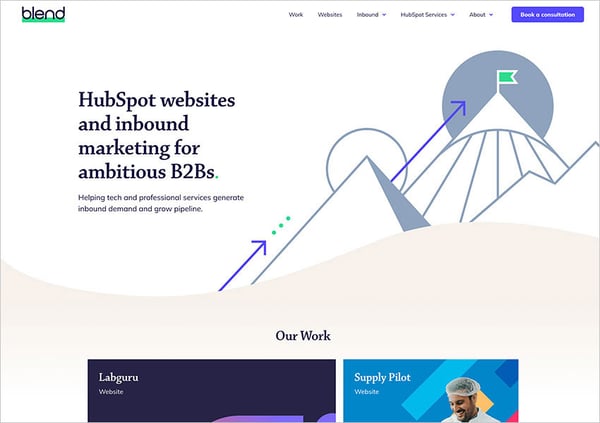 Blend is a demand generation agency specialising in HubSpot websites and inbound marketing. Primarily, their portfolio includes work for technology businesses, and they've earned their spot as one of HubSpot's most valuable partners and most recently achieved Elite status.
Their inbound services include:
Inbound marketing and strategy
Content marketing
Lead Generation
Marketing automation
SEO
Paid Traffic Acquisition
Their HubSpot-specific services include
HubSpot CMS Migration
HubSpot Configuration and Onboarding
Blend won the Best New Business Campaign award at the 2021 edition of the UK Agency Awards.
CC Group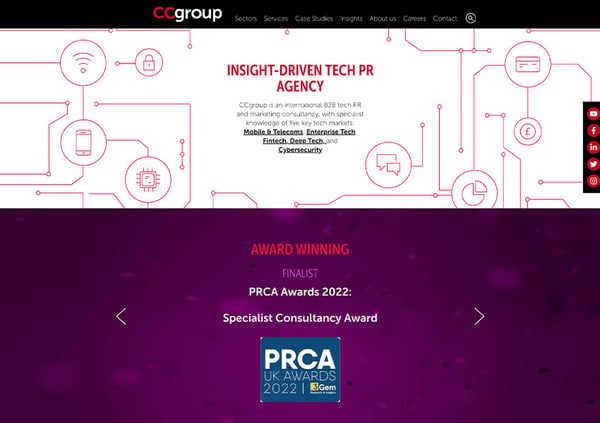 CC Group is a tech PR B2B agency headquartered in London specialising in B2B. The agency caters to five key tech markets: mobile and telecoms, enterprise tech, fintech, deep tech and cybersecurity.

They describe themselves as the thinking brand's PR agency and often make headlines in PR, marketing, and business publications.
Their services include:
Positioning and messaging
Video production
Marketing Automation
Content Creation
Media Relations
Influencer Marketing
Social Media
SEO PR
CC Group have won their fair share of awards, including Best Small Agency award at Best Places to Work 2021 and Technology of the Year at the 2021 PR Moment Awards.
Earnest
Earnest is a wonderfully poignant, to-the-point and efficient B2B digital marketing agency. They specialise in branding and creative campaigns, though they do also offer services like content and influencer marketing.
Earnest are highly focused on innovation and exploring future trends and technologies in the industry. So much so, that they created a whole branch of their agency dedicated to it – Earnest Labs.
Earnest's services include:
Brand: Brand strategy, brand development, repositioning, and rebranding
Strategy: Programme creation and management, messaging and proposition development.
Campaigns: Creative thinking, B2B lead generation, and ABM
Content: Audience mapping, keyword and competitor analysis, content strategy, and content creation
Digital: Marketing, planning, and design
Experiential: Live events, exhibitions, AR/VR
Their portfolio includes work for many recognisable brands, including Google, YouTube, Instagram, Vodafone, and Mastercard.
Fox Agency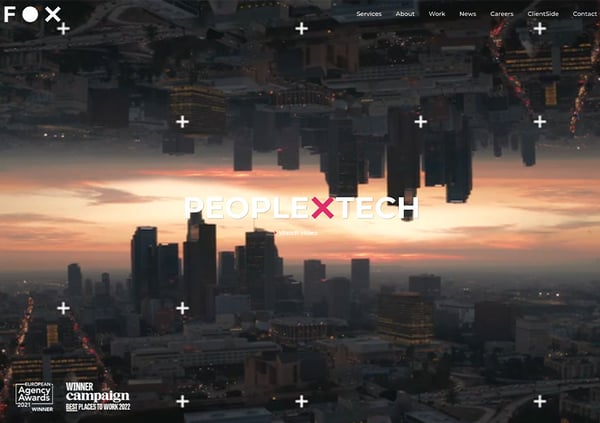 Fox Agency is an integrated B2B marketing agency with offices in London and Leeds. Their motto, "keep it simple" summarises their approach to their work and they partner primarily with innovative and entrepreneurial tech companies.
Their services include:
Research, insight, and strategy
Brand and creative
Global tech PR and influencer marketing
Content marketing
Social media
Video, animation, and CGI
Marketing automation and demand generation
Virtual events, webinars, and podcasts
​​In 2021, Fox Agency won B2B Agency of the Year at the European Agency Awards.
Merkle B2B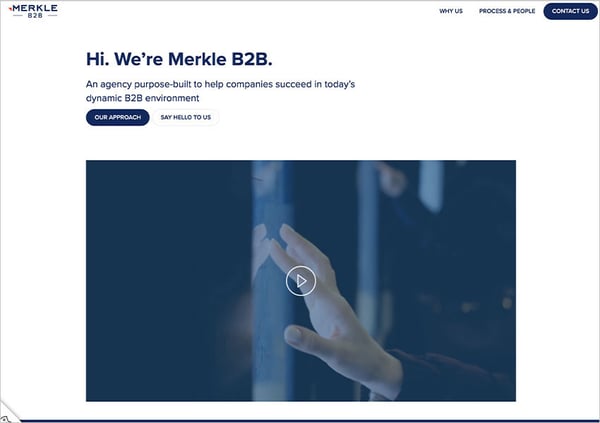 Merkle is a truly modern B2B digital marketing agency. They curate modern-day customer experiences through the clever use of data and automation and operate offices in the US, London, Shanghai, and Nanjing.
They position themselves as a strategic growth partner and are driven by data, and combine proprietary data, tech, and tools to create seamless and personalised experiences.
Some of the services they offer include:
Brand: strategy, brand platform, brand research, and content
Insights: experience analytics, audience analytics, performance analytics
Activation: brand-to-demand activation, channel activation, integrated media
Data management: database solutions, data sourcing and enhancement, identity management
Orchestration: campaign planning / MRM, content and digital asset management
Technology: sales and marketing
They've worked with many tech giants including Cisco, Dell, Intel, Mastercard, Google, Samsung.
Tilt Metrics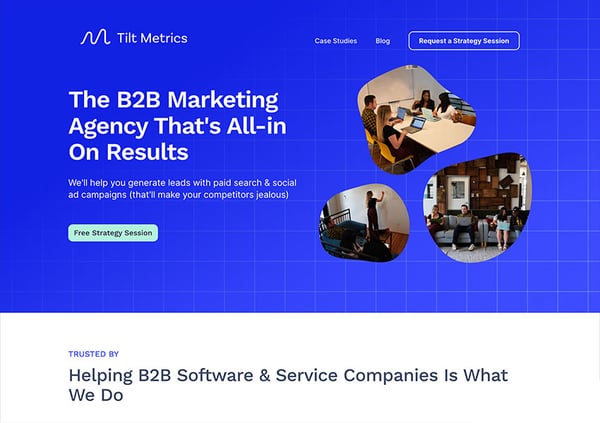 Tilt Metrics is a B2B digital marketing agency focused on generating new leads for their clients and converting qualified prospects.
They help clients create automated lead generation campaigns that turn ideal prospects from strangers to loyal customers
Tilt Metrics' services include:
Awareness generation

Trust and authority building

Lead generation campaigns



Their portfolio includes clients such as Astra, Mojotech, Solensis and Frogslayer
Don't be Shy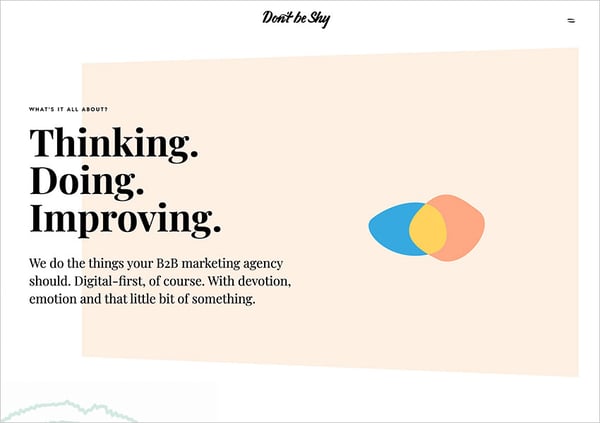 Don't be Shy is a digital-first B2B marketing agency headquartered in the heart of Manchester's creative Northern Quarter.

Their tagline is focused on "emotion and devotion" and aimed towards ambitious businesses of all kinds, supplying content-led marketing strategies for every stage of the customer journey.
Don't be Shy can help with:
Insight and strategy
Brand and creative
Websites, UX and UI
Content and campaigns
Marketing automation
Hubspot
They've won quite a few awards for their digital marketing strategies and have worked with high-profile clients like Uber, Oracle, and Intercity Technology.
Success with Systems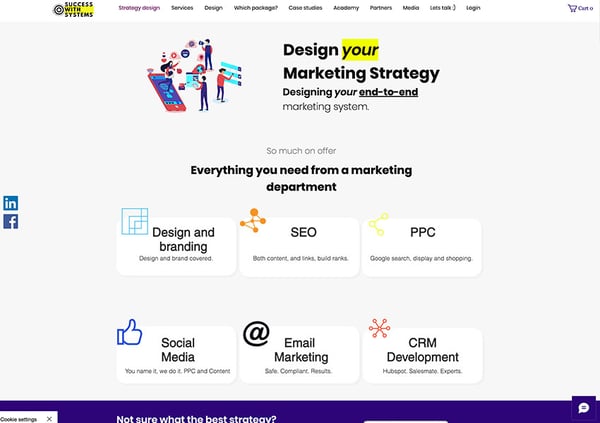 Success with Systems is a Brighton-based lead generation agency with more than 25 years of combined experience in the B2B marketing space.
They are a full-service agency who focus on direct customer acquisition through different channels. They're best known for their omnio-channel outreach methods.
Their services include:
Outbound marketing and paid inbound marketing
Organic growth, social media marketing, and SEO
Design, website development, and branding
CRM development, sales funnel development, HubSpot development
Network Growth, channel growth marketing, affiliate marketing
Some of their LinkedIn and email marketing campaigns have been wildly successful. Recently, they helped a banking software company raise $1.5 million in under 12 weeks, and they brought new revenue of 1.6 million to an events company in under six months.
Gravity Global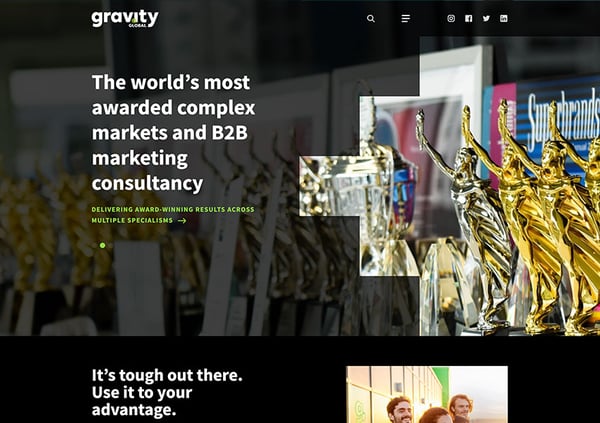 Gravity Global is an award-winning B2B marketing agency that has worked with some of the world's biggest brands, including Coca-Cola, Avast, Nikon, and Seat. They offer integrated and full-service marketing solutions with continuous touches of fame, admiration, and belief, which are their three core values.
Some of the services they provide include:
Demand generation: campaign planning, persona research, content strategy, ABM, performance marketing
Brand and repositioning strategy: Creative brand identity, internal brand engagement, global branding, brand naming, and more
Communications: Media relations, public relations, crisis management, sentiment analysis, and social channel management
Digital: Performance tracking, MarTech strategy, marketing automation
Gravity Global recently acquired Wonder B2B, Mojo Media Labs and Morsekode and they now reach the four corners of the globe, with offices in The US, Brazil, Europe, Africa, Asia and Australia.
All sector digital marketing agencies
Flaunt Digital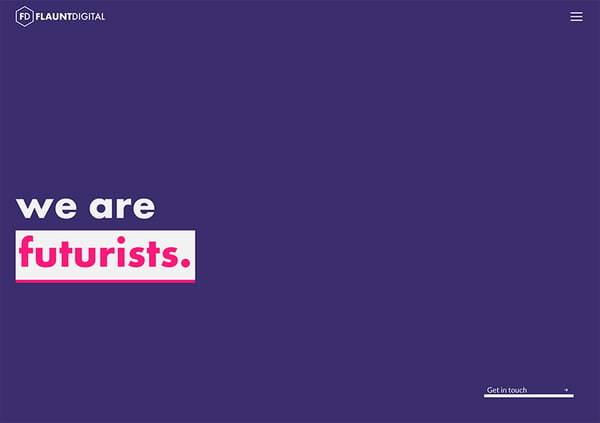 Flaunt Digital is a digital marketing B2B agency based in Leeds. The agency's core values are gratitude, transparency, and empathy, and they're deliberately not full service.
Their speciality is connecting clients with tech experts that can build tailored solutions.
Flauntdigital can help with:
Content marketing
Design and development
Paid media
SEO
They boast a thrilling range of high-profile clients and enticing values like flexibility, transparency, accountability and gratitude.
of their high-profile clients include Audi, The New York Times, and Estée Lauder.
Climb Online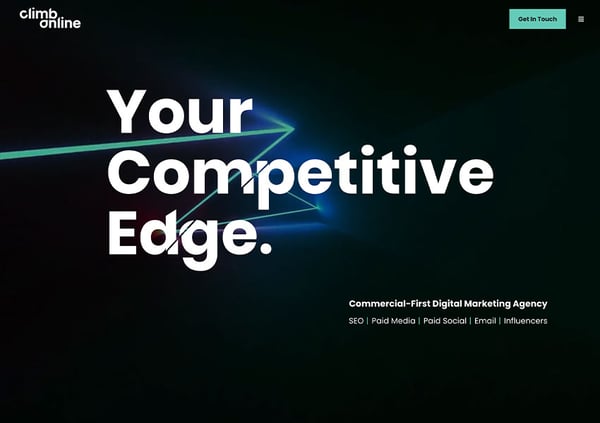 Founded in 2015, Climb Online is a commercial-first digital marketing agency headquartered in London.
The Climb Online team has been growing fast and they have an impressive track record as they've won multiple awards over the years, such as the Entrepreneurs' Team of the Year award in the 2018 Great British Entrepreneur Awards.
Their services include:
SEO
Paid media
Paid social
Email marketing
Influencer marketing
Their bespoke SEM strategy that Climb Online crafted for TikTok delivered outstanding results, achieving a 10x increase in keywords ranked in the top 10 positions on Google in the UK, France, and Germany.
Dandy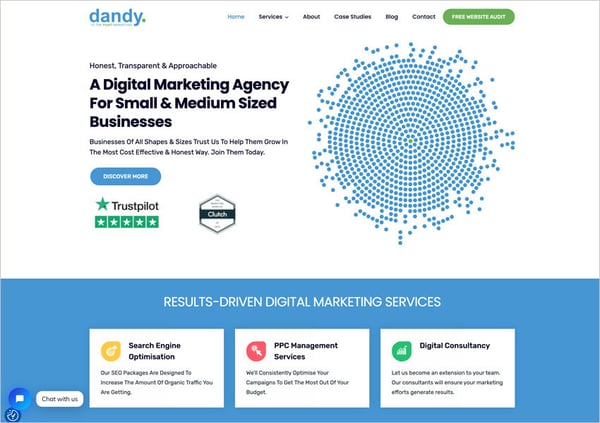 Dandy prides itself on being honest and approachable. They deliver marketing strategies and services to SMEs.
They are a results-driven agency full of clever ideas providing SEO and PPC packages as well as digital consultancy.
Dandy's services include:
Search Engine Optimisation (SEO)
PPC management services
Digital consultancy
Dandy have worked with clients including The Podiatry Hub, Pace, Binary Blue and Intrado.
Seeksocial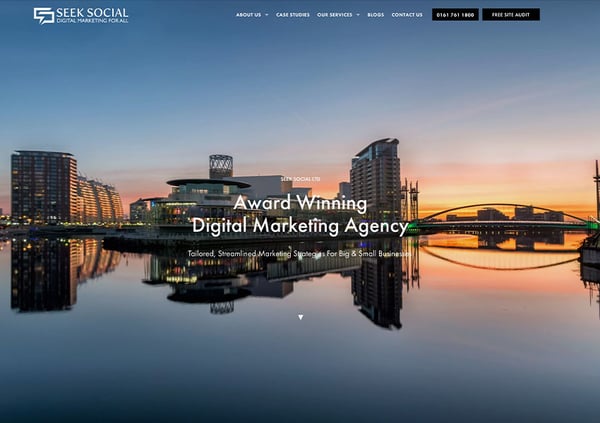 Seeksocial is a well-established agency specialising in the core aspects of digital marketing.
They offer streamlined, tailored marketing services for SMEs, and they've won quite a lot of awards for their outstanding work, including Central England Prestige Awards and Business Elite awards.
Their digital marketing services include:
SEO and PPC
Web development and web design
Branding and content
Graphic design
Email marketing and social media
They have worked with clients in various industries, and they're also partnered with Google, Facebook, WordPress, and Shopify.
Found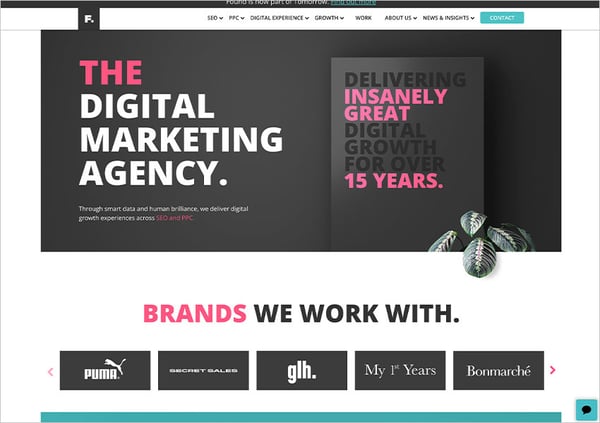 Found is a digital marketing agency that uses PPC and SEO to deliver growth. They utilise smart data to support this growth, and they are experts in all things SEO.

They're more than just a PPC and SEO agency though. They're pretty serious about using digital analytics like data audits, data integration and data framework creation.
Found key services:
Data audits

Data framework creation

Data integration

Data Studio reporting

Predictive Analytics

Machine Learning

Audience insights

Competitor insights
They work with a range of clients across industries, including notable names like Randstad, Fender, Funky Pigeon, Clarks and AllClear.
Twogether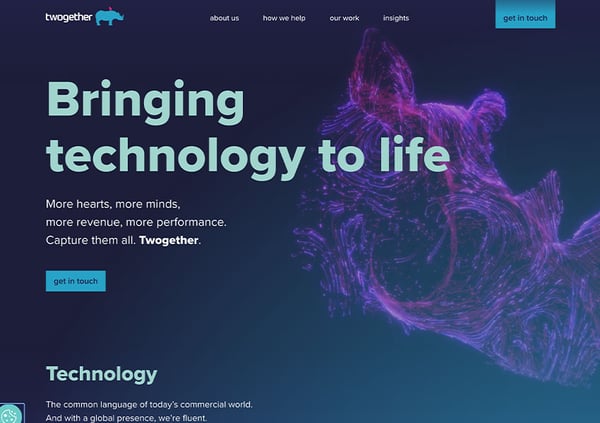 Twogether is a leading technology agency that delivers fully-integrated, in-house services from its Glasgow headquarters.
Twogether's competitive edge as a digital marketing agency is their tech expertise. They offer a full range of marketing services backed up by tried and tested tech solutions. Nowadays, they're considered as one of the leading marketing agencies.
Their services include:
Creative
Digital
Strategy and planning
Data and analytics
Channel and media
MarTech
Copy and Content
ABM
Experiential and events
Motion graphics and audio
Twogether has worked with tech industry giants, such as Hitachi, Samsung, O2, Lenovo, Sony, and Salesforce.
Cognition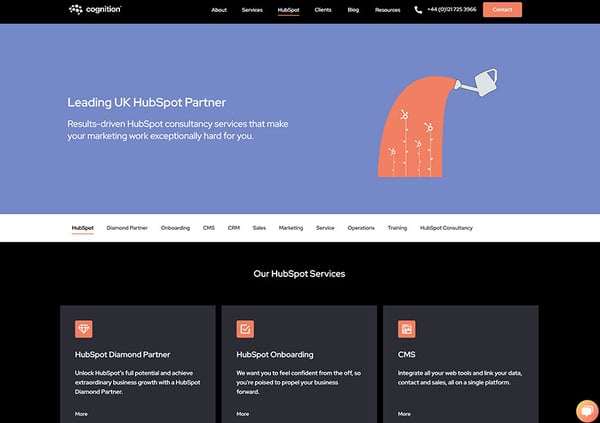 Cognition Agency is another HubSpot agency – they find the best ways to get Hubspot to work for clients and implement everything for them. They're also a digital marketing agency in the traditional sense, with a whole range of different marketing services to offer.
They blend psychology, data, marketing and tech to create seamless strategies.
Cognition offer:
Digital Strategy
Consultancy
Digital Marketing
Creative
Content
Websites
HubSpot
Fun fact: Cognition is the only agency in the UK to have a Scientific Board in partnership with Aston University.
The Think Tank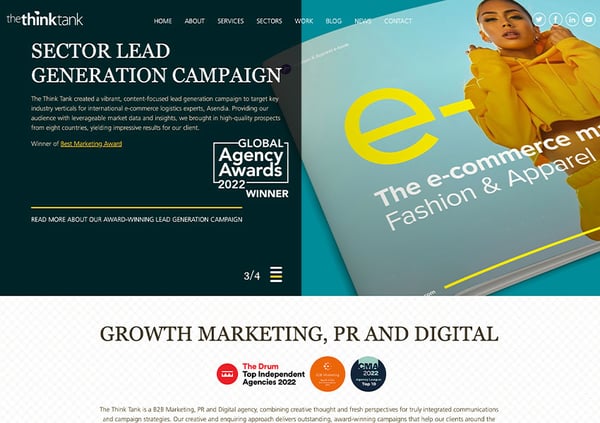 The Think Tank is a PR and digital marketing agency that combines lots of creativity and a growth mindset for integrated campaign strategies.
They deliver award-winning campaigns, blending different marketing services like branding and PR.
The Think Tank can help with:
Strategy and insight
Brand marketing
Digital marketing
PR and media relations
Content marketing and marketing campaigns
Website design
Video and animation
They work The Think Tank prides itself as a creative and innovative agency, and they have hundreds of awards to show for it. They won 10 marketing and PR rewards just in the past two years.
Fabrik Brands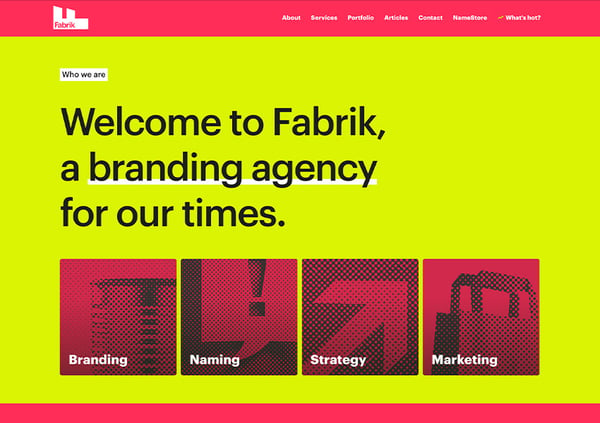 Fabrik Brands is a London-based marketing agency specialising in digital design and branding. They take strategic and creative thinking and create powerful branding. They build brands and polish reputations using ​​insights and ideas.

Fabrik's team of naming, brand and marketing experts is constantly working on the perfect balance between strategy and creativity. That's what makes them one of the top branding agencies throughout the past ten years.
Their services include:
Strategy: Market research and planning, creative briefing and development, competitor analysis, and much more
Branding: Brand architecture, positioning, logo design, tone of voice, and identity
Digital: Marketing, digital planning and strategy, user experience, and content creation
Naming: Company naming, product naming, tag-lines, linguistic screening
Marketing: Strategy, engagement planning, persona building
Their motto is "a creative agency for our times." Their list of clients includes high-profile names like Facebook, NationalGrid, Legal and General and Audible from various industries, such as hospitality, retail, financial services, and shipping.
Iris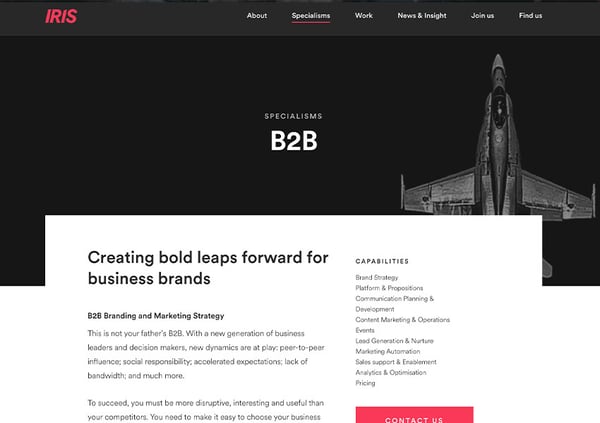 Iris is a full-service digital marketing agency with a truly bold approach. They are the creators of many extremely successful campaigns for lots of big brands.

Iris has a gigantic team of over 1000 people and 14 offices worldwide. They're leaders in terms of innovation and forward-thinking when it comes to digital marketing.
Their specialisms include:
Brand strategy: audience research and insight, brand design, planning, and positioning
Customer experience: strategy, customer journey design, service design
Digital: UX and UI, digital design, full-stack development, content, prototyping, performance marketing
Workforce training: platform build, e-learning, learning content
Sustainability: strategy, audits, purpose development, sustainable propositions
They've worked with huge brands like Adidas, Samsung, Vodafone, Barclays, Paypal, Brita and Pizza Hut.
How to Choose a B2B Digital Marketing Agency
Now you've taken a look at the hottest digital marketing agencies out there, let's go through what your selection process for a great agency partnership should be.
1. Check Budget and Availability
Whatever kind of marketing service you're looking for, different agencies follow different pricing models. Some B2B digital marketing agencies offer set packages with pre-determined deliverables. This might not be suitable if you think your needs will be subject to change, or if you're in an industry that fluctuates a lot.
Other agencies operate from a retainer-based structure or a pay-as-you-go hourly basis. Both these models are good for businesses that are confident in their budget – there's nothing worse than having to stop before a project is over because of budget constraints.
One obvious but important point is to check if the agency has availability for your project. Inquire before you make any plans so that you don't end up disappointed!
2. Understand Exactly What the Service Entails
Just as we mentioned previously, check the agency's complete list of services before you commit. It's worth going the extra mile to confirm whether or not the agency offers the full range of services you're interested in.
It's also a good idea to inquire about the scope of the agency's service. Will they offer consulting as well as their usual service? Does the service include regular check-ins to monitor progress?
3. Check the Target Audience
Our last bit of advice when it comes to choosing your digital agency is to check its target audience. Although a digital marketing agency will be perfectly capable of performing SEO services for a batch manufacturing company instead of their usual tech startups for example, it's important they understand your audience or industry focus.
Make sure that the agency has worked with companies that have similar goals to yours. It's not always a question of whether they're well acquainted with your specific niche, but whether they know exactly what you need. That's how they'll be able to leverage the right strategy for you.
Conclusion
28 of the best digital marketing agencies later and we might just have covered everything. The best of these agencies are those who expertly combine creativity and strategy, the careful tracking of results and those who build trust with their clients.

Don't be starstruck by huge lists of high-profile clients, or endless award nominations. The best digital agency for your needs should be right for your budget, your industry, and your goals.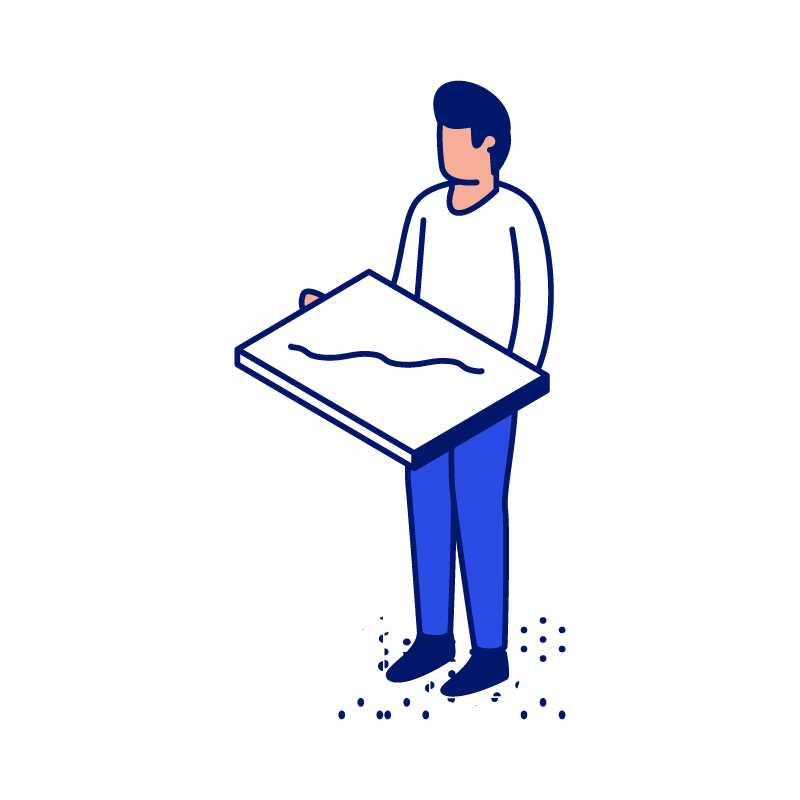 Could we be your next strategic marketing partner?
Our marketing strategy services - We are a B2B marketing agency with a dedicated team of experienced 'CMO-level' strategy experts specialising in strategic roadmaps, persona development and customer journey mapping, along with content and SEO strategy. Find out more about our marketing strategy services.
Enjoy this article? We produce blogs like this for our clients as part of our content marketing agency services, and could produce engaging content for you too.