Are you looking for the best B2B HubSpot partner agency to partner with for your business? If so you're in the right place, as we've compiled a list of the top 30 UK HubSpot partner agencies.
HubSpot makes it easy for companies worldwide to work seamlessly across marketing, sales and customer service. But partnering with a B2B HubSpot agency means you'll get the best bang for your buck as they'll help you get the most out of this powerful suite of tools.
To become a member of the HubSpot Partner Program, an agency must specialise in one or all three of the HubSpot Hubs (marketing, sales and service.)
You'll also notice different tiers, including Elite, Diamond, Platinum, Gold and Partner. These are linked to certain performance levels and a volume level of HubSpot clients.
Now you know a little more about the actual program, let's help you find the right B2B HubSpot partner agency for you.
In this article, we'll be covering:
Tips for choosing the right HubSpot partner agency
The 30 best B2B HubSpot partner agencies in the UK
5 ways to evaluate HubSpot partner agencies
Tips for Choosing the Right HubSpot Partner Agency
Finding an agency that is right for you is no easy feat - after all, there are thousands of agencies located in the UK alone. With that in mind, here are some top tips for whittling this down.
Firstly, you must assess the agency's expertise and experience. This will likely come down to the services you're most interested in and checking that agency has certifications within those areas. Looking at agency news, awards and their websites will also demonstrate their presence in the industry and what they can offer.
Secondly, consider the partner agency's location and availability. Are you looking to conduct all work remotely? Or do you need an agency that is local to you?
If you're located in London, you'll have a plethora of agencies at your fingertips (including us at Digital Litmus!) whereas other locations may cut down your options significantly.
And remember that contacting your chosen agency as early as possible increases your chances of open availability.
Reviewing case studies and testimonials from previous clients will put you in good stead in understanding the agency more clearly. This will tell you what clients they have experience with, what industries they have worked in and how the partnership went via honest reviews.
For unbiased reviews, check out sites like Clutch or G2.
Once you've completed the preliminary checks, meeting with the agency and getting to know the team is a great next step. Whether this is done remotely or in person, the meeting stage allows you to understand the agency on a greater level.
You'll get a good sense of how the agency operates, if they understand you and your business and are prepared to take on the task.
You should check their process for managing and implementing HubSpot during your initial meeting. After all, this is what it all comes down to - whether they can manage, implement and assist with HubSpot. When asking this, the agency's response will further tell you how experienced they are (if they have clear steps and timelines.)
The 30 Best B2B HubSpot Partner Agencies in the UK
Digital Litmus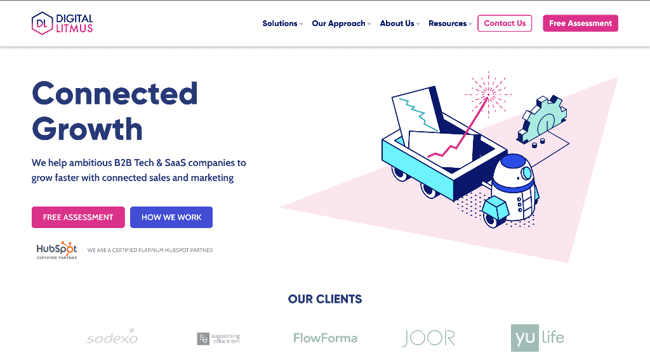 Here at Digital Litmus, we are a Platinum HubSpot Partner with a whole lot of certifications under our belt.
We have 8 years of experience as an agency, and in that time, we've worked with some incredible B2B companies across a wide range of industries. In fact, in 2022, we were named as one of the 'Top B2B Companies in the United Kingdom' by Clutch.
Although we're based in London, we work with clients all over the UK to assist with HubSpot services. While we offer a range of agency services including content, campaigns, strategy, growth-driven design and sales enablement, we also provide key HubSpot services to drive business growth for SMEs.
If you're new to Hubpsot, we offer consultations, setup, onboarding and training services to get you started, in addition to ongoing support to help you with any issues. Or if you're looking to move to HubSpot from your existing CRM, we can help you with the migration to ensure your systems are robust from the offset.
We're a results-driven agency that prioritises partnerships and we're one of the UK's leading B2B HubSpot agencies.
We focus specifically on B2B; it's our area of expertise. We offer flexible pricing models to suit numerous needs. We're also highly results-driven, with our ROIs shared for each project.
Review: "Digital Litmus' built solid CRM foundations and trained our team to use HubSpot effectively. HubSpot now has an integral role in our business. So many key sales and marketing processes are automated and we have complete transparency on business performance.…"
Lonlogic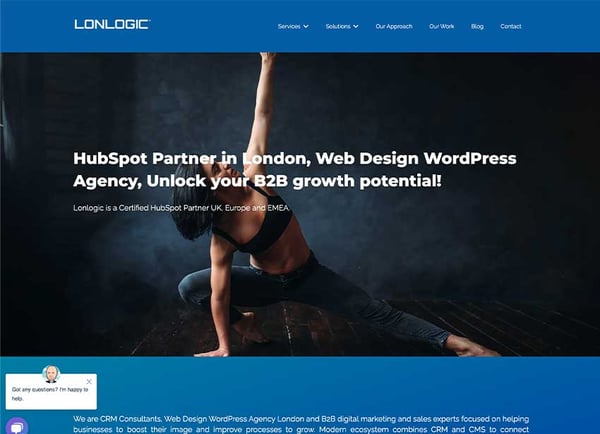 Lonlogic works with medium-sized B2B companies, assisting with marketing, HubSpot CRM, sales, customer services and operations.
Along with HubSpot, this London-based agency is also a WP Engine Agency Partner Member and Microsoft Partner.
Although they may be London-based, they are a certified HubSpot Partner in the UK, Europe and EMEA - making them the perfect option for companies with a wider geographical net.
Six and Flow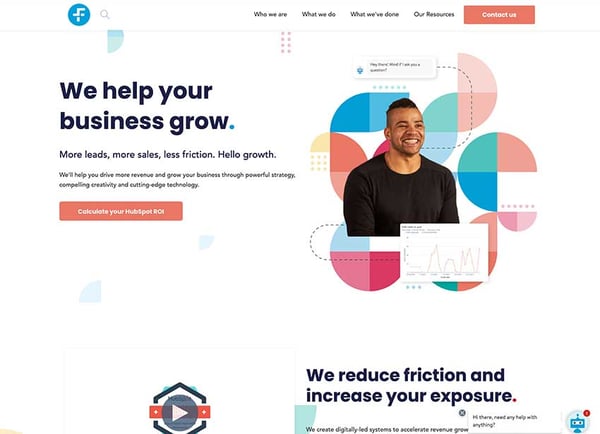 With offices in Manchester, Ireland, Canada and London, Six and Flow are a HubSpot Elite Partner.
Their main pull is 'conversational marketing,' which involves chatbots that connect with potential customers in a human way. This can create a great client relationship from the get-go.
They also offer various marketing and HubSpot support services. They've helped 103 businesses get up and running with the HubSpot CRM platform, with a 100% success rate.
And for their HubSpot Marketing support, their average lead increase stands at 11% with an average ROI increase of 34% and an average CVR increase of 16%.
Incisive Edge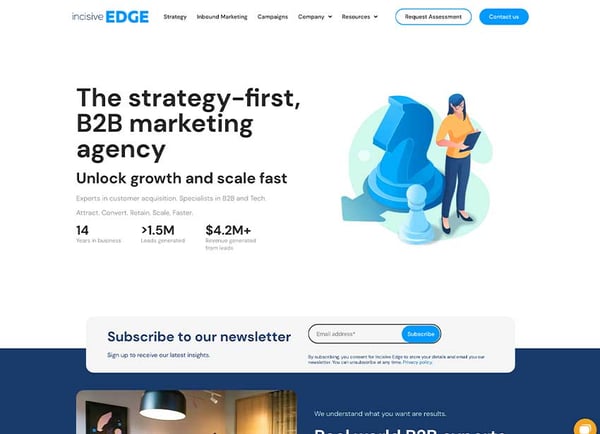 Incisive Edge could be the one for you if you're a B2B business or tech startup, as they specialise in these areas.
They're straight-to-the-point, with their 'direct approach' and 'no marketing fluff.'
They are a HubSpot Platinum Solutions Partner and focus on all aspects of inbound marketing and sales operations.
They have a 4.8 average score on Clutch, with one review stating: 'They had all the skills we needed for revamping website, brand and attempting various marketing strategies.'
Cremarc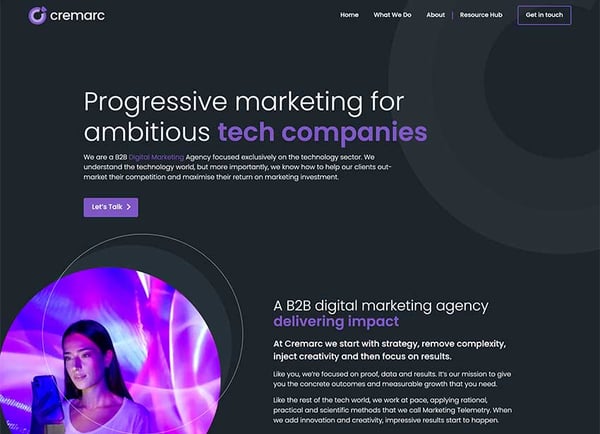 Cremarc is a B2B digital marketing agency for tech companies who base their services on proof, data and results.
They're a forward-thinking and progressive agency that enjoys being creative and analytical.
Not only are they a HubSpot Partner, but a Google one too!
Cremarc is best for those in the tech industry as this is what they specialise in. Their latest case study, featuring client Liquid Voice, led to a 250% increase in relevant website visitors within six months and 100+ leads from website forms.
Don't Be Shy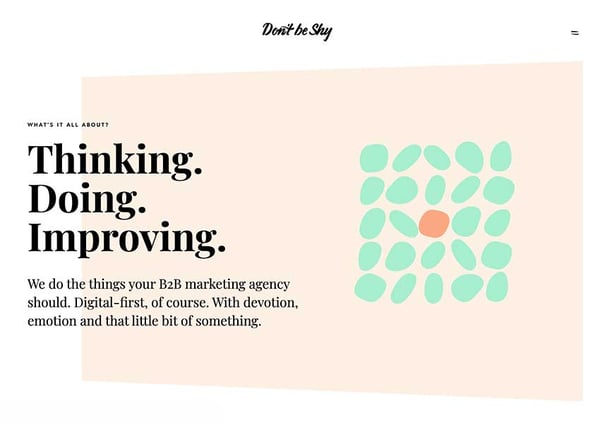 This HubSpot Platinum Partner takes a deep and focused approach to strategy and marketing, taking the time to learn their clients marketing inside out and then tailoring their services to your target audience.
And they have the awards to prove it, having previously won the 'Global Agency of the Year' at The Drum awards and 'Content Campaign of the Year' in the Prolific North awards - along with others.
They have a digital-first mindset with in-depth HubSpot knowledge.
Bright Bull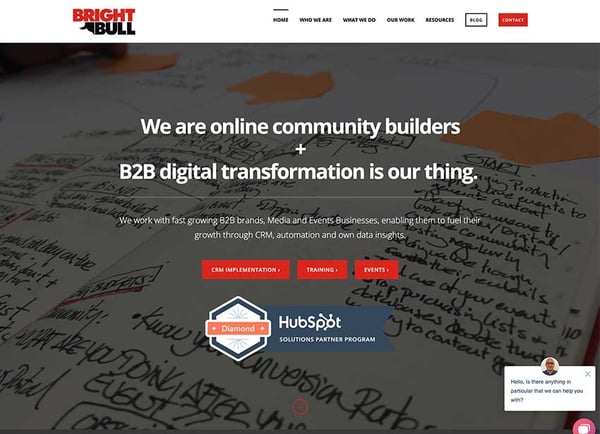 Bright Bull is a Diamond partner who helps B2B media publishers, event organisers, B2B organisations and membership organisations.
With these industries in mind, Bright Bull's primary focus is building a community and developing an online brand. They do this from their offices in London and Medellin, Colombia.
Clients have included the Wall Street Journal, Great Place to Work, Haymarket and many more.
These are a winner for those looking for a HubSpot agency in this quite specific niche.
Struto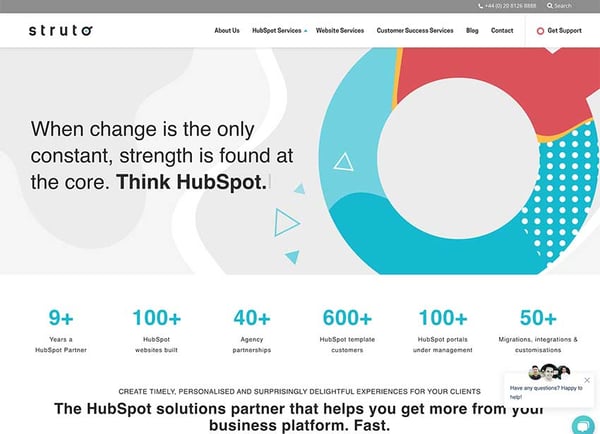 Based in London, Horsham and Cape Town, Struto has been in the HubSpot game for over 9 years.
They've built over 100 websites, done 40+ agency partnerships, 600+ HubSpot template customers, and have 100+ HubSpot portals under management.
Here's what one reviewer had to say about this HubSpot Elite Partner agency: 'The team at Struto have helped immensely with our strategic direction and overall marketing vision - we have really enjoyed and valued their input.'
Fuelius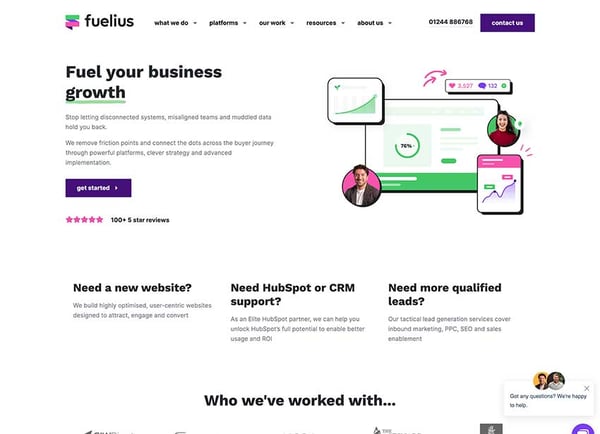 Are you looking for an agency with a long-standing history with HubSpot and in the marketing game? Fuelius, a Cheshire-based agency, are 25-years-old and are in the top 1% of global HubSpot agencies.
They boast over 200+ HubSpot certifications and their key services include: inbound marketing strategy, onboarding & implementation, HubSpot CMS website builds, bespoke integrations and sales process audit, mapping and consulting.
They specialise in the following industries: finance & insurance, health, marketing services, nonprofits and travel and tourism.
Huble Digital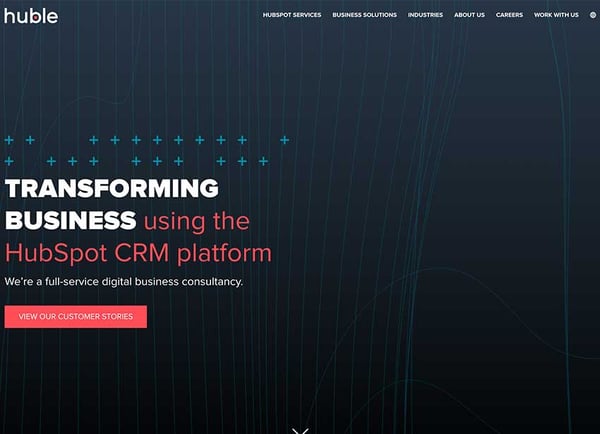 Huble was born out of a merger between B2B Marketing Lab and MPULL, and recently, they've welcomed the addition of Bubblebridge.
This B2B agency focuses on real estate, SaaS, healthcare, travel, manufacturing & engineering, IT & comms and professional services.
During their lifespan as a HubSpot Elite Solutions Partner, they've achieved: 400+ successful implementations, 140+ full-time employees worldwide and a 9+ average client NPS feedback score.
Clients have included household names like Vodafone, Bupa, Travelport and more.
6Minded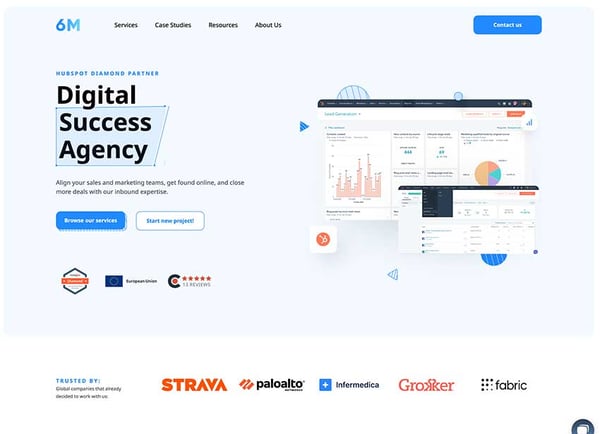 6Minded has 8 years of experience in HubSpot and works remotely from offices in London, Krakow and Warsaw.
They're a Diamond Solutions Partner and describe themselves as being akin to your very own in-house marketing team.
They work specifically with growth-hungry startups and multinational corporations to help them make the most out of utilising this platform.
For those who match their client specifications, they work in both English and Polish and serve the following regions: APAC, EMEA, North America and South America.
BBD Boom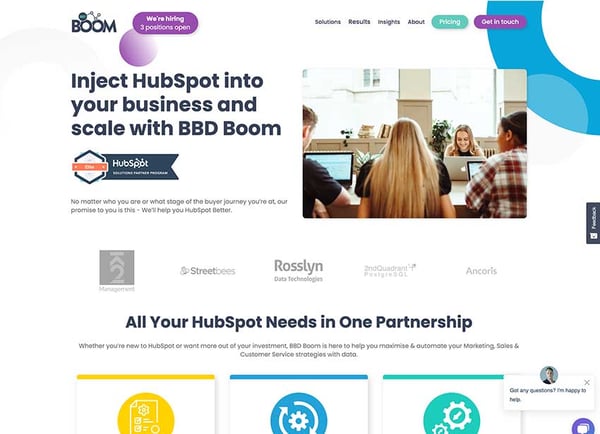 Based in Bournemouth, this agency is all about lead gen services for ambitious B2B companies.
They're a growth agency that dedicates its tasks to driving performance and boosting the return on investment.
For those who are apprehensive about partnering with an agency or don't know what to expect, this Diamond partner offers flexible payment solutions and no long-term contracts. They even work at an hourly rate if that's your preference.
Pixel Lab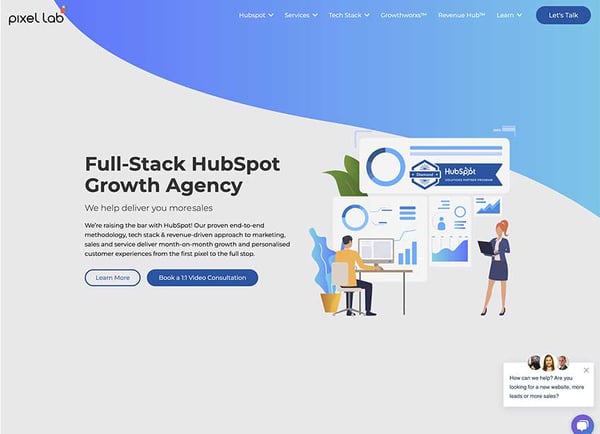 The talented team behind Bromley-based Pixel Lab work with funded and venture-backed SaaS, B2B and e-comm businesses.
They use growth-driven practices in their work and recently helped their client Churchill Aviation to increase their revenue by £1m in 12 months.
Here's what one reviewer had to say: 'Pixel Lab has been fantastic, helping us get set up on our portal and creating an amazing website with interactive HubSpot functionality. They provide fantastic customer service and are always on hand to help. I can't recommend them highly enough.'
JDR Group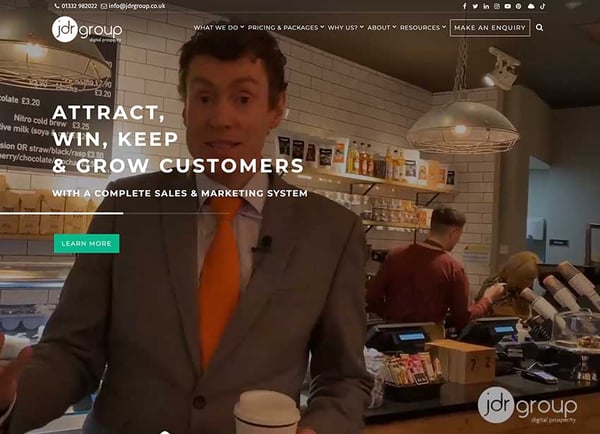 Are you looking for a virtual marketing department with a process already in place to help you get off the ground?
This Diamond Solutions Partner has been around since 2004 and helps small and medium-sized businesses around the UK in various marketing capacities. They act as a virtual department for their clients.
They have a 6-step marketing system they follow: strategy and planning, consistent content creation, building website traffic, turning website traffic into leads, converting leads into sales and delivering, delighting & growing customers.
If you're unsure what to expect from an agency, JDR Group estimates their average results (after 12 months) to be a 191% increase in website traffic and a 654% increase in leads/enquiries per month.
Ready to take your marketing to the next level with HubSpot? Let's leverage the power of MarTech to supercharge your lead generation, sales, and customer retention. Explore our MarTech services and let's see how we can help you
.
Noisy Little Monkey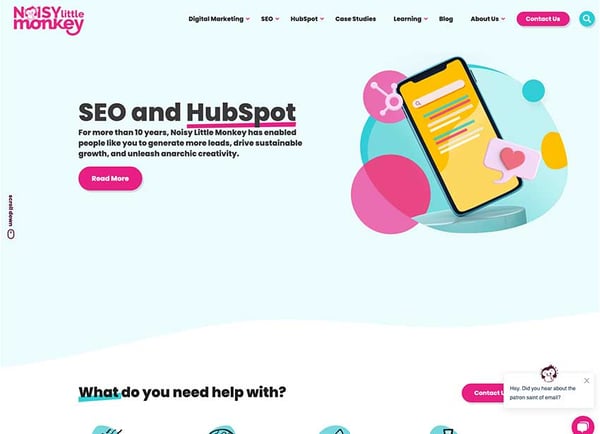 Noisy Little Monkey describes themselves as the 'king of the tech SEO jungle,' saying they get the best results for people with complex technical problems across multiple processes and platforms.
This Platinum partner has their prices laid out on the website so you can see, in one glance, whether they're in your budget. HubSpot Marketing Hub prices range from £2,450 to £6,500.
One client had this to say about the team: "What I really like about Noisy Little Monkey is if they can't help us, they'll tell us. There's no sense of being upsold, or moved in a direction that we don't want to go in…"
Punch B2B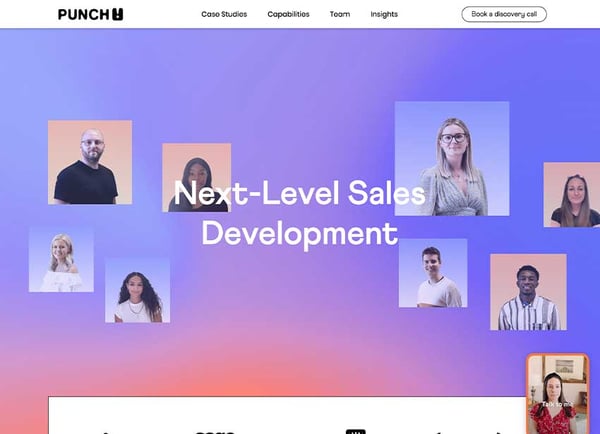 Punch is a B2B agency with a central hub in Covent Garden, London.
Alongside content marketing, they also work in sales development, website design, and ABM. They are a HubSpot Gold Solutions Partner.
This sales-powered agency has on average generated a total pipeline of £706,934,333 over the last 12 months. This equates to a 5x average return on investment.
They are results-driven and offer a 30-day guarantee. If you don't start seeing results within the first 30 days, you can ask for your money back!
Faben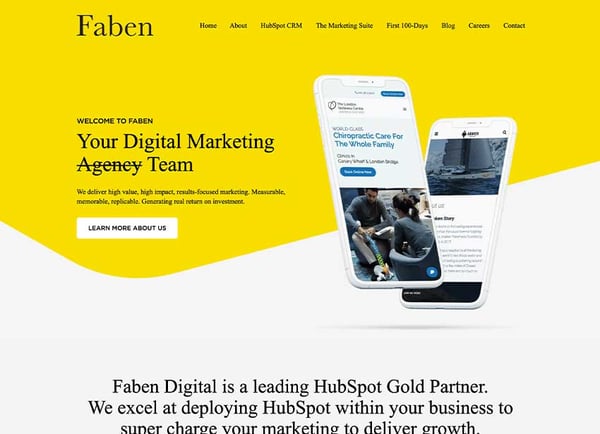 Faben is a high-value, high-impact, results-focused digital marketing agency that also happens to be a HubSpot Gold Solutions Partner.
They're all about being proactive, measurable and memorable. And they work with businesses of all sizes to help them accelerate their growth and online presence.
They deliver an outsourced marketing team for the cost of one employee.
Method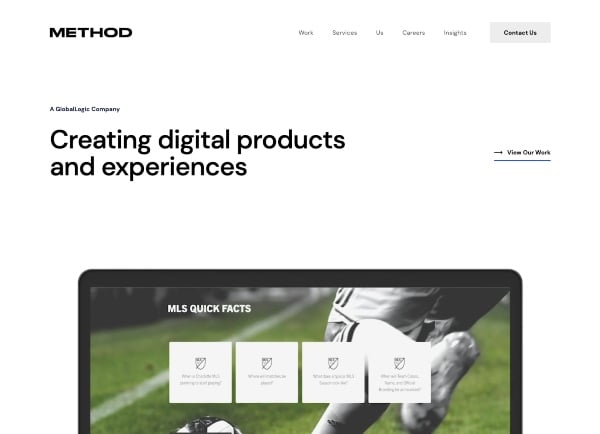 Method is a UK-based (in Worcester) HubSpot Gold Solutions Partner who assists B2B businesses with inbound marketing services.
While they have the expertise to help, they thrive in collaborative environments with their clients.
Here's what a recent client said about their work: "The Method team are great to work with. They've helped our small marketing team to overhaul our CRM, improve utilisation of the feature including guided training, in addition to creating custom landing page modules and helping to update our branding across HubSpot features."
BabelQuest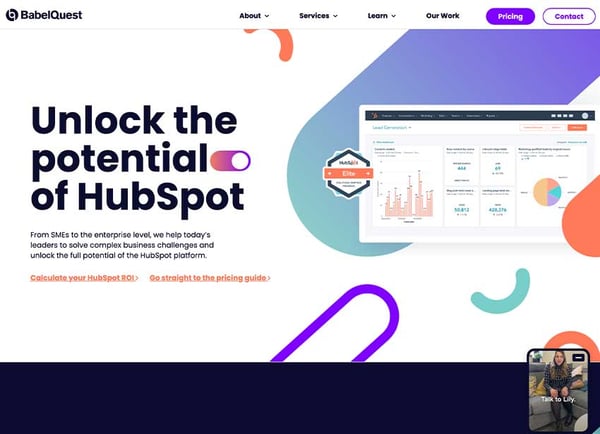 This Elite Solutions Partner can do it all when it comes to HubSpot.
They work with all businesses from SMEs to the enterprise level and are pretty transparent about their pricing - giving you this information when you fill in a form.
Their current clients span manufacturing and engineering, education, IT and cyber security and more.
Review: "This is the second project that I've worked with BabelQuest on and they've been brilliant both times. Hannah was a pleasure to work with, helping us solve problems that we didn't even know we had! Couldn't recommend enough."
Hubgem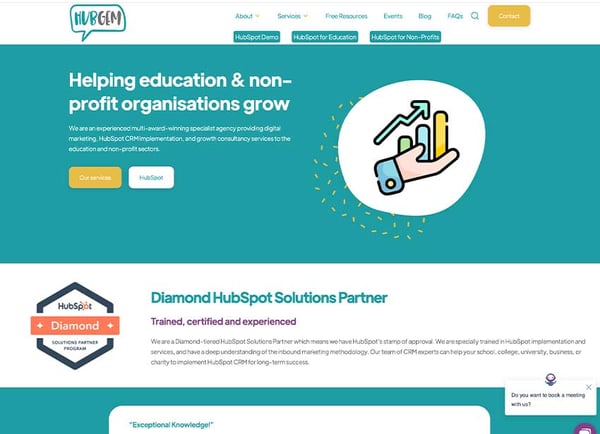 This one is for the education & non-profit organisations out there, as this Diamond Solutions Partner focuses solely on your industry.
This includes education and non-profits, schools, colleges, universities and charities.
As well as winning workplace awards, Hubgem has won awards like the 'Best Emerging Specialist Marketing Agency' for SME News and 'Small Business Entrepreneur of the Year' for the Great British Entrepreneur Awards.
Next Big Thing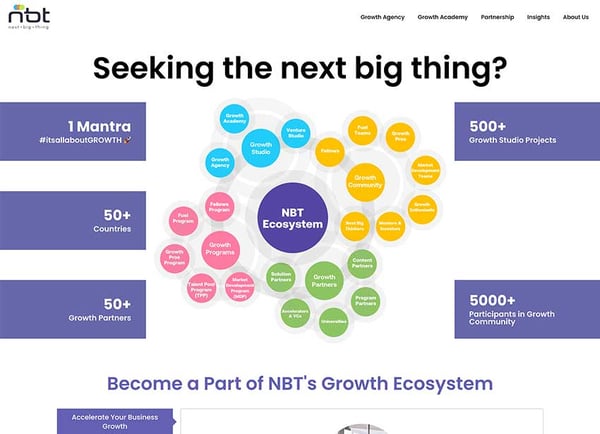 This agency is only just getting started. With four offices in London, Istanbul, Miami and Milan, Next Big Thing is continuing its hiring and expanding plans.
NBT is a Platinum Solutions Partner who works with businesses across 50+ countries and has worked on 500+ growth studio projects.
Clients have included Vodafone, Tupperware, Samsung and many more. And it's not just HubSpot that the team are experts in, but Google, AWS and SAP too.
Voodoo Marketing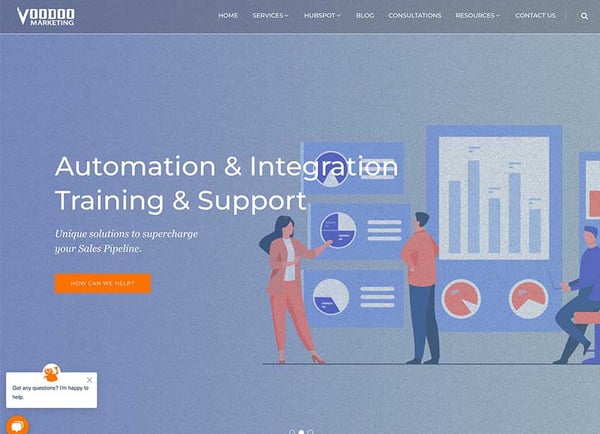 This Spanish and English team, based in London and Malaga, aim to bring real growth to their clients.
They hone in on real estate companies and marketing agencies, helping them to succeed with their sales, marketing and customer service procedures worldwide.
A real estate client had this to say about the team: "We've worked with Voodoo for almost 4 years, in which time they have proven to be directly responsible for the successful growth of our real estate business.
"They're modest, determined, experienced and efficient. I can't recommend them enough."
Wave Marketing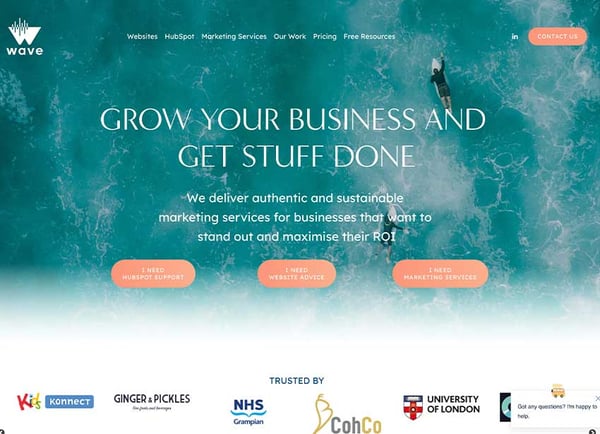 Bristol-based agency, Wave Marketing, is a HubSpot Solutions Partner and has guided 50+ companies to new heights.
They offer their services in three ways; as a retainer, on a project basis, or via a support package. The latter is for when you're comfortable running your HubSpot but may need someone to support you when uncertainty strikes.
Their support packages mean expertise is always waiting, with priority access when you need it.
Their HubSpot profile has numerous reviews, all with a five-star rating. Here's one -> "For more than four years, the Wave Marketing team has provided incredible marketing and CRM support to our business.
"Every single task that we sent their way was handled to the highest possible standard, with the utmost professionalism and with genuine care. They're as good as it gets."
We Accelerate Growth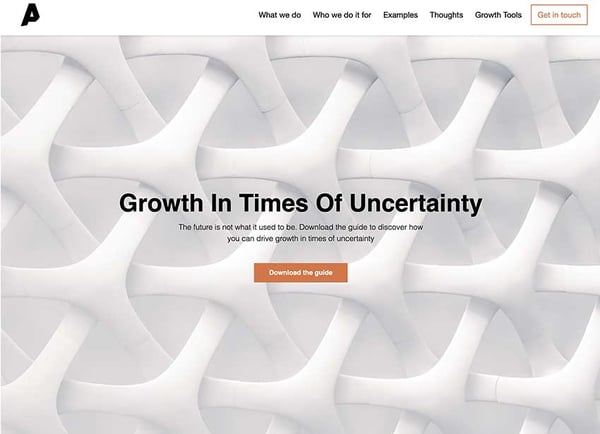 Another London-based agency here. We Accelerate Growth is a HubSpot Solutions Partner who partners with ambitious and energetic entrepreneurs, venture capitalists, private equity funds and corporations.
Their clients include names like Deliveroo, Gsk and AMC.
One reviewer summed up their experience: "Great team - they helped us to build our HubSpot engine and to get it running at full speed. I would highly recommend!"
Air Marketing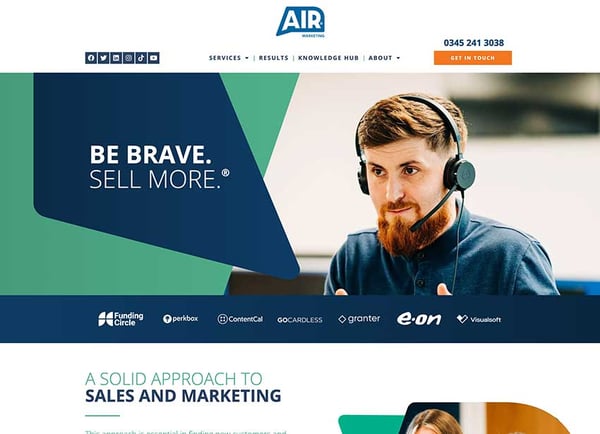 Located in Exeter, Air Marketing comprises a team of highly skilled business development professionals who have worked with start-ups to household names.
Speaking of, during their work with e.on, they helped them to speed up their average sales cycle for their B2B products and services. They also identified 82 warm leads, opened up 524 opportunities and engaged with 977 prospects.
Air Marketing is a match for those looking for the stats and figures as they describe themselves as being one of 'the most results-orientated HubSpot agencies in the UK.'
Trellis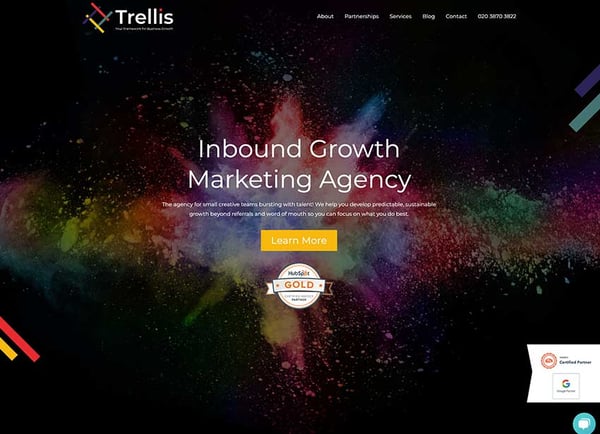 Are you looking for a London-based agency? Trellis call the capital their base, but they work with businesses up and down the UK.
And it's not just any businesses either. Trellis uses its powerful inbound marketing strategies and HubSpot Partner capabilities on B2B and B2C design and construction brands.
They have a mantra of 'keep growing' which they apply each day.
Definition
Definition is a Leeds-based B2B multi-award-winning agency who are a HubSpot Solutions Partner.
While they offer the usual HubSpot support, they can provide further support in reputation management and PR - as well as crisis comms, media training and leadership branding.
They work in the following sectors: charity and education, industrial, professional services and technology.
They were named PR Week's 'Agency to Watch in 2021' and 'Top B2B Companies' by Clutch.
Strawberry Forge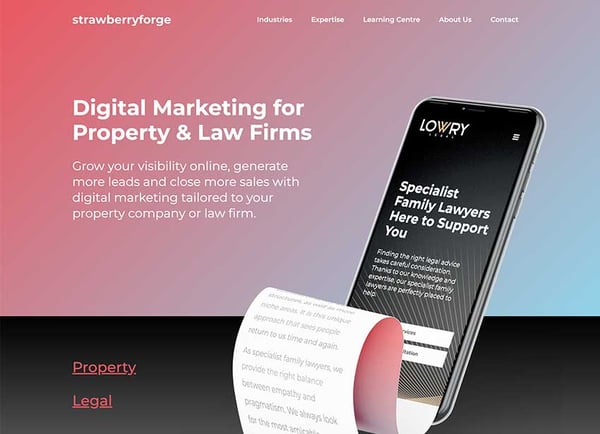 Founded in 2019 with headquarters in Manchester, Strawberry Forge is a HubSpot Solutions Partner.
Despite their experience and finger-on-the-pulse knowledge when it comes to the online marketing world, they aim to deliver this at an affordable budget.
However, they specialise in two sectors - property and law firms. They also work remotely, which is ideal for those who want to do everything virtually.
Mission Drive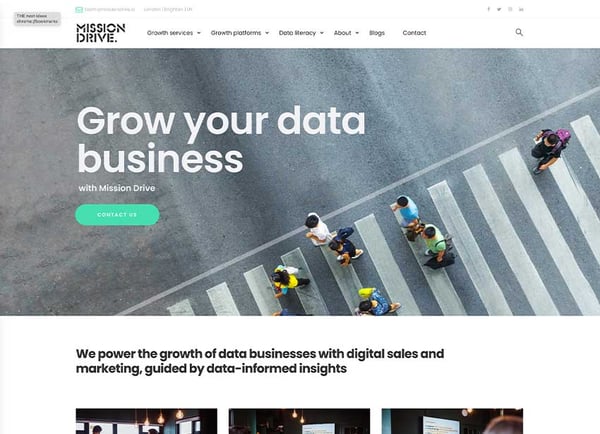 Heading back down South to Brighton, Mission Drive helps build data-powered businesses and reach new audiences.
This HubSpot Solutions Partner has an impressive client list, including Rolls-Royce, ByzGen and Open Data Institute.
Some of their most recent work has seen them generate a $150,000 pipeline in 3 months through inbound sales and marketing strategy for a data lab company.
Curious Cat Digital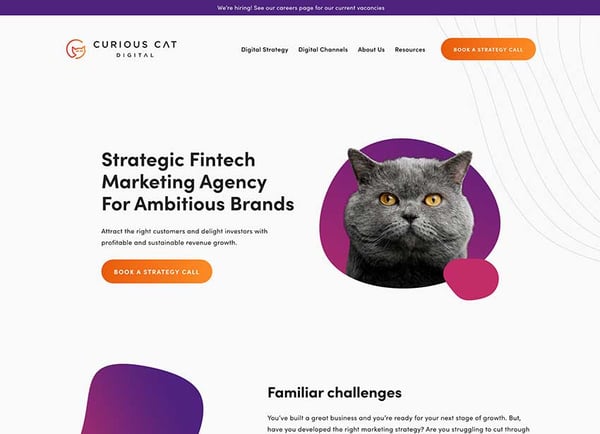 This strategic marketing agency, and HubSpot Solutions Partner, work with B2B Fintech brands to help them level up.
They do this via strategic ABM frameworks and delivering memorable campaigns.
Throughout their six years of agency experience, they've perfected their expertise in fintech, financial services and wealth management.
During a recent campaign with Cambridge Global Payments, they helped to bring in 20 leads per month through inbound marketing, and a 44% increase in website traffic.
5 Ways to Evaluate HubSpot Partner Agencies
Now you've got the low-down on the very best B2B HubSpot agencies in the UK, it's time to evaluate, so you end up with the best partnership for you.
1. Identify the Right HubSpot Partner Agency For Your Specific Industry or Niche
For those looking for further information as to which agency is right for you, HubSpot has a Solutions Directory to help you find your perfect match.
There's an option to filter by your industry, budget, language, country, office location and certification.
By filtering the agencies by your industry, especially if it's quite niche, you're likely to partner with a team with the know-how to get going and jump straight in without having to gain years of experience in the prep before the project.
2. Evaluate the HubSpot Certifications That the Agency Has
Again, the Solutions Directory is a goldmine for this, as each HubSpot agency is listed alongside its certifications.
These certifications are globally recognised credentials that professionals gain to demonstrate their expertise in that HubSpot skill set.
Here at Digital Litmus, we have a vast variety of HubSpot certifications like HubSpot Reporting, Email Marketing, Data Integrations, Sales Software, Platform Consulting, SEO, and so much more.
3. Evaluate the Agency's Ability to Communicate and Collaborate Effectively
It's no secret that everyone communicates differently. Before working with an agency, you should ask about their communication style and how often you can expect them to be in touch.
This will allow for a much easier collaboration as you'll know how to reach each other best and when you'll be discussing or reporting on important factors.
Evaluate the agency's customer service support and ability to respond quickly
Although the aim is for everything to run as smoothly as possible, you never know when you'll need to contact the agency with a fast response required.
Some agencies may not have a full customer service support team, whereas others will be able to respond within minutes. Making sure your chosen agency has support capabilities is vital.
4. Evaluate Their Cost and Value for Money
Ultimately, much of the decision-making comes down to the cost. Some agencies offer more affordable services, while others are more expensive to account for their team's expertise and experience.

Choosing an agency that can execute your plans flawlessly, while remaining within your allocated budget is critical. Also, be aware of and ask about any hidden costs that you may incur later down the line.
Everything You Need to Know to Select Your Next UK HubSpot Partner Agency
Finding a good HubSpot partner agency can appear very time-consuming and challenging to navigate, especially with all the factors to consider, but it doesn't have to be that way.
If you're looking for an extra pair of hands to assist with one particular skill (content marketing for example) you can find the right agency by narrowing down these options.
Deciding on what's right for your business is key and defining your filters to match this is a surefire way to curate your list in the most seamless way possible.
In the end, it's all about partnering with an agency that understands and can deliver amazing results within your budget. Taking the time to determine what's right for your business will provide a fruitful and long-lasting collaboration.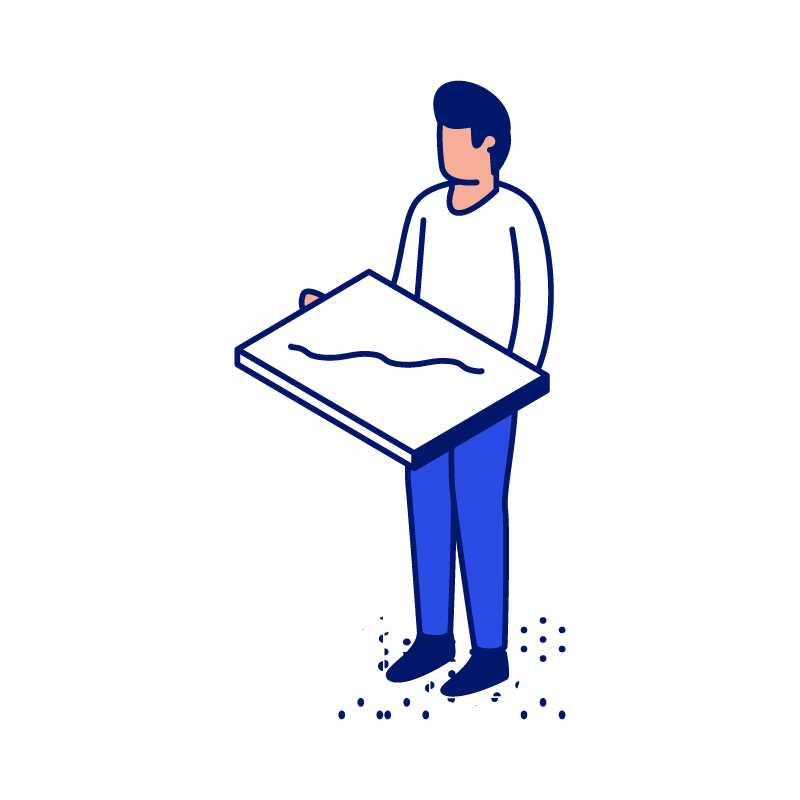 Could we be your next strategic marketing partner?
Our marketing strategy services - We are a B2B marketing agency with a dedicated team of experienced 'CMO-level' strategy experts specialising in strategic roadmaps, persona development and customer journey mapping, along with content and SEO strategy. Find out more about our marketing strategy services.
Enjoy this article? We produce blogs like this for our clients as part of our content marketing agency services, and could produce engaging content for you too.