DID YOU KNOW
For those seeking immense growth, partnering with an experienced HubSpot agency like Digital Litmus can help you to reach those results faster while putting the right foot forward first. Read our case studies here.
HubSpot Sales Hub
B2B sales can be an incredibly long and drawn-out process that suffers from disorganisation and involves too many touchpoints (not to mention people!)
Having to account for each stakeholder before any further movement while navigating each process is challenging to keep on top of.
With the HubSpot Sales Hub, they keep this in mind throughout all their features - the goal is to make your sales process more streamlined, efficient and manageable.
Automation, for example, is a key element that - when done correctly - can drastically reduce the time sales reps spend on menial tasks while still hitting all the relevant touchpoints for potential customers.
HubSpot's automation features allow you to automate properties around deal stages and accomplished tasks. You can also send reminders to follow up with relevant prospects, and create snippets and templates for rapid responses and consistent email communications to target personas.
And like all of HubSpot's Hubs, if you have them all (or a couple) they fit nicely into one another. For example, the Sales Hub and Marketing Hub work in a fully integrated manner. Through the Marketing Hub, you can rotate leads directly to the sales team - making this handoff between marketing and sales an effortless transition.
Other features of the HubSpot Sales Hub include:
Tasks (you can prioritise, set reminders, document and set tasks on behalf of others)
Playbooks (instructional guides are all in one place with the Playbooks feature, so you know where to come to when going through the sales process on a call)
Meeting (forget the 11 back-and-forth emails it takes to schedule that one 10-minute call. The meetings tool allows prospects to book straight into an individual's calendar)
Documents (another great way to keep everything in one place and you can track your prospects' interactions with them)
Deals (visual representation of the sales pipeline, with a factored pipeline to help you understand potential revenue opportunities based on deal stages)
Reports (customisable dashboards and reports with all the metrics you need to track performance)
Sequences (highly automated email, LinkedIn task and call task sequences which help you scale outbound operations)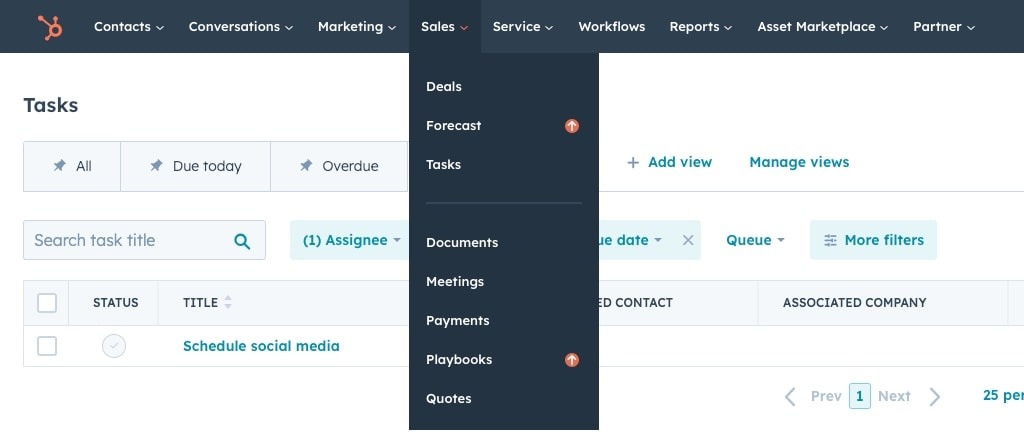 Following our success with the Marketing Hub for RocheMartin, we helped their sales team take advantage of the Sales Hub.
Through our expertise, we helped our client to accelerate their pipeline by 600% - operationalising their sales efforts at scale.
We assisted with setting up automated sequences, integrated video prospecting and templates and snippets for rapid, consistent replies and nurture.
HubSpot Service Hub
There's nothing worse than complicated, slow and disorganised customer service (for everyone involved!) Providing high-quality customer service is absolutely critical for B2B businesses. In fact, roughly 61% of customers say they would switch to a new brand after one bad customer service experience.
Not having a consistent service experience could well push your customers away and towards your competitors. But it can be difficult to keep up with customer inquiries and complaints, especially if you're a small to medium-sized business.
With HubSpot's Service Hub, customer service is no longer an afterthought.
With their ticket management tool, you can track each open ticket to ensure each inquiry is closed and the customer receives the necessary care and attention. To check each customer is satisfied with the service, the 'customer feedback tracking' tool will allow you to gain clear insight into their thoughts, feelings and behaviours.

Other key features include:
Knowledge base creation (online library where you can create a self-service knowledge base for customers)
Chatbot integration (can create a bot and chatlogs to connect with your website or social media visitors)
Service analytics (comprehensive out-of-the-box reports to help you deliver amazing service)
HubSpot CMS Hub
For those keen to prioritise, improve or simply find a powerful content management system, HubSpot has this in the bag.
Having a functional, aesthetic website that gets the job done can be time-consuming to create and expensive to develop. Yet, it's a key element to any business - 75% of customers admit they judge businesses' credibility based on their website design.
With HubSpot's CMS Hub (Content Management System), won't have to endure a lengthy development cycle as there's an easy 'drag and drop website builder.' This means you don't need to employ a developer to custom code your site as it can be amended by anyone. This is further championed by the 'website themes and templates' feature, which makes it straightforward to jump in from the get-go as you can choose pre-built website themes with customisation. This way, the heavy lifting has already been done for you, and you can still add your own spin to the design.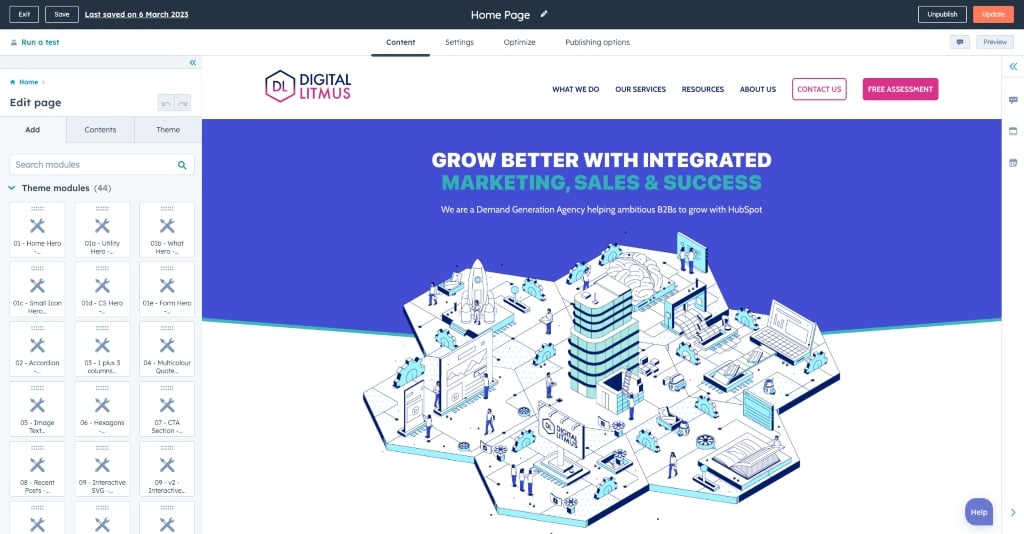 Besides the drag-and-drop website builder, website themes and templates, other features include:
Fully integrated CRM (your website becomes a growth engine as and you can track visitors and their journeys)
Web hosting (your website can be hosted on a fully managed and optimised infrastructure that can deal with scaling businesses)
Custom domain connection (this instils trust in your business, builds organic search authority and shows professionalism throughout)
Blog maker (perfect for utilising SEO-friendly content, this blog feature means you can write and publish in rapid time)
Multi-language content creation (can optimise and manage multiple languages, and users can toggle between them)
Video capabilities (host, manage and embed videos with just one click)
Custom report builder (break down data silos to see how your website is working and then adjust to meet requirements)
Memberships (you'll have access to login elements for customers)
Conversations (this is where you can integrate the Service Hub well as your website will facilitate unique messaging tools)
Payments (adding payment links across your website and pages has never been easier with HubSpot CMS)
To see the HubSpot CMS in action, we revamped consulting company Abintus's website. This involved a rebranded website, full customised build (with modules that any employee could use to build pages on the fly without development expertise), immediate SEO impact (their target terms are already ranking in positions 1-3 in Google), and we implemented chat flows, pop-ups and forms to maximise lead capture.
Adopt HubSpot CRM Services to Accelerate your Business
Although HubSpot has the tools you need, finding an agency that can deliver on these or provide you with that helping hand can be difficult.
It doesn't have to be that way. Here at Digital Litmus, we are a HubSpot Platinum Partner with extensive B2B Hubspot expertise. This means we'll get you set up for success in no time, and we are 100% focused on our clients' success.
You can learn more about our Hubspot services here or simply book a free MarTech assessment here to get the ball rolling.