There are more ways to engage and nurture sales prospects than ever before and one of the most prominent to rise up for B2B businesses over the past few years is chatbot (or conversational) marketing.
Chatbots have revolutionised the way many companies engage, nurture and delight their audiences. Offering such fantastic flexibility and potential to drive up onsite lead volume, it's easy to see why so many B2B organisations are embracing their power.
With that said, despite their potential, they can be difficult to understand for newcomers, and so we've put together this handy guide to explain the basics around chatbot playbooks and how you can start using them on your website.
For a full overview of B2B chatbots and what they can do for you, download our free Guide to Conversational Marketing.
What Is a Chatbot Playbook?
A playbook is the logic that sits behind a chatbot. It determines what the chatbot says, the rules it operates to and the options it provides the user.
Playbooks typically take the form of automated message workflows that run on simple logic in order to help the user get to the result they need.
Each chatbot has its own unique playbook, dictating its targeting, actions, and conversations. For example, a chatbot that sits on your homepage will have a different playbook to the one that sits on your pricing page.
Below is a simple example of a chatbot playbook for a demo page.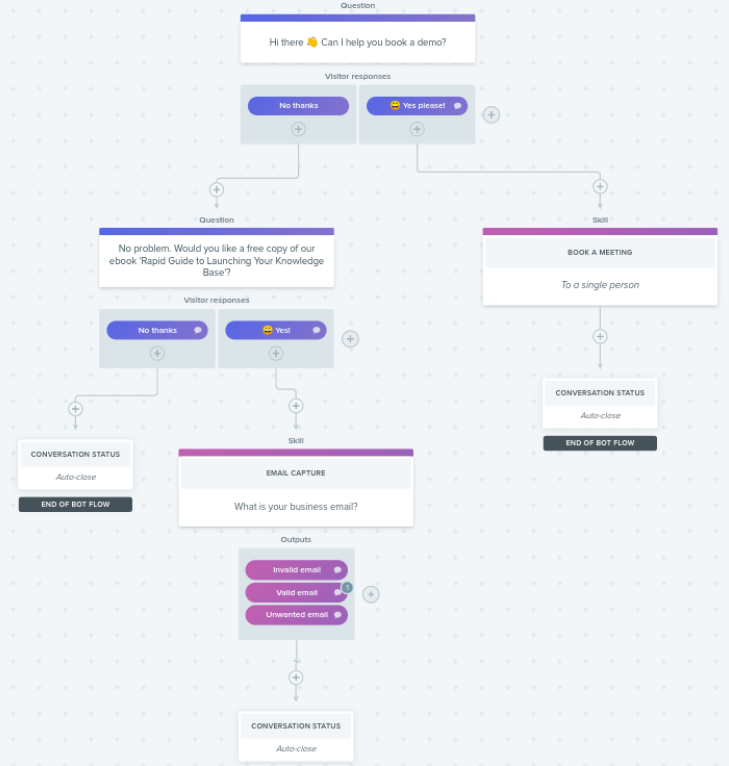 As you can see from the diagram, a chatbot playbook looks very much like a decision tree, and that's because it is. Playbooks run on simple logic and this means they can be built by anyone.
In this example, the user is asked an introductory question (the white box with a dark purple line) and given two options to engage with (the dark purple buttons).
At this point, the user must choose an option (or ignore the chatbot entirely).
The first answer, 'No thanks', leads the user towards another question with additional options and outcomes.
The second answer 'Yes, please' takes the user to a demo booking option, enabling them to schedule a demo at a time of their choosing, all without the need to talk to a human operator.
For the users who chose 'No thanks', they have a second question to answer, this time in relation to a content offer.
In the event the user chooses 'No thanks' again, the chatbot will close as the playbook has come to a natural conclusion.
However, for users who answered 'Yes', the chatbot will ask them a third and final question (the white box with a pink line) requesting the user's input (in this instance, their email).
The playbook showcases the possible outcomes that can result from this input (in light purple), 'Invalid email', 'Valid email' and 'Unwanted email'. These options have been assigned specific rules to automatically identify valid credentials.
Once the input has been accepted, the content in question is emailed to the prospect and the chatbot closes.
The Importance of Taking a 'Start Small' Approach With Playbooks
When it comes to adopting chatbots onto your website, it makes sense to take an iterative approach. As an entirely new channel that only complements your other activity, the sooner you can get a chatbot playbook live, the better.
One of the greatest strengths of chatbots is that they can be setup progressively, most of the time they are independent of one another and this means the common all or nothing challenge can be avoided.
What Should This Approach Look Like?
In order to get a chatbot working on your website ASAP, you need to first prioritise. Where should your maiden chatbot live? Typically, it would be best to start on a page where it can deliver the most value, this may be a landing page, your home page or the pricing page.
Once you know where the chatbot is going to go, you can start to build your first playbook.
Build Your First Chatbot Playbook
When building your first playbook, you want to keep it simple. Before starting, get a clear idea of what you want to achieve and how your chatbot can achieve it. This will help ensure your decisions are solid and make good strategic sense.
Experiment, Record and Learn
As you build your first playbook, it's likely you'll make a few mistakes, but these are great opportunities to understand what the system you're using can do and its limitations. Whatever the outcome, ensure you make a note of learnings as you go as these will be extremely useful when you build your second playbook.
Good Enough, Is Good Enough
When building your first playbook, it's important not to be too critical; as your first chatbot effort, it doesn't need to be perfect. At this moment in time, you just want to make sure the user experience makes sense, there are no dead ends and typos are avoided.
Build More Playbooks With Your Learnings
Once your first playbook is live, it's best to go back and review it from a user's perspective.
Does it work as you expected?
What can be improved?
What lessons were learned in the build?
What would you do differently next time?
The answers to these questions will all prove invaluable when you come to build your next playbook.
It's important to remember that as you start out with chatbots, you don't want to try and build multiple playbooks at once. This approach often creates confusion and can derail the project entirely.
An iterative approach ensures these issues are avoided and mistakes aren't repeated.
Ready to take your marketing to the next level with HubSpot? Let's leverage the power of MarTech to supercharge your lead generation, sales, and customer retention. Explore our MarTech services and let's see how we can help you.
The 5 Playbooks To Get Started
Knowing where to start with chatbots can be tricky, but with a good understanding of their potential in different locations on your website, you can make an educated decision and choose the best option for your business.
The Homepage Playbook
What is it?
The homepage playbook is designed to help prospects navigate to where they want to go on your website. It may educate visitors on how the website navigation works, offer them direct access to key areas or provide assistance based on the visitor's challenge. Whatever the case, the homepage playbook's primary objective is to offer the user a convenient navigation tool.
Why should you use it?
As the most visited page on your website (in all likelihood), the homepage is where your chatbot will have the greatest opportunity to deliver value and showcase what it can do.
The Pricing Page Playbook
What is it?
The pricing page playbook helps users understand the pricing models available and how they work. In addition, it should also provide the visitor with the opportunity to contact a sales person for more information, or if the right integrations are in place, allow them to book a meeting directly into the sales person's calendar.
Why should you use it?
When visitors are looking at your pricing page, it's likely they are relatively far along the sales funnel, and so at this point, every channel that can potentially turn that prospect into a MQL, SQL or sale is worth exploring.
The Campaign Playbook
What is it?
If you're sending your campaign traffic to a landing page with a form, a chatbot can often provide a great alternative to converting your visitors. In addition to your form, you can also add a chatbot to the page which could deliver the asset, provide a fast track to the sales team, or allow the user to book a demo directly.
Why should you use it?
It's an easy win to increase the conversion of your campaign landing pages by giving your visitors simpler and faster options to convert or get in touch directly with your sales team.
The Product Playbook
What is it?
To educate the prospect on the value of the product/offering and effectively answer any queries that may be blockers to further action. If prospects are looking at your product page, then chances are they are considering your offering. As a result, you need to make every effort to help them overcome any problems that could discourage purchase.
Why should you use it?
As a high-intent location, your product page explains exactly what your prospects will receive if they were to make a purchase, but likely doesn't answer all of their questions. A chatbot offers an alternative engagement channel that can provide additional information when it matters most.
The Contact Us Playbook
What is it?
The Contact Us playbook offers an alternative and more natural means of capturing prospect data. On a traditional contact us page, a prospect fills out multiple fields in a form and submits the information all at once. This is often a barrier to entry - some prospects don't have the motivation or the time to go through this process. The Contact Us playbook captures prospect information through natural conversation, one data point at a time, and can then route directly to a sales person if they're available
Why should you use it?
Optimising conversions can have a genuine material impact on your business, so it makes sense to offer multiple options to meet different user preferences. This will help reduce abandon rates and maximise Contact Us conversions.
With the right chatbot playbooks working on your site, you'll be able to engage your audience when it really matters, delivering value and helping them make better decisions around your service offering.
B2B Chatbots Are a Big Opportunity
B2B chatbots present fantastic opportunities for forward thinking organisations to engage and nurture their prospects in a natural and friendly way.
By embracing the power of automation, chatbots unlock the opportunity to converse with prospects 24/7 and help rapidly growing companies scale, as necessary.
This is particularly valuable for high growth businesses and startups. The ability to scale as the user count grows, without significant additional cost helps deliver a consistent level of service, without compromise.
Chatbots are still in their infancy, particularly in the B2B sector. Few companies are taking full advantage of conversational opportunities on their website and so are missing out on the fantastic benefits high quality chatbots can deliver.
If you're engaging with B2B prospects or nurturing them through the sales funnel, then you need to think about your strategy and how you can better serve their needs with chatbots. In the event you do, you'll be ahead of the game and have a powerful new channel at your disposal. Why not get started sooner rather than later?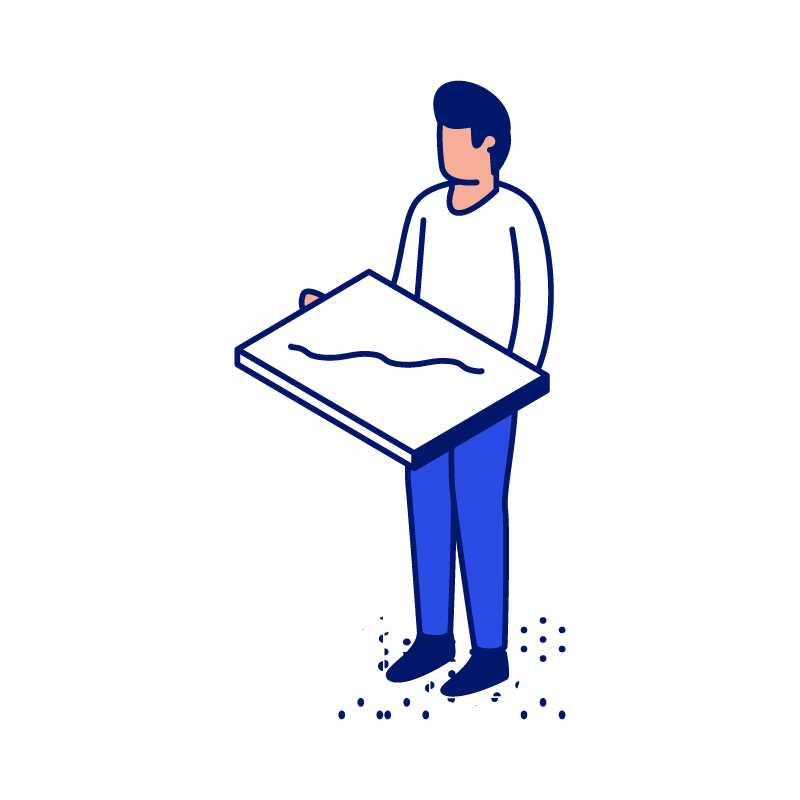 Could we be your next strategic marketing partner?
Our marketing strategy services - We are a B2B marketing agency with a dedicated team of experienced 'CMO-level' strategy experts specialising in strategic roadmaps, persona development and customer journey mapping, along with content and SEO strategy. Find out more about our marketing strategy services.
Enjoy this article? We produce blogs like this for our clients as part of our content marketing agency services, and could produce engaging content for you too.