Demand generation is a challenge for companies at every size. 60% of large enterprises say they struggle to generate leads – and B2B SMEs face the same challenge, but with fewer in-house resources and tighter budgets to manage.
In order to increase customer engagement, a natural move for many growing firms is to invest in sales and marketing software that will integrate and improve demand generation campaigns.

This approach makes sense, as marketing, sales and success are reliant on each other. Marketing feeds sales, sales feeds success, and success generates advocacy; so why not invest in technology that helps you connect the dots?

But with so many sales and marketing solutions on the market, which one will deliver the value your business needs to drive growth?

The HubSpot CRM platform appears on most SMEs' shortlists, and with good reason. It can manage every aspect of your inbound marketing, sales, customer service and CRM through one platform.

From our experience working with many different types of sales and marketing software, we truly believe the HubSpot CRM platform is the best for B2B SMEs. Why? Here are four critical reasons why HubSpot should be part of every SME's tech stack:
1. It's reliable, robust and easy to use
Rule number one of choosing B2B demand generation software: don't invest in technology that doesn't always work!

As an SME, sales and marketing software is a big investment. You want to find a platform that (a) will work when you need it to, and (b) you can easily operate.

HubSpot is one of the few CRM platforms on the market that has been purpose-built for sales and marketing success. It's designed to be used by everyone, regardless of your technical knowledge. In fact, it feels more like a consumer product – especially in comparison to systems like Salesforce, where it feels like you need to be a qualified administrator to drive it.

However, this usability is not at the expense of power. There's a full API sitting behind the HubSpot system, which means you can do very sophisticated integrations and custom application development. Also, HubSpot integrates with a huge number of third-party apps that your business may already be using.

Essentially, HubSpot is a combination of super easy to use frontend and a backend that can do whatever you like. It delivers rock-solid reliability and uptime.

You have the flexibility to start simple on day one, but work up to completely integrated demand generation campaigns when you're ready. Without having to bolt-on new systems or pay for expensive upgrades to get the reliable functionality that you need. It's a cost-effective long-term investment.
2. You don't have to make any trade-offs

Rule number two of choosing B2B demand generation software: never settle for less!

As an SME, you're following the same basic sales and marketing process as larger enterprises. The difference is that you don't have the time, resource or budget to invest in multiple pieces of software to run everything. So it makes sense to find one piece of tech that does everything.

At first glance, there are several integrated options available, but the vast majority of HubSpot-comparable marketing and sales solutions have been cobbled together to do the whole job. Many platforms have grown by acquisition, shoe-horning pieces of software together – for example, they were designed as CRM systems, and their marketing solutions have been bolted on. This results in design and usability trade-offs.

In contrast, HubSpot is completely built for purpose. It actively promotes the fact it is crafted, not cobbled! HubSpot's creators started with a blank sheet of paper, which means they didn't have to compromise on any functionality.

Instead, they built a comprehensive, completely integrated sales, marketing, service and CRM system. And while keeping systems and data integrated and in sync can be a massive headache across multiple systems, Hubspot just takes care of it.

You can easily run every element of sales and marketing through a single system, without having to trade-off functionality or user-friendliness in any areas. There's no need to compromise.

3. You can measure success
Rule number three of choosing B2B demand generation software: ROI is everything!

One key reason that SMEs invest in a digital sales and marketing solution is to track and measure the success of demand generation campaigns.

If you're creating landing pages, distributing content, managing your CRM and recording sales engagement in different places, it's difficult to do any kind of meaningful analytics. Attribution and measurement becomes almost impossible, and you have to rely on tools such as Zapier to connect all your platforms together - which makes the process much more disjointed and therefore prone to error.

HubSpot not only enables you to run all your demand generation activities in one place; it takes care of all your analytics. And there's a huge amount of power in that.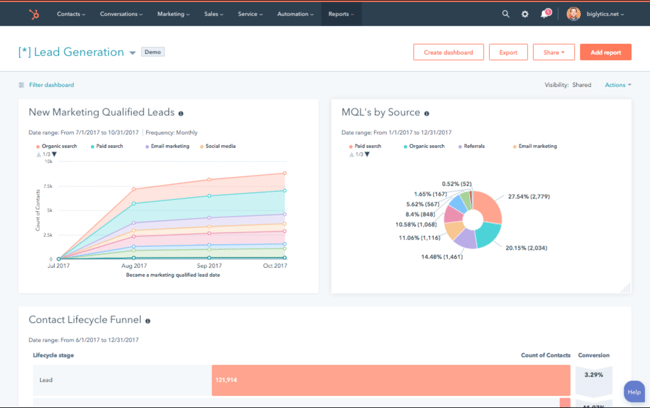 Source: Hubspot
Whether you're a sales and marketing expert wanting to prove which techniques work, a COO wanting to demonstrate the software's value, or a CEO looking at the impact of demand generation campaigns on customer engagement, being able to demonstrate ROI is fundamental to your success.

You can use HubSpot to focus resources on strategies that work, and track campaign interactions in order to follow-up with hot prospects.
Don't let complex MarTech platforms intimidate you - we're here to help. Let's work together to optimise your HubSpot platform and maximise ROI. Explore our MarTech services and let's see how we can help you
.
4. It's a universal tool
Rule number four of choosing B2B demand generation software: give yourself room to grow!

HubSpot has 100,000 customers across 120 countries, which should tell you a lot about the power of this solution. And one major benefit of opting for such a universally loved tool is the flexibility it offers.

We'll let you into a little secret: the HubSpot Content Management System is an incredible platform on which to build your website, as it integrates straight into the rest of your sales and marketing technology. A few years ago it had a bit of a bad rap, but these days it's a really user-friendly, enterprise-grade CMS.

Beyond flexibility, choosing a universally recognised solution like HubSpot allows you to work collaboratively with external partners who are familiar with the platform. For example, you might want to get a demand generation agency to set your HubSpot systems and processes. They can optimise the software for your business, but leave you to develop and run the actual campaigns while you're still in growth mode.

Alternatively, you may want to appoint an agency to develop demand generation assets and campaign strategies, but manage execution and analytics in-house. It's up to you.

Because HubSpot is such a flexible, scalable tool, you can really customise your working practices. More importantly, you can evolve them over time without having to invest in whole new ways of working (and the learning curve that comes with them).

You can take advantage of HubSpot's user-friendliness today and run your activities completely in-house; even junior marketers can launch basic campaigns without needing to be HubSpot experts.

Then tomorrow, you can level-up your sales and marketing and start working with a demand generation agency. Just look for a HubSpot Partner Agency that can run all your strategic campaigns through the software you already have in place.
HubSpot CRM: a tool that will grow with your business
Building a demand generation machine relies on your business aligning marketing, sales and customer service, using many different processes and technologies. HubSpot brings all this together in one digital platform, so you have a fully integrated tech stack and can launch and measure integrated sales and marketing campaigns. That's why we think it's a great tool for B2B SMEs.

It's also a good price point; all the features and capabilities you'll need to launch and run demand generation campaigns are included within HubSpot's subscription model, and you don't need to add expensive new software to your CRM system as your campaigns mature.

We love HubSpot because it gives growing businesses the best of both worlds: it's easy to use without expert knowledge, but you don't have to compromise on functionality. Best of all, HubSpot will grow and scale with your business, so you never have to invest in new sales and marketing software.

As a demand generation agency that specialises in HubSpot, we've seen tech SMEs at every growth stage using HubSpot to get them to the next level. And we love how flexibly we can collaborate with clients through HubSpot, to deliver results – from setting the system up for in-house activities, right through to running fully outsourced demand generation campaigns.