Most B2B SaaS businesses find lead generation tough. Usually this is because they've spent time building a product and getting early adopters rather than perfecting their marketing skills. When it's time to scale your B2B lead generation, you need to understand some basic lead gen concepts and then develop a consistent yet flexible strategy you can apply regardless of where you intend to get traffic from.
This blog will show you how to do just that, based on the same broad approach we use successfully with our clients. You'll first learn the foundations of the lead generation process and then the difference between inbound and outbound lead generation, before going through 10 steps to build a successful and effective B2B SaaS lead generation strategy.
The B2B Lead Generation Process
These are the same four steps that every single successful online B2B lead generation strategy follows. They are best thought of from the point of view of your prospect, where possible. This is because B2B marketing is more successful the more you can put yourself in your prospects' shoes.
Discover
The visitor discovers your business via one of your traffic-generation strategies (see Step 7, below). For example, they might read one of your blogs or see a paid ad on LinkedIn.
Click
Intrigued by what you have to say in your content or ad, the visitor clicks on your Call to Action – a text link, button or image that takes them to a specific landing page. The landing page is a web page that is designed to capture lead information in exchange for an offer.
Exchange data
Your offer seems so potentially beneficial to the visitor that they give their contact information to you in exchange for access to the offer. The offer is also often referred to as a lead magnet (see Step 5, below)
Nurture and Qualify
After you get the prospect's contact information, they become a lead. You nurture them by sending useful information on a regular basis, with calls to action for them to click to web pages on your site containing specific information, often in the form of downloadable content.
Once your lead has clicked a certain number of times, visited a certain number of pages, or downloaded a certain number of content pieces, you qualify them as warm enough to send on to your Sales team.
The Difference Between Inbound and Outbound Strategies
This is not just about how to generate traffic (covered in more detail in Step 7, below) – it also has an impact on your value proposition, landing pages, and the kinds of lead magnet you offer.
Inbound marketing centres around creating content that attracts people to your website either via social media or search engines.
Outbound marketing involves proactively reaching out to prospects to attract their attention. Cold emailing and cold calling to prospect lists are two examples of this. Outbound marketing can be very effective, but it requires a motivated sales team skilled in the art of prospecting for new business.
Many SaaS companies develop their go-to-market strategy based on inbound marketing, then when sales are slow they try a flurry of cold calls or send out thousands of cold emails, which often don't work because they are mis-targeted, aren't communicating their value proposition effectively, or lack the personalisation to resonate.
Paid search advertising on Google (often referred to as PPC) is sometimes mistakenly considered a form of outbound marketing because it competes for a prospect's attention over the organic results they're also presented with. However, PPC is actually really an inbound strategy in that it is meeting the search demand in the marketplace and attracting these prospects to your website.
Step 1: Develop Your B2B Buyer Personas
Buyer personas are "semi-fictional representations of your ideal customers based on data and research". You need them because you can use them to attract more high-value visitors to your site and help you generate leads. They also make it more likely you can convert those leads into customers. And they help you to retain those customers over time, increasing their customer lifetime value (CLV).
You can check out our blog on How to Create B2B Buyer Personas That Will Actually Grow Your Business.
Using personas can make websites 2-5 times more effective, improve email click-through rates by 14% and conversion rates by 10%, and double the effectiveness of paid ads. - HubSpot
The bottom line is, without them, you won't understand your prospects' pain points. Without that understanding, you'll never be able to develop effective value propositions.
Step 2: Be Clear On Your Value Proposition
You'll already have a good idea of the value your SaaS product offers to the market. Now is the time to define - and refine - your core value proposition. At its simplest, this is the value that customers get from using your product. This is usually the core message that will appear on your homepage.
Step 3: Develop Separate Value Proposition Statements for Each Buyer Persona
A value proposition statement is where you take your core value proposition and adapt it for when you're going out to your target market segments.
HubSpot defines a value proposition statement as "a short statement that communicates why buyers should choose your products or services. It's more than just a product or service description — it's the specific solution that your business provides and the promise of value that a customer can expect you to deliver."
This is why you've developed your buyer personas. A value proposition statement should articulate the benefits that your customers will receive. Because different customers will need and experience different benefits, you need to develop a value proposition statement for each persona. The more specific you can be about the benefits you offer in your campaign messaging, the more successful your campaigns will be.
Here are a few examples of Value Propositions for different personas of an Emotional Intelligence business for guidance.
Individuals:

Coaches & Consultants:

Step 4: Make Sure Marketing and Sales Are Aligned
Many SaaS marketing efforts fail because Marketing don't communicate to Sales adequately, while Sales can often go ahead and cold call a load of potential prospects before Marketing has had the chance to target them with an ad or email campaign first. When campaigns don't achieve the desired KPIs, it's sadly pretty common for Sales and Marketing teams to start blaming each other for failure.
Your Sales and Marketing leaders must be on the same page, share the same goals, and understand how the lead generation campaign will work. In practice, this means involving Sales at the early planning stages of the campaign, so that each team is clear on their KPIs, what constitutes a qualified lead, and when leads will be passed on to Sales.
Both teams also need to agree and work from the same buyer personas. Marketing needs to create assets that Sales can use to help nurture and convert leads to customers. Both teams should also regularly feedback their progress to each other and work together to resolve issues when they spot them.
Step 5: Create Your Lead Magnet(s) / Offer(s)
"A lead magnet is a marketing tool that generates leads by offering a long-form resource in exchange for a prospect's contact information," says HubSpot, adding: "Lead magnets can take the form of ebooks, whitepapers, templates, and similar downloadable assets."
Whatever form your lead magnet takes, it must offer something of clear and obvious value to your prospect. Remember, asking a busy executive to read an ebook or watch a video is asking them to give up time they don't have. If that ebook or video doesn't offer something valuable then they will not do it.
This is also why you need a different lead magnet for each of your separate value propositions, because what your various personas find valuable will differ.
Step 6: Create Your Landing Page(s)
A landing page is a specific webpage where your lead magnet captures information provided by the visitor. They fill out a form with their name, email address, and any other relevant information you've deemed important.
Strategic landing pages are used by 68% of B2B businesses to acquire leads.- Marketo
The landing page must focus on the benefits of the lead magnet and not have any navigation buttons to distract prospects. The page sells the benefits of the magnet and makes it easy to fill in contact information.
You must also ensure you comply with all GDPR regulations by being upfront and transparent about what prospects are signing up to when they give you their information. You should also allow them to double opt in to confirm their choice.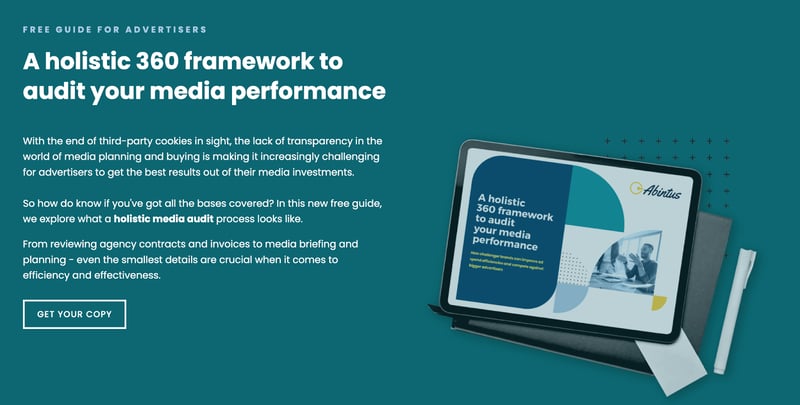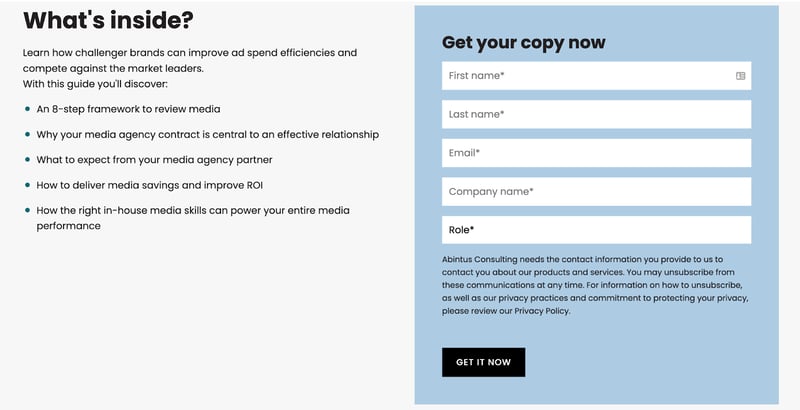 Step 7: Drive Traffic to Your Landing Pages
This is when you choose your traffic generation strategy according to your budget or where you have the most likelihood of success. Generating traffic is a complicated subject in itself.
💡Top tip: Email marketing is consistently rated the most effective B2B lead generation strategy by B2B marketers.
You might find it useful to review our recent blog B2B Lead Generation Quickstart Guide which ranks the following strategies in order of effectiveness:
PPC advertising
Email marketing
Paid social media
Organic social media
Content marketing
Search engine optimization
Step 8: Test Your Landing Pages
In reality, you should test every part of your lead generation strategy where it's possible to do so. However, since time and resources are limited, systematic testing of your landing pages is likely to have the biggest impact for you.
Every landing page can be improved through A/B testing. You should test the following variables (but only test each variable one at a time; testing more than one variable makes it impossible to know which change made the difference):
Colours
Images
Image placement
Layout
Length of the page
Length of the data capture form
Placement of the data capture form
Wording of the copy
The headline of the page
Step 9: Email Nurture
You've converted a prospect to a lead. Congratulations! Now you need to communicate with them regularly so they will trust you and be more willing to become a customer.
Nurturing is a way to stay connected to the leads you collect that aren't ready to buy from you yet, and build up trust until they are ready. - HubSpot
Draft a series of nurturing emails. These should start with an email thanking them for downloading your lead magnet and asking for feedback. How useful was it? How could it be improved? What more information are they likely to find useful?
That last question is very important, since if your leads answer this, you will be able to tailor your nurturing emails to suit their preferences. In brief though, focus on sending regular emails with more useful information on relevant and – where possible – urgent topics.
Link to more content – guides, explainer videos, short video courses, ebooks, whitepapers. Whatever content you have or that you can produce quickly and to a high enough standard to be genuinely useful.
This builds trust over time, and the confidence in your leads that you are a valuable resource. If you want more information on this, check out our recent blog on B2B Lead Nurturing.
Step 10: Qualify Your Leads – When Are They Ready for Sales?
If you've been nurturing your leads and linking them to more content, the next step is to score that content. Different content types indicate more engagement on the part of the lead and suggests they are warmer or closer to a sale.
Viewing testimonials, product comparisons or case studies usually indicate a lead is at the Decision stage of their buyer journey. Those types of content are worth more than white papers, industry reports or webinars, which usually indicate that a lead is at the Consideration stage of their buyer journey. They're still researching potential solutions to their problems.
Content such as blogs or social media posts score lower still, since these sit at the Awareness stage of the buyer journey.
Organize the links to your content to move leads along the buyer journey, and assign a points score to each lead with each piece of content they view. Once a lead scores a certain number of points, they are warm enough to pass onto Sales.
If this is your first time nurturing, you may need to experiment with the scores until you get an accurate feel for when leads are ready to be qualified. Exact scores will vary according to how useful your content is, what your product does, and what market you're in.
Using some kind of marketing automation software on your website is the simplest way to score leads (we recommend HubSpot), as you can automate the whole process and it will flag leads that have reached a qualifying score without you having to do it manually.
Successful B2B lead generation is about more than just strategy
Successful B2B lead generation is all about focusing on your customers' needs. What information do they need from you that will be helpful? When do they need it? How can you make sure they see your information on sites that they use?
Remember that customers are people, and people are emotional beings. It's not uncommon for B2B SaaS lead generation efforts to focus on tools and processes, but if you can really understand your customers and speak to their pain points and fears, you are much more likely to attract and engage them.
Of course, knowledge like this comes from years of experience, and most SaaS firms will need to learn from their own mistakes until they start to get a feel for how to make B2B lead generation really work for them.
If you want to avoid having to learn lead generation the hard way, why not book a free consultation with us? Our strategists will get to the core of your lead generation challenges and come up with a tailored strategy to help grow your business fast.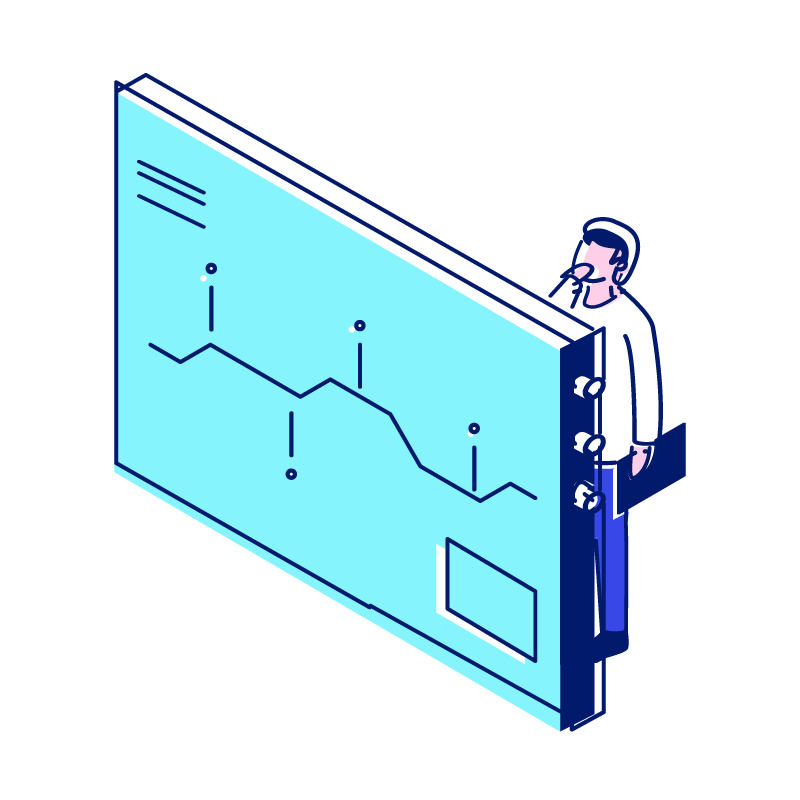 Ready to ignite your lead generation efforts and fuel business growth?
At Digital Litmus, we use a data-driven approach to identify the best channels and tactics to reach your target audience, and continuously monitor and optimise your campaigns to ensure maximum performance. Our goal is to help you generate high-quality leads and drive revenue growth while minimising costs and maximising ROI. Find out more about our demand generation services.
If you found this article informative, we offer a range of content marketing services that can help you elevate your brand and engage your ideal customers. Our team of experienced writers can create high-quality content that resonates with your audience and drives results.
Learn more about our content marketing services and how we can help you achieve your business goals.