How well is your current approach to demand generation working? For 1 in 5 companies, the answer is 'not very'.
There's no two ways around it: demand generation strategy development is difficult, especially for SMEs. It requires specific skills and expertise that can be a costly exercise to build in-house.
Partnering with a demand generation agency can be a more affordable, flexible solution for building your business pipeline. However, determining which agency is right for you can be a tricky task, especially if you've never gone through the process before.

This process is further complicated by the fact that for B2B SMEs, the stakes can be a lot higher. A commitment to a demand generation programme often requires a major investment and appointing the wrong agency partner can have major long term consequences.
With many companies offering demand generation services out in the market, how can you find one that fits your needs? One who understands your market, puts themselves in the shoes of your customers and can deliver the results you need to hit your business goals?

To help you find the right demand generation agency, we've put together a 5-point checklist.
This will help you to find a growth partner that has a deep understanding of B2B sales and marketing – who can also develop a strategy and execution plan that aligns to an SME budget.

1. They are on your wavelength
Principles are really important when you're choosing a demand generation agency. You need to find a company who really understands the nuances of B2B marketing, aligns with your business ethos and can buy-in to your ambitions.
Here are a few questions to ask when you are starting your agency search:
Are the agencies on your shortlist strategic, or are they selling a packaged, out-of-the-box solution? If it's the latter, you need to be confident the 'package' isn't missing a key channel, tactic or foundational project (e.g. website redesign) that can grow your business.
Is their methodology data-driven? Do they have the ability to measure success and report holistically about the activities they are running on your behalf?
How do they manage demand generation activity, customer relationships and data? For instance, are they using the technology platforms you're either leaning towards or already have in place? You don't want to invest in a whole new CRM system just to run a test campaign!
Will you have experienced, senior heads working on your account? If you're building a strategy from scratch, you need commercially-minded, seasoned experts who can plot a sensible course and use your budget wisely.
A strong cultural fit will give you confidence in your demand generation partner. If you're on the same page from day one, you'll have a much greater chance of collaboratively delivering results.
2. They operate in an agile way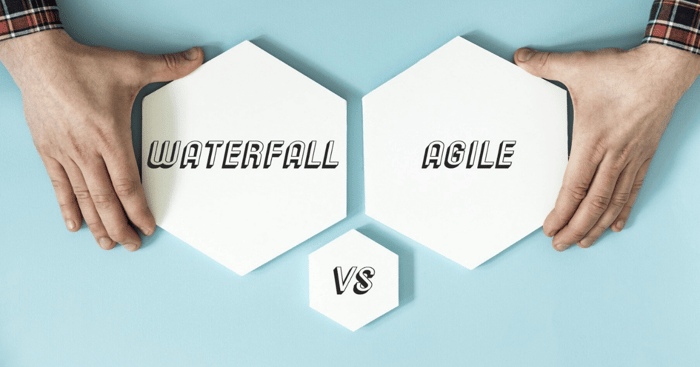 Flexibility is vital for SMEs, especially when it comes to demand generation. Priorities changes, new opportunities arise - you need an agency partner who can adapt quickly like an in-house team would.
A good demand generation agency will come to the table with solid strategic recommendations. But strategy is just about setting a sensible course. Many initial demand generation engagements require a phase of experimentation, especially if there are no benchmarks to start from. Agility is key here to determine where to successfully place your bets in the long term.
Unfortunately, this agile approach isn't a guarantee. Plenty of agencies are stuck in an old school delivery model where work is delivered in a waterfall fashion; one activity flows on from the next, all planned and signed off right at the beginning of the relationship.
The problem with a waterfall model is that it sets you on a path you can't divert from - not ideal when it's your business growth that's tied to it.

A better, alternative way is to adopt an agile approach. If a new opportunity to generate demand comes along, you can quickly take advantage of it.

Look for a dynamic, proactive growth partner that will stop and think strategically if the route you are taking isn't working.

For example, Digital Litmus operates a points-based pricing model, which can be spent on any of our services. Points that are in a pre-agreed strategic roadmap can be moved to other service lines if needed in the course of the relationship.
This means your budget is always being used in the most effective way to maximise growth opportunities.
3. They take an integrated approach to growth
Demand generation isn't a one string strategy; you need to integrate marketing, sales and customer relationship management activities to accelerate your business growth.
Thinking of marketing, sales and customer success in one simple funnel is too simplistic and doesn't promote the importance of alignment between these different functions.
The Hubspot Flywheel is a good visual representation of how connected these teams need to be - marketing feeds sales, sales feeds customer success, customer success powers marketing in the form of retention and evangelism.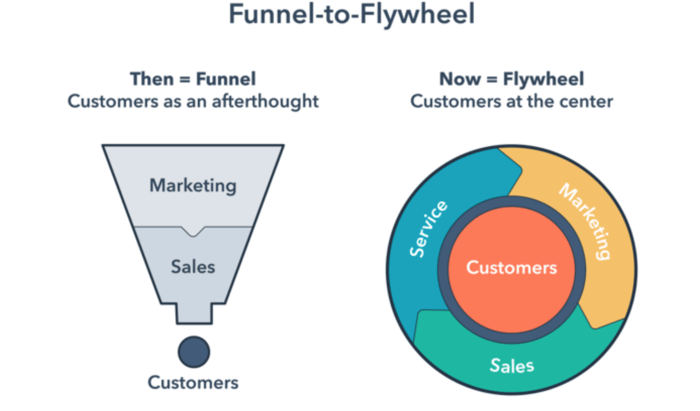 Source: Hubspot
Some specialist agencies will sell you a single service - Pay-Per-Click, for example. That may have some impact on inbound leads if it's a channel that makes sense to find customers who are showing intent for your product or service.
But that agency is unlikely to be able to support you with the missing critical pieces of the customer journey. For example, lead nurturing to help you convert warm leads better, or content production and promotion that enables you to attract the whole of the rest of the market who aren't ready to buy just yet.

Choosing an agency that runs integrated demand generation efforts gives you access to a broader suite of marketing, sales and CRM service support. And that agency will carefully balance how and when those solutions are used, in order to deliver results.

Look for a partner who starts by talking about your goals and then recommends the best combination of channels to reach them – rather than someone who puts the focus purely on the mechanics, or who encourages you to invest heavily in one area that 'just so happens' to be where their expertise lie.
4. They fit your budget
We can't skirt around the fact that finance will shape your choice of demand generation agency. Some options may simply fall outside your budget.

However, there are agencies out there that specialise in business growth, who will be able to offer affordable demand generation services to growing businesses.
It's important to make sure you understand what you're getting for your investment. A good agency will talk openly about how they deliver results, and manage expectations as to how far your budget can stretch.
To avoid wasting time, it's worth getting a ballpark pricing model for the agencies on your shortlist before you get into deep dive discovery calls. This will also help you to compare pricing models, as you could find that some agencies charge 2-3 times more than others.

Also bear in mind you need to keep an adequate media budget back for promotional activity. There's no value in investing in content production and sophisticated MarTech if you don't have enough budget to put campaigns and content in front of your target audience.
5. They've got a strong track record in demand generation
Credibility is critical when you're putting your trust in a demand generation partner. As part of the shortlisting process, find out which sectors are they strongest in, and who have they worked with previously.
Ideally, you should be looking for a demand generation agency with a proven track record of growing businesses with commonalities to your own.
Take the time to do your due diligence; looking at case studies and testimonials on their website is a good place to start. An agency with the right specialism will have experience solving challenges similar to those your company faces, and they'll know what engages decision-makers in your space.
For example, at Digital Litmus, we only work with B2B SMEs. We have built our entire service offering to solve the typical challenges and needs that they face when trying to develop a demand generation strategy and then execute on it.

If you appoint a generalist agency that doesn't know your niche, they're learning at the same pace as you, so they can't be as proactive in their recommendations.
To give you complete confidence in your choice, ask if you can speak with some of your shortlisted agencies' clients about their experiences and campaign results before you sign up to any services.
Find a long-term partner to drive your business growth
As we mentioned at the start, demand generation campaigns are a major investment for SMEs. So it's a good idea to put appropriate time and effort into finding the best possible demand generation partner.

Using our 5-point checklist, you can compare your shortlisted agencies based on the same criteria, benchmarking how they will deliver value for your business. Helping you to find a demand generation partner that you click with, and who will generate ROI.

If you're a B2B SME ready to improve your demand generation, book a free assessment with Digital Litmus to see if we're the right fit.