Scaling a business is a balancing act between thinking big and managing spend, particularly when it comes to generating demand. Organic growth can only take you so far; to expand and accelerate, you need to begin to invest in strategic demand generation activities.
For many SMEs, the cost, complexity, and capacity for something to go wrong often leads to demand generation being put on the back-burner. But doing nothing is almost as detrimental as doing the wrong thing, as it gives competitors the opportunity to move ahead in the market.
To help you overcome this and develop a growth strategy that works, we've looked at five of the most common demand generation challenges faced by technology SMEs – and how you can overcome them…
Challenge #1: Operating with budget constraints
Unless you're lucky enough to have a deep-pocketed set of investors, you're likely to have to operate under some level of financial constraint.
There's really only one solution to this problem - being highly strategic in your approach.
The starting point with this is to consider where to allocate your resources. Should you invest in building your own demand generation team in-house, or hire a specialist agency to fill the skill gaps?
Hiring internally can be expensive when you consider all the different roles required. On the other hand, hiring an agency could mean you're putting all your eggs in one basket which you may not be comfortable with.
A common middle ground is to hire basic internal expertise, and then augment that with agency services, but this approach can also be risky.

For example, on the face of it, a generalist marketer might seem like a solid hire. But they will rarely have the specialist knowledge of the systems and technology infrastructure needed to invest in the right marketing and sales technology. These kinds of knowledge gaps may not seem problematic to start with, but they can have a big repercussions further down the line when you begin to feel the consequences of choosing the wrong MarTech stack.
Having an experienced point person in the business who can co-ordinate demand generation activities with external agencies, and is also open-minded enough to seek advice around the more complex decisions (such as 'which CRM should we choose?') will be a likely winning formula.
Then there's the question of how much you're prepared to invest overall in business growth. If you want to 3 to 5x your revenue you can't do it on a shoestring marketing budget.
According to Gartner's 2020 Annual CMO Spend Survey Research, the average marketing budget is around 11% of annual revenue. So if your budget doesn't match your ambitions, you'll need to reign in your expectations.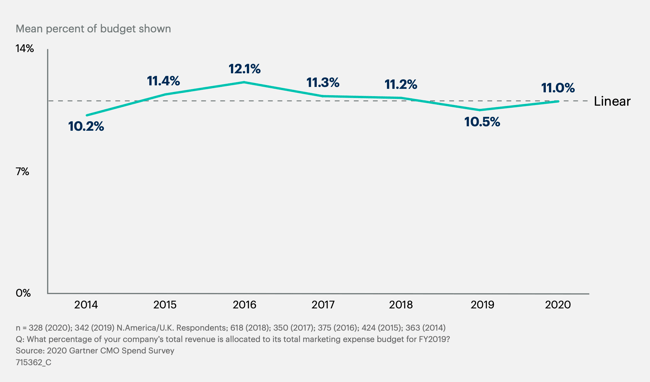 Source: Gartner's 2020 Annual CMO Spend Survey Research
The thing to remember is that budget constraint can also be a good thing in the sense that it forces focus and prioritisation. By expending effort purely on the activities that are critical to moving the needle, you'll be sure to make the most of your marketing investments.
Challenge #2: Starting with a blank canvas
For an SME with limited or no marketing in place, the first step is to simply get up and running. Putting in those demand generation foundations, before accelerating. There's so many areas to consider and this can often feel overwhelming.

So what can you do? To do this job effectively, you need someone with a proven track record who can pinpoint exactly what you need by asking the right questions from the outset.
Here's a few of the key ones to tackle:
What's our overall go-to-market strategy?
Do we have an audience segmentation strategy?
Who are our target personas and how can we reach them?
Is our Content Management System fit for purpose?
Do we know how to build a database of target accounts and contacts?
What's our content strategy?
What marketing and sales technologies will help us go faster?
What marketing channels will have the most impact?
These questions are complex and require someone who has deep experience in demand generation to answer them with confidence and then develop a strategy - often a CMO level individual. The problem is that's an expensive hire, especially when you are taking your first steps into the world of demand generation.
On top of that, strategy is only useful if you've got the right people around to execute on it, so if you've blown your budget on that senior hire, you'll need to find an extra pot for a delivery team.
Hiring a CMO on a likely six figure wage is questionable for budget constrained SMEs as that individual won't be doing much of the delivery.
This is where partnering with a specialist demand generation agency can add immediate value, without breaking the bank. Demand generation agencies can offer experience way beyond what most SMEs can afford to recruit in-house and there's also the flexibility to walk away if you need to reign in costs at any point.
A competent partner will combine creativity, technological expertise and strategic thinking across their team. And they will use their team's skills strategically to deliver results, being mindful of your timescale and budget.
Challenge #3: Battling the technophobes
One of the pre-requisites of a successful demand generation programme is the need to invest in marketing technology (MarTech).
When the MarTech comes in, significant efficiency gains to operations and business processes present themselves.
The challenge here is that it requires a shift in some of the 'old school' ways people are currently working and an embracing of the digital transformation that's about to take place.
Digital transformation can feel like a strategy designed for enterprises rather than SMEs, and sales and marketing teams in particular can often be reluctant to embrace change when it overhauls their established working practices (even if those working practices aren't documented or considered real processes).
Resistance kills progress so the key to overcoming this obstacle is changing the mindset of the people in your business and turning them into evangelists of the software that's designed to make their lives easier.
By viewing technology as a tool for enabling growth and helping teams achieve their goals, everyone benefits and the results start to become evident.
An agency-led approach can help here too by providing on-demand access to specialists who can set up your MarTech software in a way that's tailored for your business' specific needs. They can also offer onboarding, training and ongoing technical support, to help teams build confidence in their use of new technology.
Challenge #4: Poor sales and marketing alignment
So many SMEs fall into the trap of breaking apart the sales and marketing teams, which leads to them operating without any synergy whatsoever. Results-driven demand generation relies on complete alignment between these two business functions.

Whether your colleagues are skilled in sales or marketing, their end goals should be exactly the same: to help your business attract new customers, increase revenue and achieve growth.

Breaking down silos between marketing and sales, and removing disparate, disconnected tools and processes, is pivotal to demand generation success.

The HubSpot Flywheel is a good illustration of how a joined-up approach drives business growth.
Marketing feeds sales. Sales feeds success. Success generates advocacy.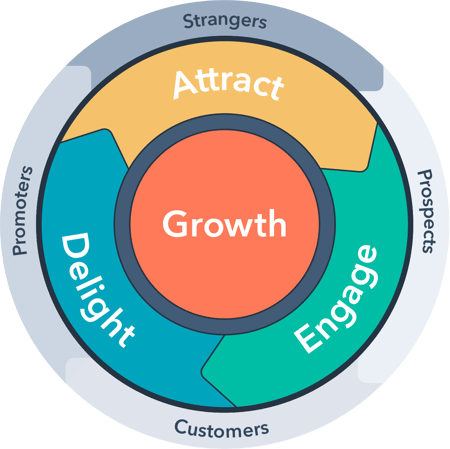 Source: HubSpot
Many progressive companies are solving this challenge by merging marketing and sales under the umbrella of a Revenue Operations team, lead by a Chief Revenue Officer (CRO). It makes a lot of sense to take this approach. By forming a closer relationship between sales and marketing, and having an aligned strategy, your teams can take a cohesive approach and find opportunities across the complete customer funnel.
Taking a full funnel approach means that you can look at the big picture, identify where you want to move the needle in the customer journey, and select the metrics you're going to try and change.
Successful demand generation relies on collaboration between sales and marketing teams. Marketing need to know what's slowing down the sales process so that they can better educate prospects in the buyer journey. Conversely, for sales to build deeper relationships with prospects, they need to understand what's driving demand in the market - what are the key customer pain points that are piquing interest in your proposition, and how are they solved by your solutions or services?
Challenge #5: End-to-end measurement is difficult
Up until this point, we've talked about success in general terms. That's because most companies broadly want the same thing: to grow their customer base and increase revenue. But this is very much the bigger picture.

To make data-driven decisions at a more granular level, you need to bring together your key performance metrics and look at them in one place. Regular analytics and reporting on the right metrics are critical to ROI. Yet few SMEs are capable of bringing together these key B2B metrics into a simple dashboard.
The reason for this is simple. If you're using multiple tools and platforms, from landing page builders and outbound prospecting software, to your company website and LinkedIn campaigns, it's an absolute nightmare to bring these disparate sources of information together.
So what's the solution? If you've got the expertise in-house to start pulling everything together, tools like Zapier can be used to connect the data sources alongside dashboard creators like Klipfolio, Databox or Supermetrics. However the time investment required to get to a clear set of metrics and a usable, reliable dashboard that is used by the business should not be underestimated.
Alternatively, an all in one sales, marketing and service platform like HubSpot can give you that instant end-to-end measurement capability because everything is interconnected and connected to your CRM, making dashboard creation a breeze.
Immediate impact, long-term value
Demand generation can benefit every business, but the stakes are higher for SMEs than larger enterprises. Your investment needs to be well targeted, make an impact quickly, but also drive long-term growth.

Achieving this level of change internally, with limited resources and budget, is extremely difficult so it's important to weigh up the team you need in-house versus external support.
An outsourced demand generation model can be a cost-effective way to access extensive expertise, so you can fill your business pipeline at a fraction of the cost of recruiting the same skill set in-house.

A good demand generation agency will also help you to overcome other common obstacles we've discussed. They will listen to your goals before building tools, processes and systems into your businesses that create ongoing value. Most importantly, they'll fine-tune your strategy as the relationship progresses to deliver the maximum possible return.
Interested in a tailored strategy to help you grow your own business? Book a free assessment with one of our strategists today.