Inbound marketing is a powerful strategy that leverages content to attract target customers to B2B companies. It's popular because it generates warmer / more ready sales leads.
The content shared with your target audience is based on free guidance, tips and tricks to help them solve a particular pain point. By providing value that appeals to the three different stages of the buying cycle, content acts as a magnet and creates a pull towards your business.
These are the three stages of the buying cycle:
Top of Funnel (TOFU) - The "awareness" stage, where people are looking for answers, resources, education, research data, opinions, and insight.
Middle of the Funnel (MOFU) - The "consideration" stage, where people are doing heavy research on whether or not your product or service is a good fit for them.
Bottom of the Funnel (BOFU) - The "decision/purchase" stage, where people are figuring out exactly what it would take to become a customer.
Once their interest is captured, sharing content that appeals to each of these stages continues to nurture these contacts through this buying cycle towards a purchase by regularly sharing more free insight to help them - this could be in the form of a blog or guide, or a webinar / event.
This approach is the most powerful way to generate demand. You are sharing value with your target customer, building brand awareness, trust and an authoritative voice in your industry – all things buyers look for before making a purchase.
This strategy is particularly effective because it doesn't make people feel like they're being sold to - like with outbound marketing. In fact, inbound marketing costs 62% less per lead than traditional outbound marketing meaning better ROI (return on investment).
Despite the benefits, creating an effective inbound marketing strategy and then running inbound marketing campaigns requires specialist skills and dedicated time - something many SMEs struggle to do unless they have in-house marketing teams with senior members.
And that's why two-thirds of B2B companies outsource it to specialist inbound marketing agencies.
Pros and cons of working with a B2B inbound marketing agency
At a glance, here are the benefits:
✅ Get experts in your team - These will have tried and tested methods they can implement straight into your business. And will know which tools are the best to use to drive new business. For example, an expert content writer will create top-notch, well-researched and SEO-optimised content - which will be far more useful than less premium content.
✅ Generate high quality results - Agencies are motivated to generate strong results. There's a wide choice of inbound marketing specialists out there so you can cherry pick the best, one that specialises in B2B marketing for companies like yours.
✅ Reduce costs - Hiring an agency is much more cost-effective than hiring multiple senior professionals. Their specialisms and years of experience bring efficiencies, you don't need to pay tax and expenses and you have flexibility to scale up and down.
✅ Greater output - As the agency typically won't attend most day-to-day meetings, days off and such, they focus their time and efforts on inbound marketing outputs that will move the needle.
✅ Greater objectivity - Outside specialists tend to be objective and more likely to suggest constructive criticism, based on experience of having worked with lots of different businesses. This way, you get the best results.
Despite the benefits, there are risks associated with hiring the wrong agency:
❌ Hiring less competent marketers - There are so many agencies out there and some claim to specialise in something but may not have the years experience you need.
💡 Top tip: We recommend asking for case studies and results for proof of experience. This indicates the quality of the work you will receive.
❌ Risk to brand reputation - The agency you hire will have direct contact with your target customers - whether that's through brand awareness, such as social media posting, or through a more direct approach like sending personalised emails - and so they need to meet customer expectations.
💡 Top tip: Most best practice inbound marketing specialists will include case studies and company logos on their website - which helps give a sense of the brands that trust them. Some include examples of work too which can help you see the quality - but we strongly recommend asking for multiple samples of work from the agency.
What an inbound marketing agency does
Inbound marketing agencies manage everything from best practice strategy through to executing your campaigns. This ensures their efforts generate thousands in new business revenue, and deliver ROI.
There are six key stages to inbound marketing that a best practice inbound marketing agency will follow to ensure you capture demand and support sales conversion: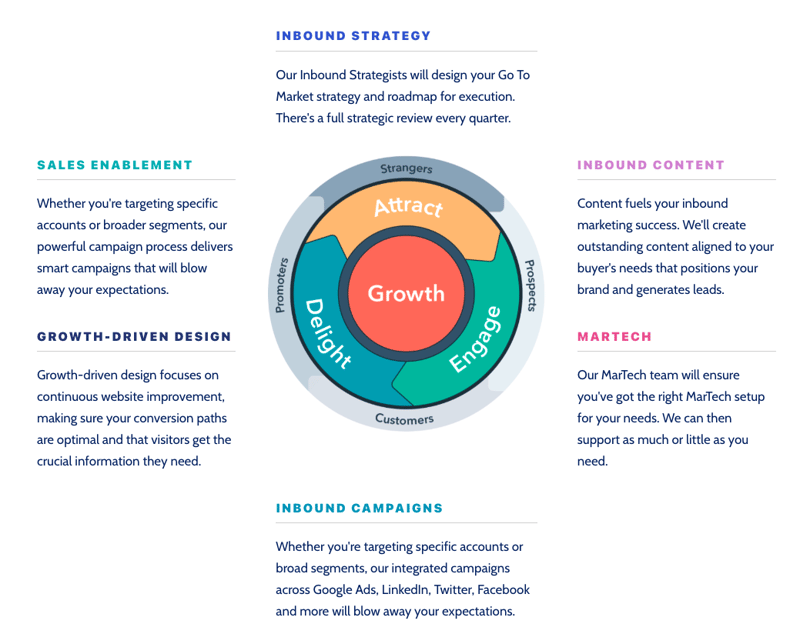 Top tips for finding your inbound marketing partner
Here are five tips to help you find a best practice inbound marketing specialist.
Make sure they are:
1. Customer centric - And they have a process for learning about your customer and their pain points and needs.
2. Strategic - In that they are looking at the long term opportunities and are targeting key search terms, as well as delivering short term wins. And, that they are looking at the complete funnel across marketing, sales and customer success.
3. Proven success - They have a track record working with clients like you. They should be able to provide named case studies.
4. Data-centric - They report on the right numbers and know how to analyse results effectively.
5. SEO experience - They understand how to create content that converts into sales qualified opportunities, it's not just about delivering leads.
Red flags to look out for in an inbound marketing agency
To help ensure you pick an inbound marketing agency that will generate demand, these are some key considerations:
🚩 Check that they take a strategic approach to content production - Balancing customer-centricity and SEO impact in their writing and have the experienced team to deliver.
🚩 Check that they think customer - Are they capable of understanding the customer needs and pain points and do they have the experience in the business to identify them?
🚩 Do they think about the buyer journey? - It's not just about top of the funnel awareness, content needs to convert.
🚩 Do they think about the next steps? - Are they thinking about what happens when the prospect reads the content? Do they talk about conversion strategies such as lead nurturing?
🚩 Check it's not a side service - Is inbound marketing core to their work or just a bolt on?
With so many marketing agencies out there this checklist will help quickly rule out those that won't deliver the best results.
Grow your business with inbound marketing
With so many marketing agencies out there, it can be hard to find the right inbound marketing partner for you that can create the value-adding, engaging content that more naturally nurtures your target audience towards a sale.
By finding a best practice inbound marketing specialist, one with experience in your industry, the entire marketing plan can be managed - marketing strategy through to execution - by professionals that have experience driving revenue results for B2B companies.
With our checklist of best practice elements to look out for, and red flags to avoid, you can feel more confident in choosing an agency that's fit for purpose.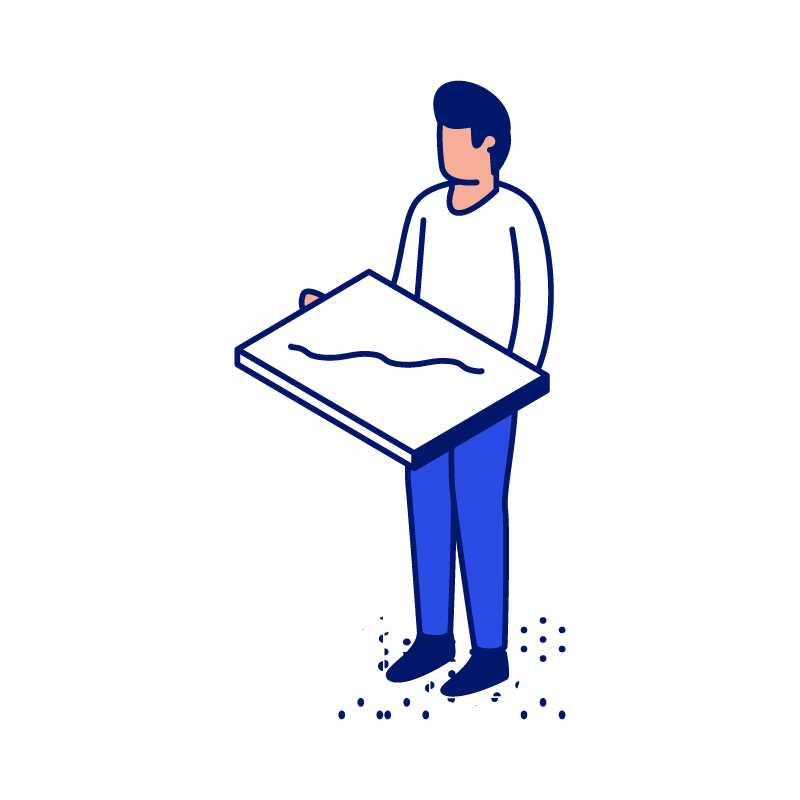 Could we be your next strategic marketing partner?
Our marketing strategy services - We are a B2B marketing agency with a dedicated team of experienced 'CMO-level' strategy experts specialising in strategic roadmaps, persona development and customer journey mapping, along with content and SEO strategy. Find out more about our marketing strategy services.
Enjoy this article? We produce blogs like this for our clients as part of our content marketing agency services, and could produce engaging content for you too.